Young Ghent-based designer Maria Scarpulla designs unique objects that are tuneable to the mood of the day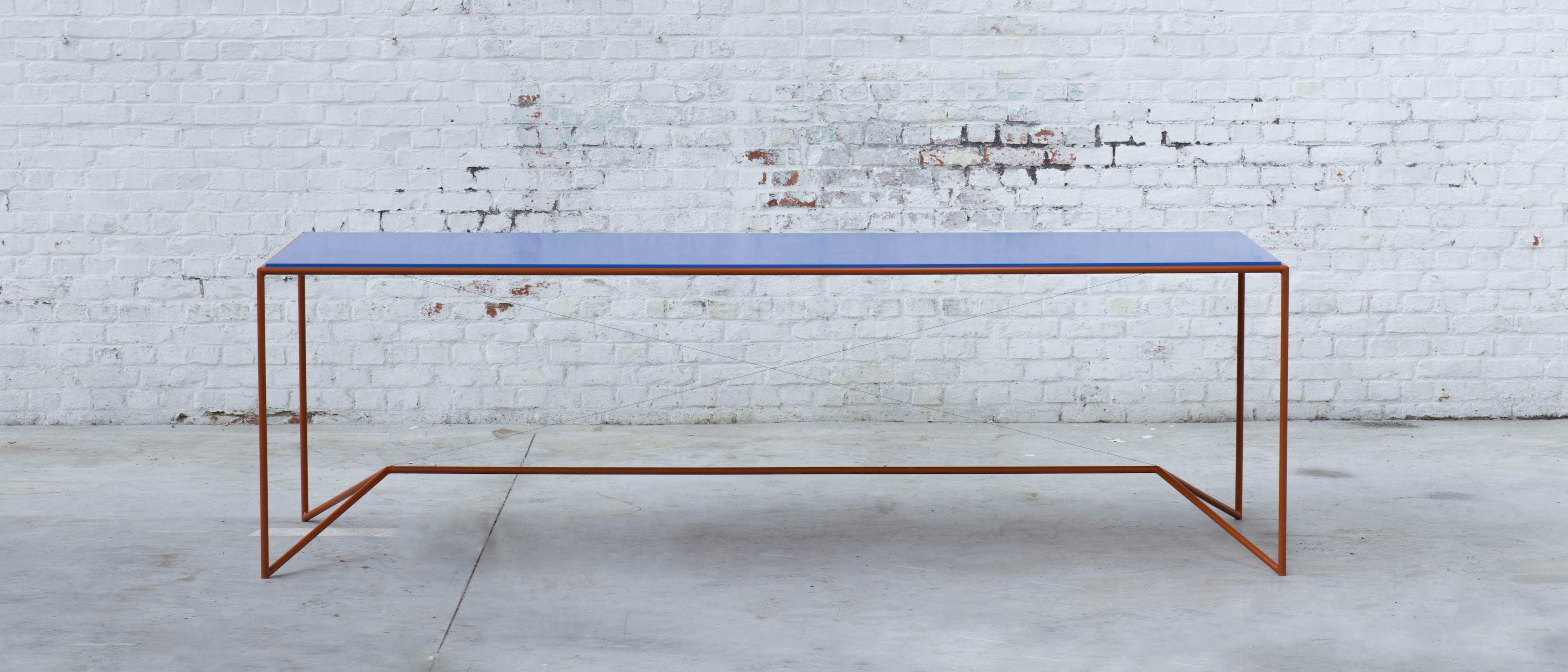 The Ghent-based designer and painter Maria Scarpulla (°1987) creates objects that serve both as utilities and artworks. Her quest to find an universal language of form and freedom, of color and simplicity, leads her to subtle, poetic designs that express her love of life and timeless beauty. She experiments with colors, studies them, plays with the contrasts that they bring about. ​
​​
​Scarpulla's work is the result of a meticulous, disciplined fine-tuning of form and function. Her designs are changeable, modifiable and adaptable to the mood and tune of the day. A dinner table surface can alter its color, a coffee table can be admired as a framed painting. Maria's designs grow stronger in the chaos of everyday life. ​
​​
​When designing an object, Maria questions their obvious functionality, willfully transcending its trivial use. A table, for example, is a multi-functional object, a place of work, dinner, discussion or passage. In Scarpulla's interpretation, the object becomes as alterable as its many uses. ​
​​
​Maria insists on having her objects made by local craftspeople. Not one object is identical; all of her works are unique. Their function as both artworks and objects is an invitation to the owner to enter into a dialogue with the objects. 'A conversation in color and form' - ​ a conversation not only between her inner fire and her desire for structure, but also with the people who love her work and invite it into their lives
Maria Scarpulla
The Belgian-American Maria Scarpulla was born in Ghent in 1987, but spent much of her childhood in Umbria, Italy, until she returned to Belgium when she was 10 years old. Scarpulla grew up in an artistic family (her father, Russell Scarpulla, is a painter), so she was confronted with art, architecture, aesthetics and design at a very young age.
In 2011, Scarpulla graduated as Interior Designer at the LUCA School of Arts in Ghent. Immediately after her studies, she left for the US for a few months, a journey that gave her - especially in Texas - the necessary inspiration and impulses to work on Piece, Earth on Sky: a sleek, very specific table with a rotating table top with two different colors. Afterwards, a lamp and a stool followed. With these designs, Scarpulla was selected in the spring of 2013 for the Ventura Lambrate at the Salone del Mobile in Milan, where promising young designers show their work. All this time, designing was rather an artistic outlet that she has now turned into her profession. She continued to perfect the objects and also started to experiment with painting. Now she follows her passion and works full-time from her studio in Ghent on her designs, which consist of an assortment of tables and different lamps that will be released later this year. Next to designing, Maria also paints.
Her travels - both physical and in her thoughts - provide Scarpulla with inspiration and ideas for her objects that are not strictly defined. She thinks in colors, surfaces, shapes and geometric lines. That also translates into her designs.