WIELS presents the first institutional solo exhibition of Jacqueline de Jong in Belgium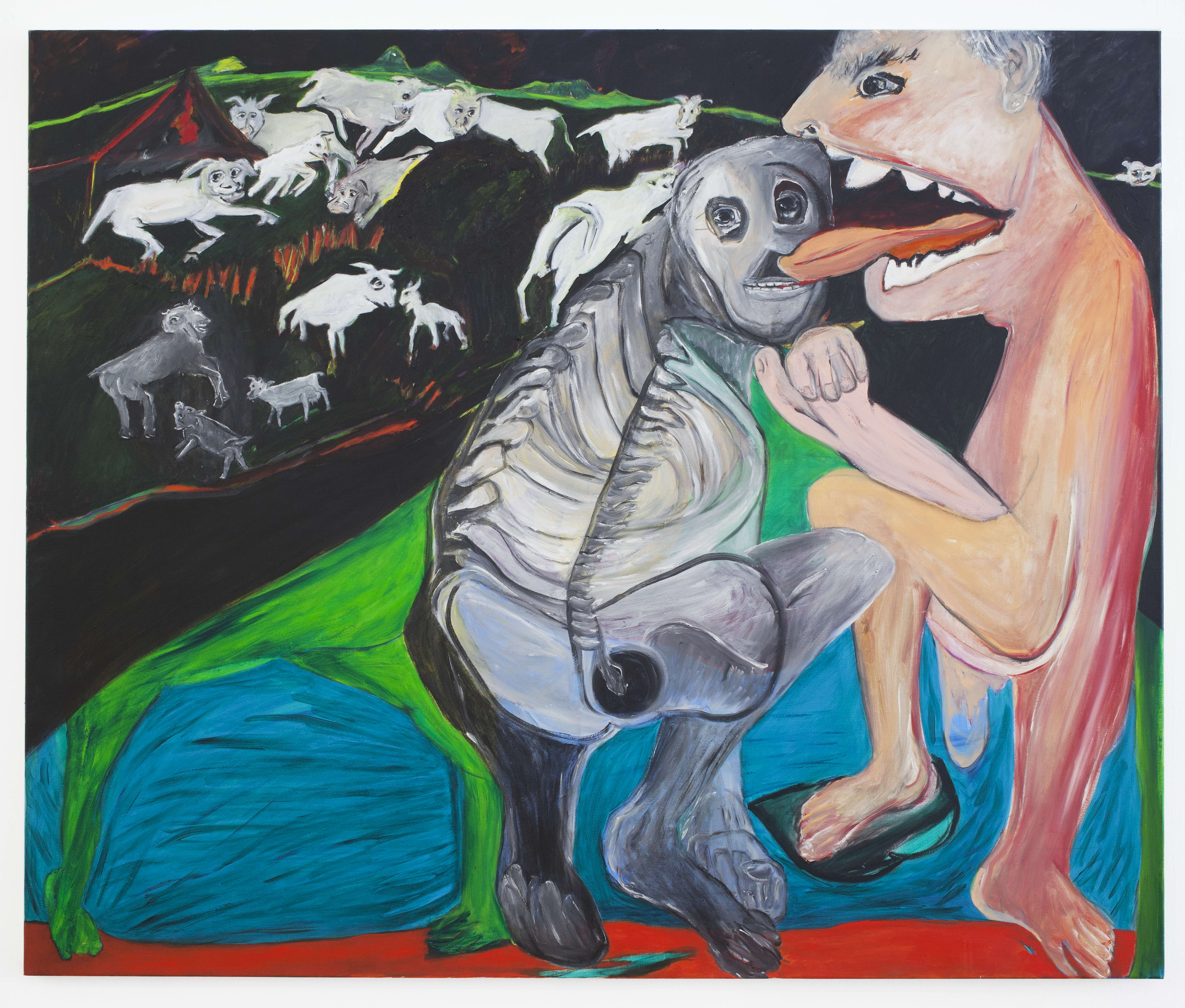 WIELS presents the first institutional solo exhibition of Dutch artist Jacqueline de Jong in Belgium, one of the crucial artistic figures from the post-war years of protest and revolt. 
Born in the Netherlands in 1939, De Jong is a key figure of the European post-war avant-garde with a career spanning half a century. Her role in the Situationist International marked her early years in Paris in the 1960s, where she was actively involved in the student protests of May 68. In parallel to her work as an editor and designer - most notably for The Situationist Times, which she founded and published from 1962 until 1967 - De Jong has developed a unique painterly practice. In its spontaneity, De Jong's expressive, often grotesque and excessive style follows the anti-academic and non-conformist aesthetic of the avant-garde. 
Playfully moving between styles and painterly idioms throughout her career, the artist displays a voracious interest in the painted image as a site for confusion and subversion. She belongs to a group of artists who reintroduced narration by borrowing elements from popular culture, cinema, and illustration—all the while mixing the absurd with the mysterious. With a penchant for experimentation, De Jong plays with shape, style, and pictorial idioms in order to unfold an idiosyncratic and subversive body of work. Expressive yet realistic, her work exhibits uninhibited eroticism and sexual liberation. 
The exhibition at WIELS offers an occasion to discover or rediscover De Jong's prolific and provocative oeuvre via a non-linear presentation where works from different periods dialogue with one another, following a concept held dear to the artist: that of the dérive (drift).
The exhibition at WIELS was developed by Devrim Bayar (Curator, WIELS) and Xander Karskens (Director, De Ateliers, Amsterdam) in close dialogue with Jacqueline de Jong. The exhibition will travel to MOSTYN, Llandudno, Wales (UK) under the curatorship of Juliette Desorgues (Senior Curator, MOSTYN) and to the Kunstmuseum Ravensburg in 2022.
At the occasion of the exhibition, an important monograph is published by the Mercatorfonds. The publication is designed by Eurogroupe and includes essays by Devrim Bayar, Juliette Desorgues, Xander Karskens, Annabelle Ténèze and Niña Weijers, as well as a conversation between Jacqueline de Jong and Alison Gingeras.
---
Jacqueline de Jong
​The Ultimate Kiss
​01.05 - 15.08.2021
​WIELS
Press conference: Friday 30 April, 11:00
​Please confirm your attendance via [email protected]
​
​Preview (invite only): Saturday 01-05, 10:00-14:30
​Public opening: Saturday 01-05, 15:00-21:00
​​
​Open Tuesday > Sunday, 11:00-18:00
​Tickets available online at WIELS.org.
​Price catalogue: 39,95€ 
---
With the support of Mondriaan Fonds, Pippy Houldsworth Gallery and Dürst Britt & Mayhew and the Embassy of the Kingdom of the Netherlands in Brussels
---
Selection of images Jacqueline de Jong
---
Regenerate
In parallel with the exhibition of Jacqueline de Jong, WIELS is bringing together a large number of artists. Regenerate offers a view of the current moment that is both joyful and critical, cautious yet hopeful. It presents recent work made by artists in Belgium (with occasional sorties across bubbles and borders). Whether explicitly or indirectly, the selected works enact the revitalisation that art can offer. Focusing on recent productions, the project explores what has emerged from this period of unpredictability and seclusion, and how the pandemic and its ongoing impact are shaping our imaginaries.
With: Cecilia Bjartmar Hylta, Elen Braga, Carlos Caballero, Chloë Delanghe, Bram Demunter, Effi & Amir, Eitan Efrat & Sirah Foighel Brutmann, Helen Anna Flanagan & Josefin Arnell, Eva Giolo, Corentin Grossmann, Tom Hallet, Nokukhanya Langa, Eva L'hoest, Sandrine Morgante, Camille Picquot, Batsheva Ross, Marie Zolamian
More information here