WIELS and Delvaux launch an exclusive leather bracelet in support of the arts centre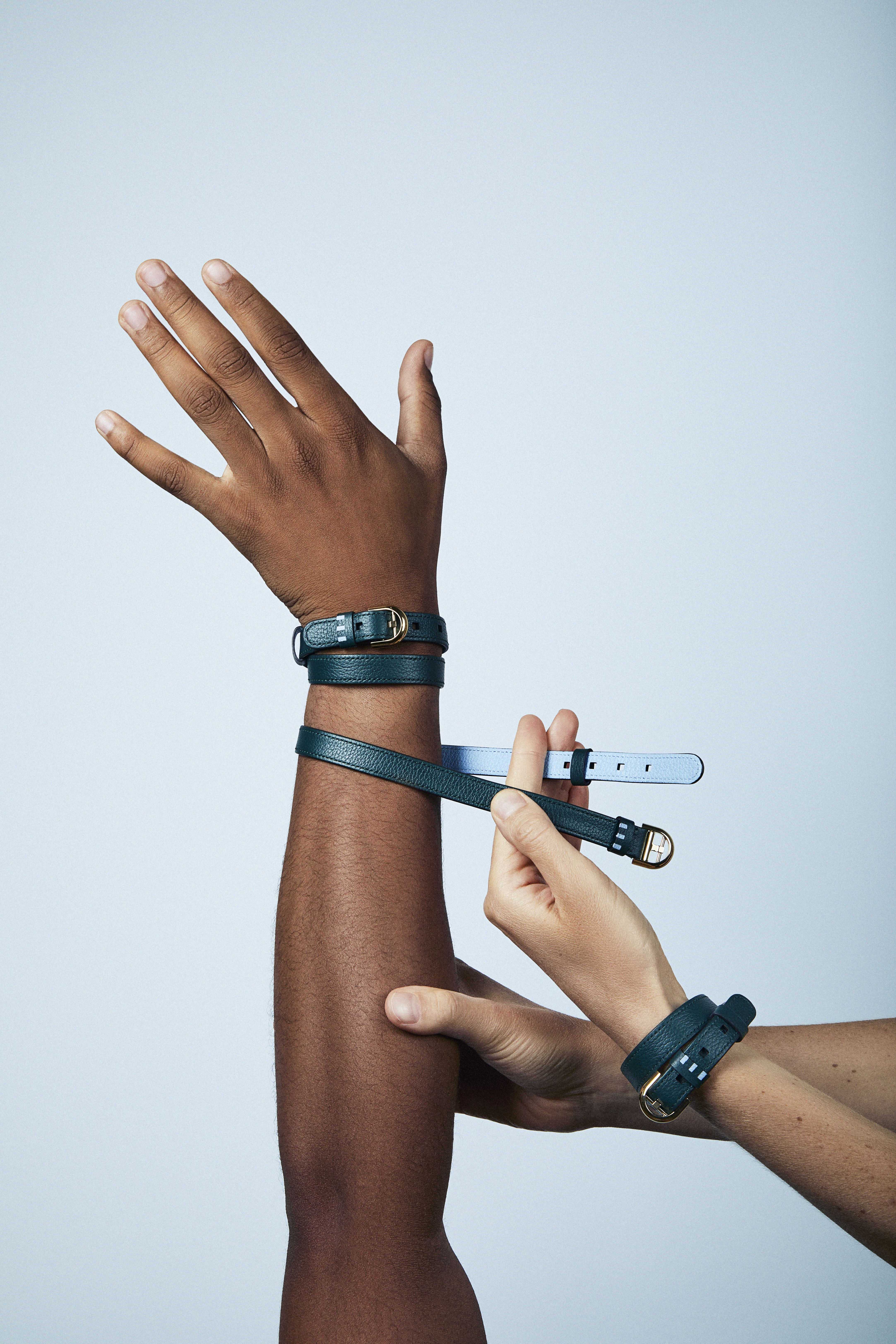 Exclusively for WIELS, Delvaux is launching a special bracelet featuring the emblematic buckle on a strap made of two-tone calfskin (azure and forest green). The unisex bracelet will be launched in November in a very limited edition of 500 copies. With the bracelet, you do not only get a year's access to all exhibitions of WIELS, but - and more importantly - you also support the artistic programme of the Brussels arts centre. The bracelet, made of Delvaux's signature Crispy Calf leather and with a subtle reference to the four-leg-letter E from the WIELS logo, is available for purchase in the WIELS Bookshop and via the WIELS website.
This piece of jewelry is an essential support for the programme of WIELS and the artists who exhibit there. Delvaux is donating the bracelets to WIELS for free, thus supporting the Brussels arts centre of which it has been a founding partner since 2007.
With this project, Delvaux renews its commitment to WIELS and emphasises its support to WIELS' bold artistic programme and audience engagement.
Diane van Impe, who recently became head of WIELS' partnerships and patronage department and who initiated this launch, is immensely pleased with Delvaux's generosity.
"It's fantastic that, 16 years after their first commitment as one of WIELS' founding partners, Delvaux is once again supporting our house. But we are also counting on the support of the public. If WIELS is to continue to present leading exhibitions like the one by Francis Alÿs currently on view, we need to increase our own income. We are therefore always looking for new and creative sources of funding to support our artistic operation."
​— Diane van Impe
By launching this bracelet, WIELS aims to remain a place for innovative ideas and creative experiences, a place of exchange among different groups, where every individual can deepen their own artistic practice, enter into dialogues, and be inspired.
---
WIELS BRACELET 2024
€ 390 (limited edition of 500 copies) ​
​Buy here
​Crispy Calf leather (two-tone in azure blue and forest green) with emblematic Brillant buckle
​Available in the WIELS Bookshop or via the website: www.wiels.org
​WIELS: Van Volxemlaan 354, 1190 Brussels
---
ABOUT WIELS
WIELS, inaugurated in 2007, is an international laboratory for the creation and dissemination of contemporary art with a focus on the visual arts and its interactions with other disciplines. The arts centre is dedicated to the presentation and production of temporary exhibitions by national and international artists, both emerging talents and established names.
In 2024, WIELS will present solo exhibitions by Jef Geys and Oscar Murillo, among others.
---
ABOUT DELVAUX
Delvaux was founded in Brussels in 1829 and has continued to design and create in its own ateliers ever since. The brand is known as the oldest luxury leather house in the world. Delvaux is the inventor of the modern handbag and was the very first to patent a leather handbag model in 1908. Delvaux has designed more than 3,000 models. His most iconic creations include The Brillant (1958), The Tempête (1967), The Pin (1972) and The Lingot (2022). Delvaux has 60 boutiques. From Saint-Honoré, New Bond Street and Fifth Avenue to other prestigious addresses around the world... And every Delvaux boutique is different. A purveyor to the Court of Belgium since 1883, Delvaux continues to promote Belgian cultural values.
---
Images
​The campaign photographs were taken by photographer Cheyenne Dekeyser on the wrist of model and actress Emma Moortgat, daughter of WIELS president Michel Moortgat and model Kashy Manjolo.
(high-res images download here)

​