Paradise Kortrijk presents interactive installations by Jeremy Deller, Ugo Rondinone, Yoko Ono, Viktor&Rolf and William Forsythe, among others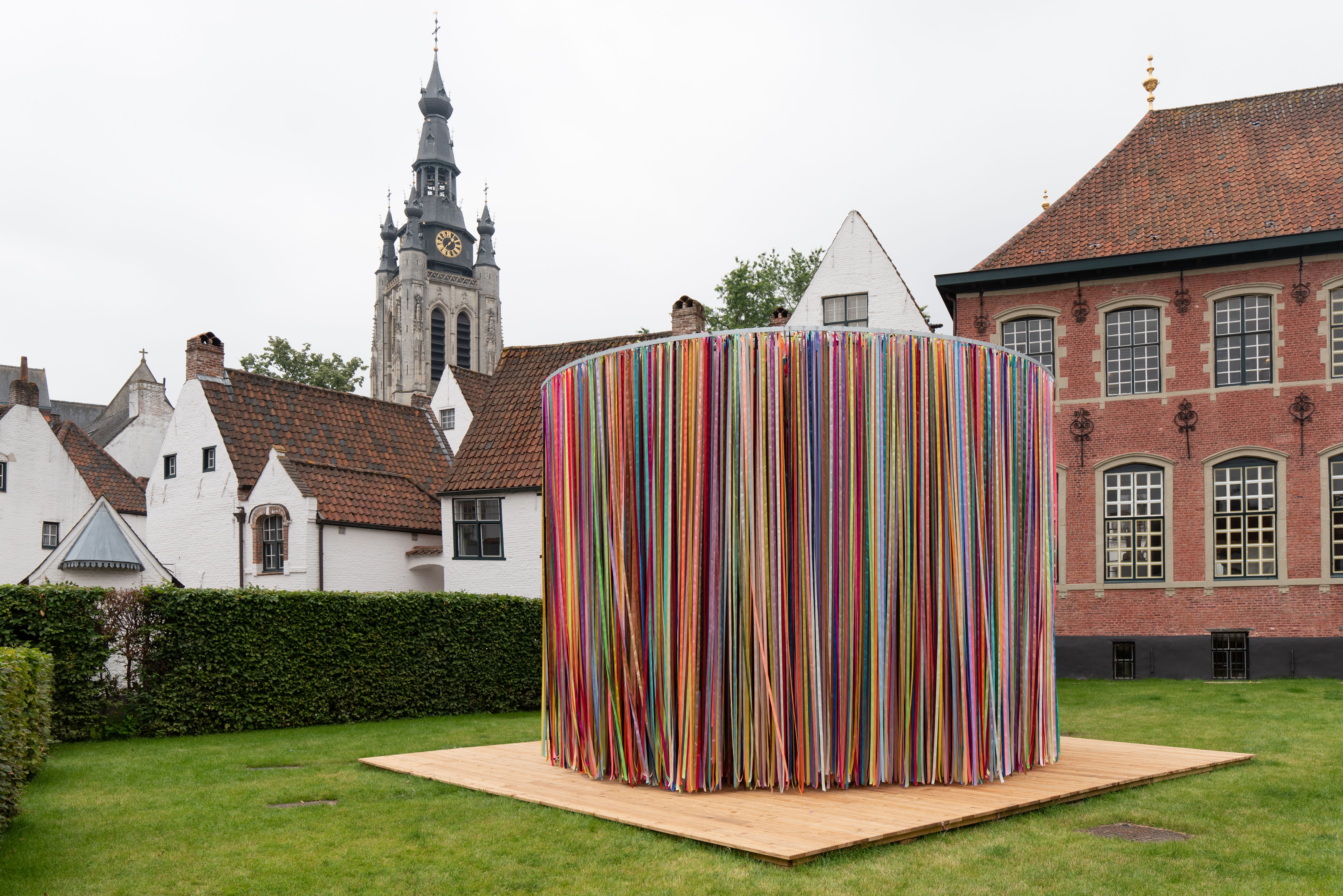 Until 24 October 2021 the second Kortrijk Triennial is taking place: Paradise Kortrijk 2021.
Paradise Kortrijk 2021 is an interactive art event that transforms the city of Kortrijk into a playground of contemporary artworks at various indoor and outdoor locations in the city, focusing on the utopian dream of paradise.
Curators Hilde Teerlinck (Han Nefkens Foundation) and Patrick Ronse (Be- Part, Platform for Contemporary Art) selected 32 contemporary artists - including 10 Belgians - who each present their own interpretation of the Paradise concept. Among the artists are many familiar names, such as Berlinde De Bruyckere, Jeremy Deller, Kendell Geers, Ugo Rondinone and Yoko Ono. But Paradise 2021 also dares to push the boundaries of contemporary art and shows the work of fashion designer duo Viktor&Rolf, scenographer Albert Dubosq and choreographer William Forsythe, among others.
Paradise Kortrijk invites these contemporary artists to participate and reflect on modern questions. What are meaningful values today and howcan we construct a better society? By installing artworks in the heart of the dynamic city, the significance of the artists' vision becomes present in public. The participative element is crucial in the project: through an active experience, interaction is activated by the visitor.
---
PARTICIPATING ARTISTS
Albert Dubosq (BE) (1863–1940)
Art Labor Collective (VN, lives and works in Saigon, Ho Chi Minh City) 
Aziz Hazara (AF, lives and works in Ghent and Kabul)
Berlinde De Bruyckere (BE, lives and works in Ghent)
Bruno V. Roels (BE, lives and works in Ghent)
Choi Jeong-Hwa (KR, lives and works in Seoul)
Constant Nieuwenhuys (NL) (1920–2005)
Dora García (ES, lives and works in Barcelona and Oslo)
Jacob Dahlgren (SE, lives and works in Stockholm)
Jaro Varga (SL, lives and works in Prague)
Jeremy Deller (UK, lives and works in London)
Joris Van de Moortel (BE, lives and works in Hoboken) 
Josep-Maria Martín (ES, lives and works in Barcelona)
Klaas Rommelaere (BE, lives and works in Antwerp)
Kendell Geers (ZA, lives and works in Brussels)
Lhola Amira (ZA, lives and works in Cape Town)
Lily Van der Stokker (NL, lives and works Bilthoven and Amsterdam) 
Luc Deleu (BE, lives and works in Berchem, Antwerp)
Michelangelo Pistoletto (IT, lives and works in Torino)
Olaf Nicolai (DE, lives and works in Berlin)
Robert Devriendt (BE, lives and works in Bruges)
Ryan Gander (UK, lives and works in Suffolk and London)
Sanam Khatibi (BE, lives and works in Brussels)
Sarah Ortmeyer (DE, lives and works in Vienna)
Sarah Westphal (DE, lives and works in Ghent and Germany)
Stief DeSmet (BE, lives and works in Bachte-Maria-Leerne, Deinze) 
Toshiko Horiuchi MacAdam (JP, lives and works in Nova Scotia) 
Ugo Rondinone (CH, lives and works in New York and Zürich)
Viktor&Rolf (NL, lives and works in Amsterdam)
William Forsythe (US, lives and works in Frankfurt am Main in Hesse) 
Yoko Ono (JP, lives and works in New York)
---
PRACTICAL INFORMATION
Paradise Kortrijk
​Triennial for contemporary art ​
​26 June - 24 October 2021
​www.paradisekortrijk.be
Organised by the city of Kortrijk and Be-Part ​
​Curators Hilde Teerlinck and Patrick Ronse
---
PRESS KIT
Press kit_Paradise Kortrijk 2021_EN .pdf
PDF - 3.7 Mb
Download
---