The Horst Expo program of 2023 is focusing on multidisciplinary site-specific commissions that tap into the future potential of the Asiat terrain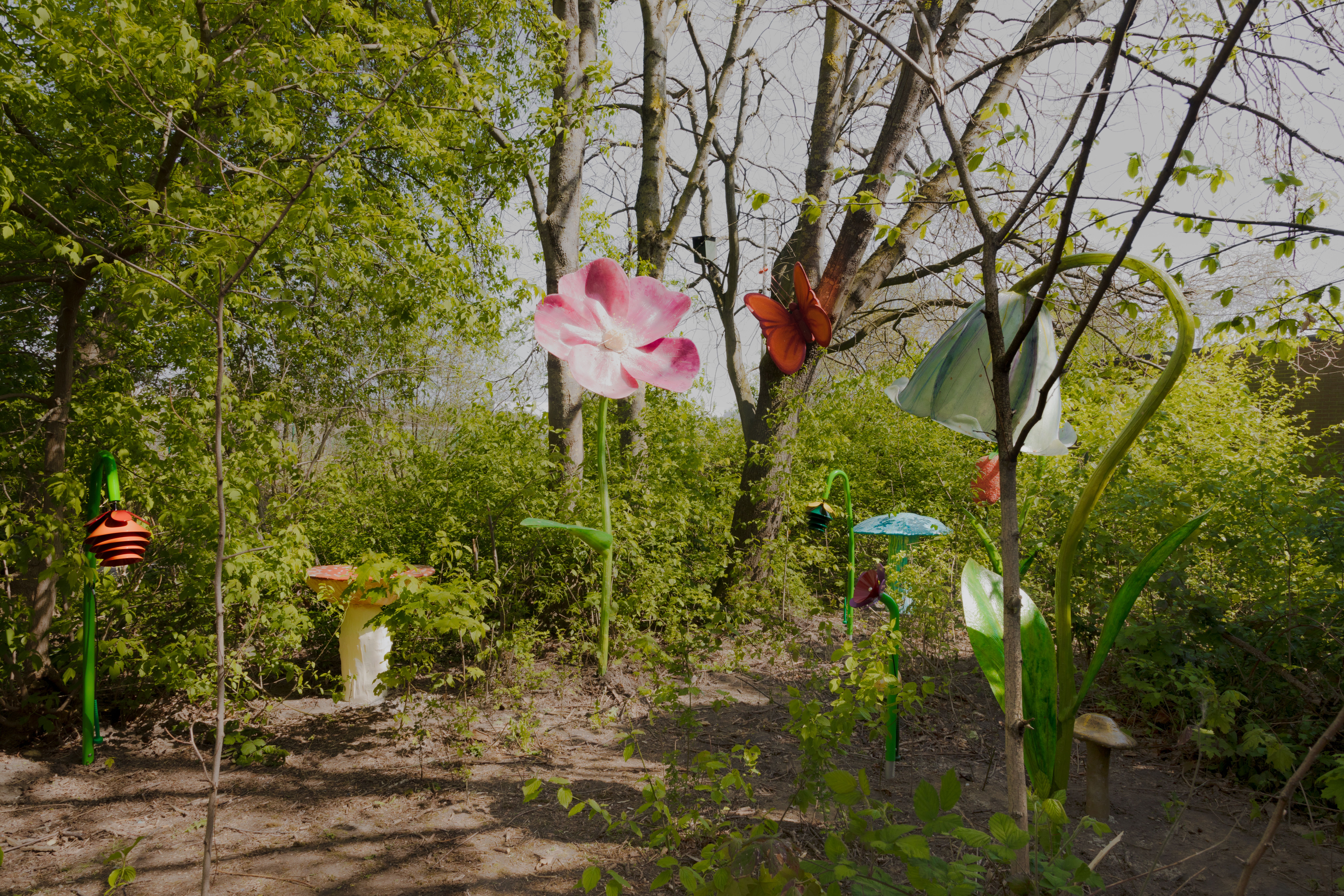 Horst Expo 2023
​18 May - 30 July 2023
​Asiat, Vilvoorde
​With DEEWEE, Elisa Giardina Papa, Farah Al Qasimi, Joe Namy, Marc Leschelier, Maria Muehombo, Mark Leckey, Meriem Bennani, SERAPIS, Sharon Van Overmeiren
​Curated by Evelyn Simons
---
Cities have the capability of providing something for everybody, only because, and only when, they are created by everybody.
​— Jane Jacobs, US-city activist and introducer of people-centred urban planning 
Horst announces the Horst Expo program of 2023, titled Where the wild things are and focusing on site-specific commissions that tap into the future potential of the Asiat terrain.
Since Horst landed at the military base "Asiat" in 2019, the site has been transforming from a rough and undefined framework (a blank canvas on which DJs, artists and architects could leave their mark) into a new urban district. Asiat currently welcomes various organisations (with a focus on culture, leisure and community work) to build, create and imagine together, becoming a much-needed lung for wellbeing, creativity and collectivity in Vilvoorde and by extension Brussels. ​
​​
​The upcoming edition marks a reorientation of the arts program in symbiosis with this new ecosystem, taking the first steps towards art interventions that surpass the temporality of the exhibition-format. Participating artists become protagonists, working closely with Horst to develop site-specific commissions that tap into the future potential of the site - be it functional and permanent; or conceptual and symbolic. Each protagonist is facilitated in their mission by the artistic team of Horst and various other project-specific stakeholders - be they financial supporters, collaborators, institutional partners 
Horst 2023 thus pays tribute to those that define urban spaces, make cities livable and alive: residents, temporary visitors and communities often shunned by city councils, project developers and urban planners. Where the wild things are shines a light and celebrates exactly those energies which we usually don't see reflected in the sleek renderings of the so-called "cities of tomorrow".
The artistic contributions and installations are coming form a wide range of artists, working in different disciplines and having diverse geographical and ethnic backgrounds. Emirati artist Farah Al Qasimi will develop a psychedelic musical garden, ready to be activated by children throughout the running time of the exhibition, and by visitors of the festival. Belgian artist Sharon Van Overmeiren contributes with a permanent monument allowing Asiat-park visitors to cool down, by integrating an ancestral air-cooling-system. Lebanese artist Joe Namy brings their Automobile to Belgium, fostering a gathering of car-tuners at the festival grounds, while Greek fashion and art collective Serapis conceives a new roof for our iconic Rotunda-stage.
Horst is also teaming up with Bottega Veneta for an ambitious co-commissioned installation with British artist Mark Leckey, hosting the ambient stage during the festival and remaining on site as a unique in-situ installation afterwards. French artist Marc Leschelier explores the dysfunctionality of architecture in a pavilion with draped concrete, while the Brussels-based Angolan-Zambian artist Maria Muehombo aka M I M I, fosters forgotten alliances with natural energies by growing an intimate garden, a secret refuge. Video's by Sicilian artist Elisa Giardina Papa and Moroccan artist Meriem Bennani further explore dissident and disobedient, though vital forms of citizenship. 
Horst is looking for inspiration in the underbelly of our urban fabric; where the energy vibrates, breathing life into a city. Where the wild things are brings an ode to DIY, unregulated but indispensable forms of community-life and creativity, to disobedience and disruption, to those operating outside the calibrated paths of organised consumer-focused public life.
---
Practical information
Exhibition reopens May 18th, and runs till July 30th.
Open Thursdays to Sundays, 11 - 18H
Curated by Evelyn Simons
Thanks to this year's support of the National Lottery, Horst Arts & Music is again able to offer its exhibition free of charge to our visitors. 
Address: Mechelsesteenweg 255, 1800 Vilvoorde
---
Artists
Farah Al Qasimi (UAE) 
Meriem Bennani (MR)
Elisa Giardina Papa (IT)
Maria Muehombo (AN/ZA)
Mark Leckey (UK) - Co-commissioned by Bottega Veneta
Marc Leschelier (FR)
Joe Namy (LB/US)
SERAPIS (GR)
Sharon Van Overmeiren (BE)
DEEWEE (BE)
---
Full press file here
Horst Expo_2023_PF_EN.pdf
PDF - 7.8 Mb
Download
---
Images of the artworks
---
Images of the Asiat site