Shirley Villavicencio Pizango inaugurates Be-Part's new permanent space in Waregem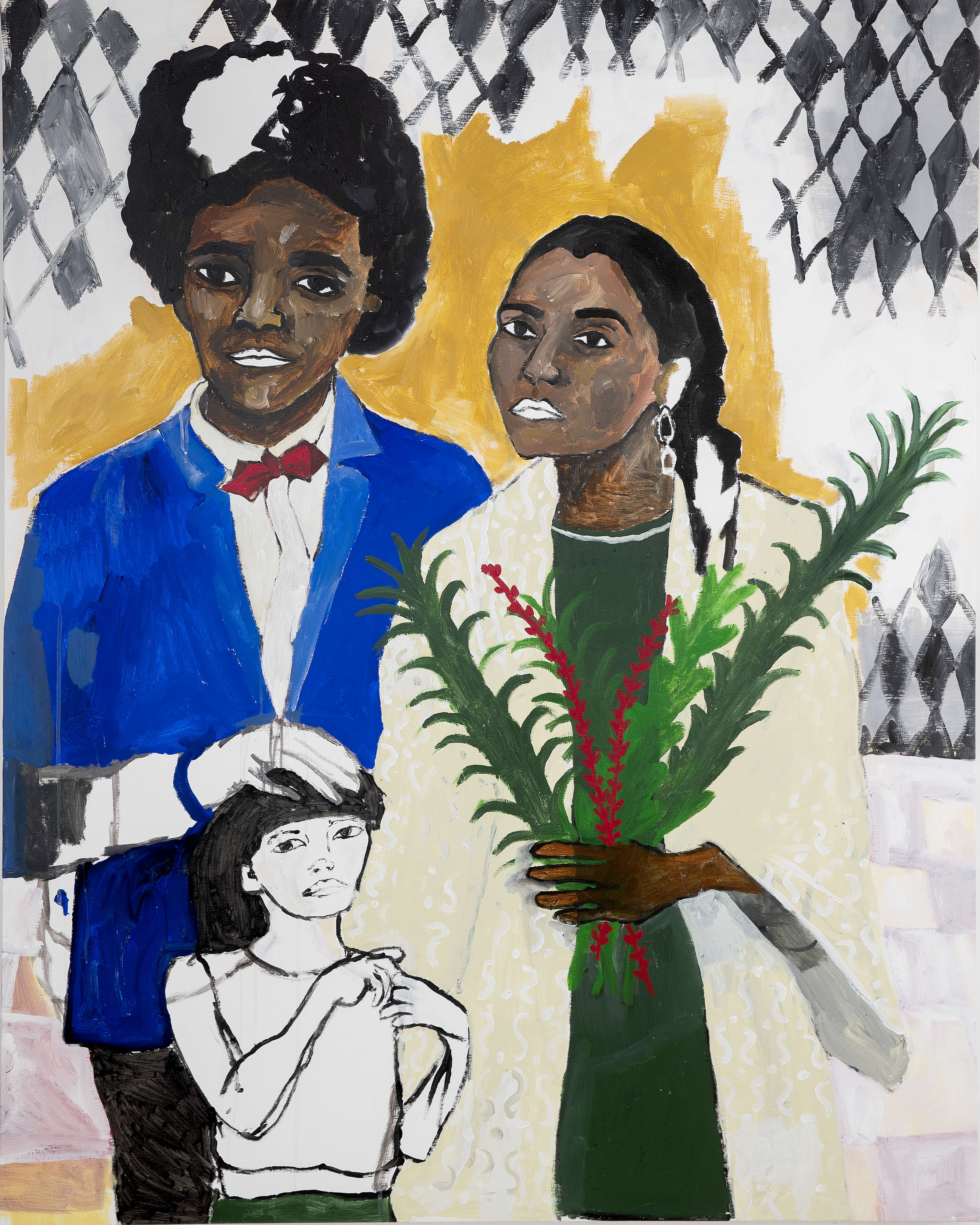 For the first exhibition in Be-Part's new space in Waregem, curator Patrick Ronse invited artist Shirley Villavicencio Pizango (b. 1988, Lima, Peru). Villavicencio Pizango grew up in Lima and in a village in the Amazon forest. At 18, she emigrated to Belgium, where she entered a foster family. She studied successively at KASK and HISK in Ghent.
For the exhibition in Be-Part Waregem's new space, Shirley Villavicencio Pizango has made a selection of works from the past five years. It has become a mix of paintings from private collections and her own collection, as well as some new, never-before-shown works. It is complemented by drawings and some of her ceramic sculptures.
Shirley Villavicencio Pizango's style is very recognisable; you sense a close relationship ​ with Matisse and Picasso, with whom she 'engages in a quasi permanent dialogue intérieur'.
The artist rejects conventional perspective and uses vivid colours, often inspired by other cultures. By using the painterly process, she creates an intimate dialogue with her subjects. On a second level, Villavicencio Pizango's paintings contain a subtle political message. Her position as a woman, and female artist, but also her background, are recurring themes. In this way she stands up to conventional exoticism, and the repressed (or over-sexualized) position of women in Western art history. ​ 
Villavicencio Pizango's powerful portraits are painted from live models or from analogue photographs. The artist often portrays herself, but also her friends and family members, with whom she has a personal, sometimes intimate relationship. The portraits are not an exact representation of her models, but rather a personal interpretation, in which she can express her thoughts and feelings.
Villavicencio Pizango has a strong interest in "the other". In this sense, her work can be called very inclusive and diverse. She portrays women as proud, confident people, averse to sensualism or exoticism. She avoids emphasising the personal background of the person portrayed, thus arriving at an obvious form of diversity.
Shirley Villavicencio Pizango is Peruvian, but has now spent almost half her life in Belgium. In her work, she reserves a prominent place for people of colour. They are in the foreground and look the viewer in the eye. Despite her years of residence in Belgium, the artist has a very strong bond with Peru. On the other hand, she's also influenced by Western art history. Her identity sits between two cultures. This duality is also among her themes, hence the title Sunkissed by the Moon.
What immediately stands out in her portraits are the white lips. When Villavicencio Pizango arrived in Belgium sixteen years ago, she spoke neither Dutch nor English, and since the knowledge of Spanish among our population is rather limited, she felt in a way language-less. Consequently, she does not fill in the lips of those she portrays; they remain empty, as it were.
The titles of her paintings indicate that her work is less light-hearted than one might think at first glance. Behind the cheerful surface often lurks an aura of melancholy. As Bart Cassiman writes: 'Notwithstanding the colourful palette, these are not cheerful paintings. Even though they exude an insidious open-mindedness that is inimitable and leads many a person astray.'
In her studio, Villavicencio Pizango surrounds herself with all kinds of objects such as curios, textiles, ethnic masks (which she collects), terracotta vases, rattan furniture, flowers and plants. These elements form the basis for still lifes, which can also be considered self-portraits. They paint a picture of the artist and her identity, which is a kind of crossover between South America and Belgium.
As already mentioned, the duality present in her work is also reflected in the title of the exhibition: Sunkissed by the Moon. The religion of the Incas, with which Villavicencio Pizango feels closely associated, was based on the worship of the sun god Inti and his sister and wife, the moon goddess Mama Killa. The title contains the sun/moon duality on the one hand, while sunkissed refers to coloured skin and the naturalness with which people of colour occupy a place in the artist's work.
1. Bart Cassiman, in: Shirley Villavicencio Pizango, Dark Empathy, Posture Editions 2022/47, p. 93.
---
Shirley Villavicencio Pizango ​
​Sunkissed by the Moon
​23.10 - 29.01. 2023 ​
​Be-Part Waregem ​
​new location: Gemeenteplein 12, 8790 Waregem
---
Images