Schönfeld Gallery presents a solo show by Belgian artist Albert Pepermans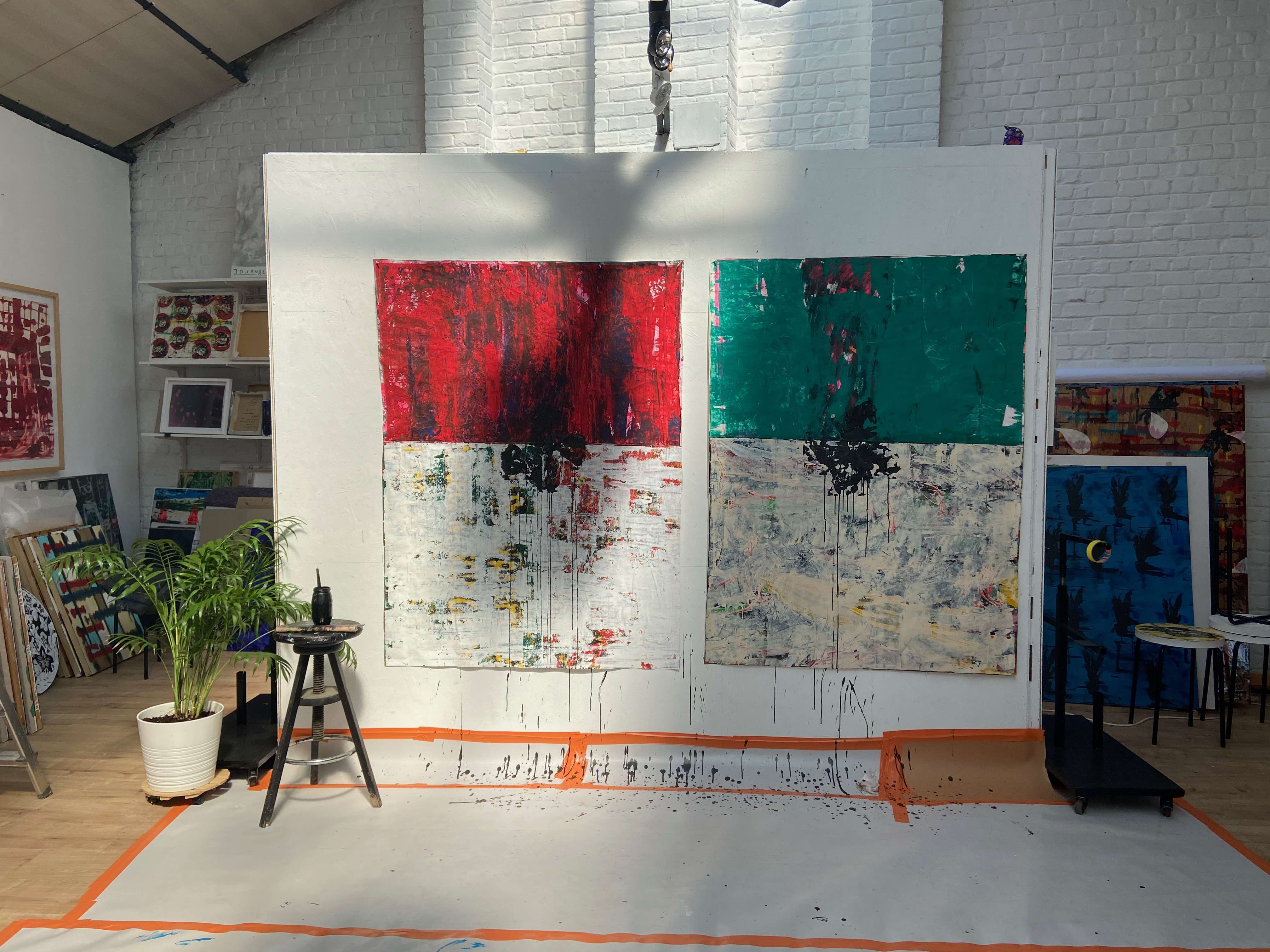 From 14 March to 30 April, Schönfeld Gallery presents Four to the Floor, a solo exhibition in which the Belgian artist Albert Pepermans (°1947, lives and works in Brussels) goes back to his young rock 'n roll years.
During the first lockdown, Pepermans decided to take a series of selected and archived rock and roll paintings from the 80s and use them as a basis for new work. This resulted in several colourful diptychs, which are connected by a fourfold illustrative stamp. Pepermans labelled each of the diptychs at the bottom with an appropriate title (e.g. four times a dog, four times a chimney, four times a black man,...).
Schönfeld Gallery is now showing this new series, alongside some original works from Pepermans' Rock period (80s).
The work embodies the world in which Pepermans grew up as a young artist; the fluorescent colours, pop music, celebrities, Pop Art and flashy magazine covers that typified the 80s still shine through in the new purpose that Pepermans gave to his old posters. A number of the posters were used for a group exhibition in Rennes, France (1983), where Pepermans was inspired by 16mm film strips for his Arts + Machina 2 performance. This art performance at l'Ecole d'Architecture de Rennes was sponsored by American photocopy pioneer and multinational Rank Xerox. Photocopies of the original works - which were also the subject of a rock n roll performance in the Halles de Schaerbeek four decades ago - will be shown together with the painted copies.
The exhibition is more than a retrospective of the 80s, and is entirely devoted to the artist and his boyhood dream of becoming a rock n roll star. The exhibition ends with a presentation of the vinyl box that Pepermans recently designed for Kristof Hahn, avid rock 'n roll fan and guitarist of Berlin's Les Hommes Sauvages. Music and art will be brought together in a final wallpaper performance in which Pepermans himself will enter the stage as a paint-star (subject to change linked to the Covid-mesurements).
---
Albert Pepermans
The work of Albert Pepermans (°1947) is a reflection of the man himself: energetic, intuitive and versatile. For the majority of his creations, Pepermans uses paint, ink and paper. Yet, the limited amount of material does not stop this artist from endlessly playing with form, colour and subject. His fascination for Pop Art and Dadaism is always present, both in his large portraits and in his smaller drawings. Improvisation, movement and optimism characterise his work and give the viewer the impression that Pepermans is always venturing into a spontaneous artistic jam session.
---
Albert Pepermans
​Four to the Floor
​14.03 - 30.04.2021
​Schönfeld Gallery
​Rivoli building #21
​Waterloosesteenweg 690
​1180 Brussels
---