RAF SIMONS collaborates with the estate of Philippe Vandenberg for his Spring/Summer 2023 collection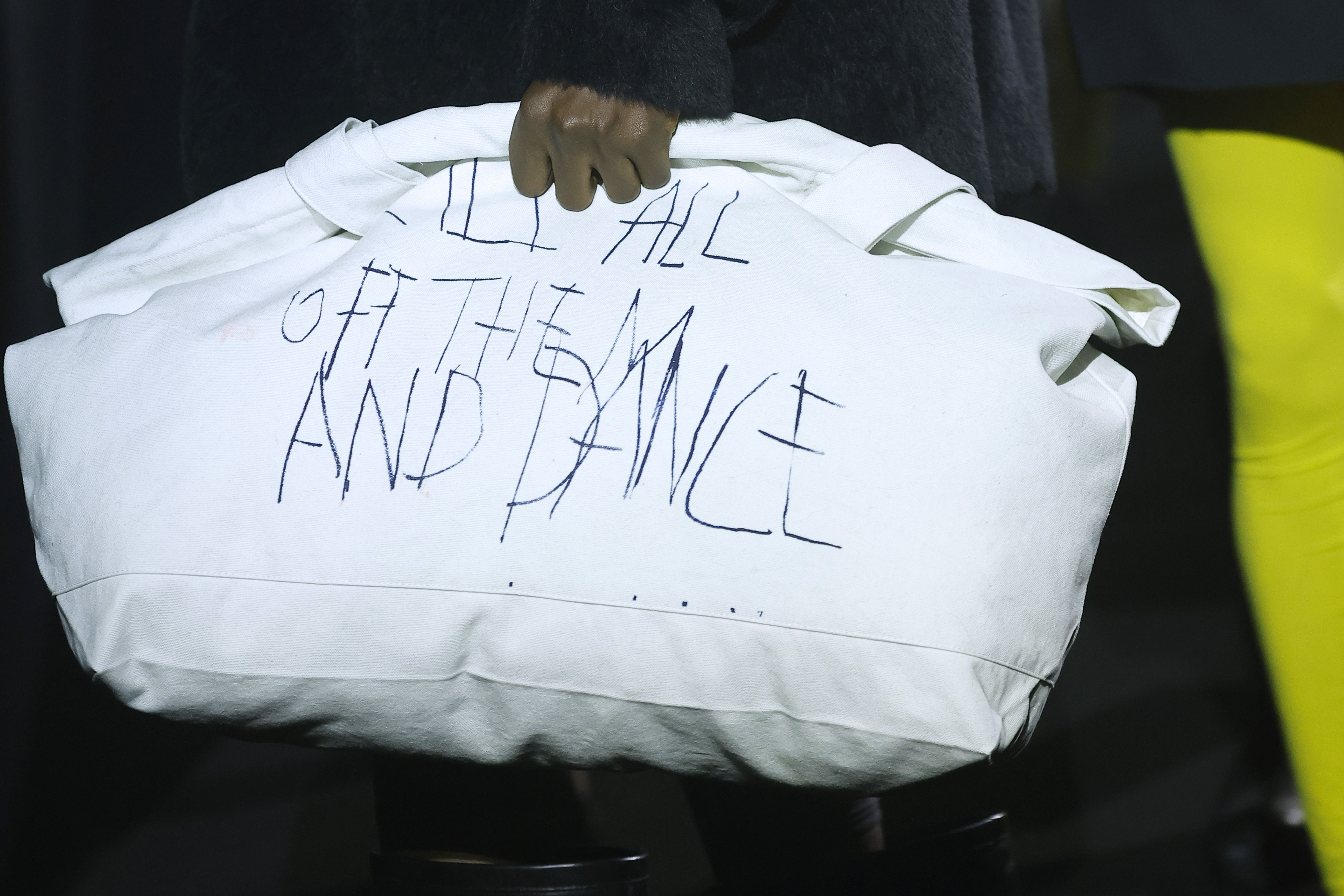 The energy of dance, the impact of the body. A celebration.
Bare, spare, cut away, stripped back. A reduction to an essence, to essential form.
Radical gestures of simplicity - tailored blazers and biker jackets sliced away to tank tops, vestigial features surrendering reminders of their origin. Minimizing action and therefore garments, removing the superfluous.
Ease and physicality. Fine-gauge knit and stocking fabric delineate limbs in a second skin. Combination bodysuits, drawn in close, streamline and simplify the silhouette. Belts and buckles seem to promise revelation at their unfastening. Slithers of skin on display, between layers of cloth.
Tailoring as a machine for the body, classic fits in wool, sometimes manipulated internally with elastic to flex around the torso. Trousers are minimized to panels of fabric, gestures of clothing, a direct language. Tailored skirts combine with stretch, affecting a rapport with the figure beneath.
Corps de ballet, corporeal. Jewelry is fashioned from skeletal hands or vampire fangs, symbols of enjoyment and revelry, reminders of humanity.
The Spring/Summer 2023 collection debuts a collaboration with the estate of Philippe Vandenberg. A selection of artworks are contextualised as all-over prints on garments and accessories, with a focus on his text works. Handwriting, dancing across paper, is translated to fabric. Their messages give cause for consideration - a moment of pause. They speak of ideas rejected and renewed, destruction as a prerequisite for creation.
---
ABOUT PHILIPPE VANDENBERG
The drawings and paintings of artist Philippe Vandenberg (1952-2009) strongly denounce humanity. They are moving, provocative and force us to reflect. The central theme is man's struggle with himself and others, observed through the lens of cultural, political and social history. In Vandenberg's art, this struggle is often critical, sometimes compassionate, but always imagined in rich colour and with a pinch of humour.
The pieces from the Spring/Summer 2023 collection featuring the work of Philippe Vandenberg will be co-labelled RAF SIMONS / PHILIPPE VANDENBERG
---
IMAGES OF THE RAF SIMONS SS23 RUNWAY SHOW
---
DETAILS OF THE RAF SIMONS / PHILIPPE VANDENBERG PIECES
---
ARTWORKS BY PHILIPPE VANDENBERG USED FOR THE COLLECTION BY RAF SIMONS