Nicole van Goethem – Drawings, Animation and an Oscar at the M HKA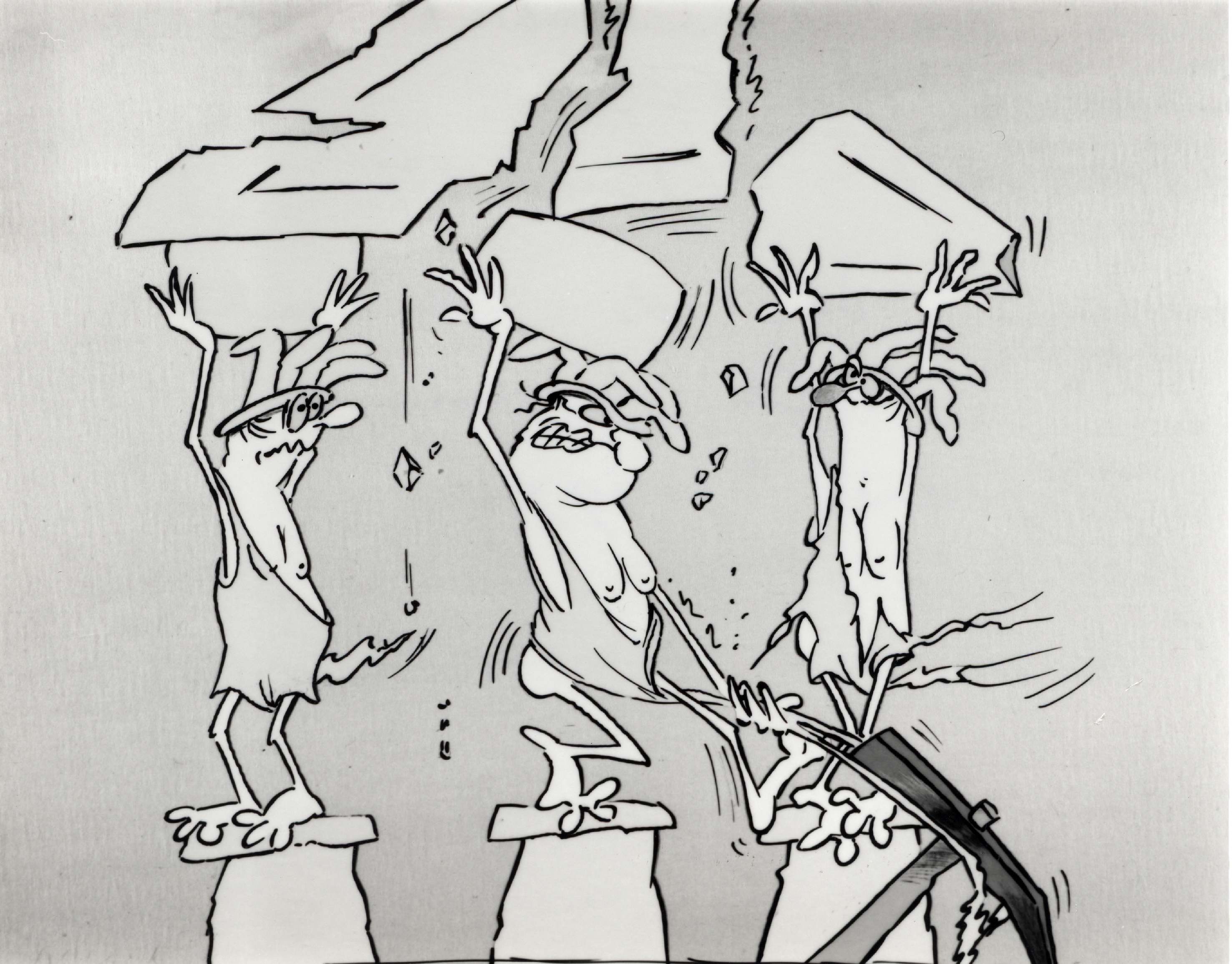 Nicole van Goethem (1941-2000), sketch artist, cartoonist and animator, is the only Belgian to ever win an Oscar; in 1987, she won the prestigious award for her short film Een Griekse tragedie (A Greek Tragedy). In this film, infused with gentle humour, van Goethem expresses understanding for the weaknesses of mankind: three caryatids have been supporting a temple for centuries and are doing everything possible to keep the building stable, but the crumbling structure makes their work increasingly meaningless. Aside from the recognition for Een Griekse tragedie, Nicole van Goethem has won numerous other prizes. Vol van gratie (Full of Grace) was released in 1986, and was immediately nominated for the Golden Palm for best short film at the Cannes Film Festival. Her latest animated film, L.A.T., was finalised two years after her death by her partner Rudi Renson. ​ ​ 
Engaging with themes such as feminism, activism, social security, pensions and children's rights, van Goethems' work is socially critical and humorous. Yet even twenty years after her death, her artistic practice remains largely unknown to the general public. 
The exhibition presents a selection from the donation of Sonia Renson. It is her wish to find a permanent destination for the archive that she has inherited through her brother Rudi Renson, van Goethem's partner. The donation includes approximately three hundred framed drawings, designs, original drawings on cellophane, personal items, publications, clippings, visual footage (films and videos) and cartoons. The Oscar statuette that Nicole van Goethem won in 1987 is on loan from the producer for the exhibition. 
A programme of her short films and interviews will be compiled in collaboration with De Cinema. ​ 
Nicole Van Goethem – Drawings, Animation and an Oscar is a collaboration between the M HKA, Zij-kant, Josse Van Steenberge (honorary rector UAntwerp) and RoSa (Centre of Expertise, Library and Archives for Gender Equality and Feminism). 
NICOLE VAN GOETHEM ​
​Drawings, Animation and an Oscar ​
​25 September 2020 – 10 January 2021
​M HKA