Muller Van Severen is the "Designer(s) of the Year" 2023 at Maison&Objet and is launching new designs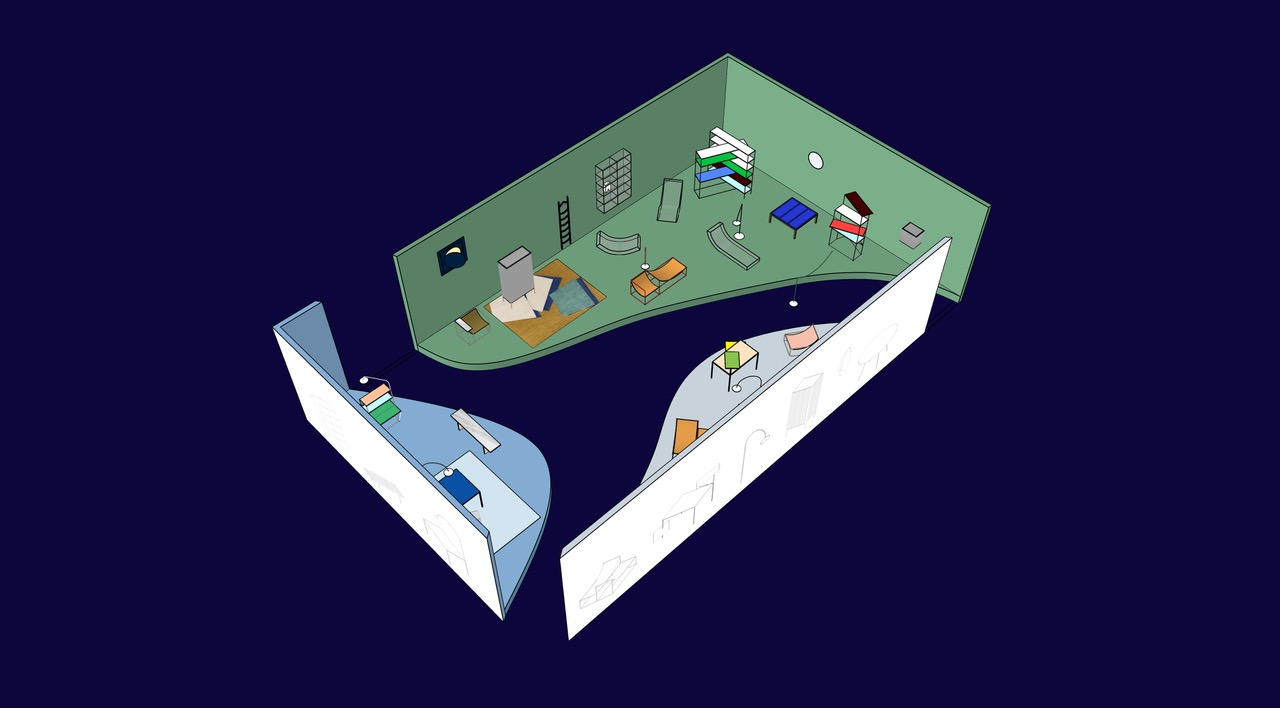 On 7 September, Muller Van Severen will be honoured as Designer(s) of the year 2023 by Maison&Objet. Maison&Objet rewards them for a 'decade of innovation that shook up the codes of interior design'. Their presentation at the fair is based on key elements of their daily life: home, workplace and garden, with of course an overview of their products.
The exhibition brings together a selection of iconic works from the Muller Van Severen catalogue: "We wanted to recreate a landscape representing the main elements of our daily life: our house, workshop and garden. Three islands will recompose, in the middle of the fair, our little oasis in the Evergem desert", explains Fien Muller. "The exhibition will act as a global and immersive installation where our pieces will exist as many small autonomous architectural entities." "It will be a mirror of our interior but also our mind", says Hannes Van Severen.
Muller Van Severen presents the Arcs Trolley and Arcs Mirror for the Danish brand HAY, enriching an already acclaimed cooperation.
Muller Van Severen is also adding two new objects to their collection for valerie_objects: ​ Standing Lamp Marble and Round Trivets. 
Also ONDA, the collection of vases from the recent collaboration with Bitossi Ceramiche, will be presented. ​
​​
​Muller van Severen is on view at Maison&Objet 2023 ​
​September 07-11, 2023
​
​Designer(s) of the year 2023
​Presentation Muller van Severen - 'Oasis'
​At the entrance of HALL 7
​​
​valerie_objects
​HALL 7 - stand F49
---
ARCS TROLLEY AND MIRROR
Following the Arcs Vase and Arcs Candleholder, Muller Van Severen is now adding two new additions to the Arcs Collection for HAY: the Arcs Trolley and the Arcs Mirror. Featuring the scalloped silhouette that gives the Arcs family its poetic shape, the mirror and trolley will bring a touch of playfulness to a room.
Each object in the Arcs Collection is simple in its material but beautiful and complex in its expression. Designed to be used widely, the trolley comes in two sizes so it can be used as kitchen or office storage, for serving drinks, as a side table between seats, or in any other room in the house. The mirror is just as versatile, available in round and rectangular formats so it can be placed above the sink in a bathroom just as much as in a bedroom or hallway.
"For us, a good object is always very technical and poetic at the same time. The curves in this object are not random, they have a function."
​— Muller Van Severen
https://www.hay.nl/collecties/arcs/
---
STANDING LAMP MARBLE N°1/2
Muller Van Severen is launching the Standing Lamp Marble, a continuation of their iconic Hanging Lamp for valerie_objects. Available in two different forms, this new addition offers the same minimalist image yet consists of a metal arm and a marble foot.
Just like all designs of Muller Van Severen, the object's construction is completely transparent, as if a kid had drawn it. Although sober and stylized, the lamp adds a romantic feeling to the room, reminding us of the light under a street lantern.
---
ROUND TRIVETS
As a variation on one of their most iconic and successful designs - the trivets - Muller Van Severen is now releasing the round trivets. Just as the previous trivets, they can both be used on your dining table or hung on top of each other against the wall, forming an Escher-like work of abstract art.
These round trivets are even more stripped to the bare essence and consist of 5 lacquered steel round coasters in 5 different sizes.
---
ABOUT MULLER VAN SEVEREN
​
​Muller Van Severen was founded in the early Spring of 2011. With both Fien Muller and Hannes Van Severen being artists, it's natural that their collections sit somewhere between design and art. Muller Van Severen have been on an inspired quest for sculpturally interesting furniture objects, always including the space around it, and characterized by a careful research into their shared passion for art, architecture and materials. At the same time Muller Van Severen's designs appear to be created almost intuitively and with total effortlessness. It looks as if the designers draw with crayons in space.
​​
​After winning countless awards and collaborating with prestigious museums (such as Vitra Museum, Centre Pompidou and Musée d'Art Decorative Paris) and galleries (Galerie Kreo, Andreas Murkudis, Tim Van Laere Gallery) worldwide, Muller Van Severen is considered to be one of the most image-defining European design teams of today. Their creations are globally identified in both private homes and public spaces. All of Muller Van Severens own production pieces are handmade by small-scale fabricators and skilled artisans, with an honesty to the rawness and irregularity of the chosen material.