MANIERA presents a solo show of Jonathan Muecke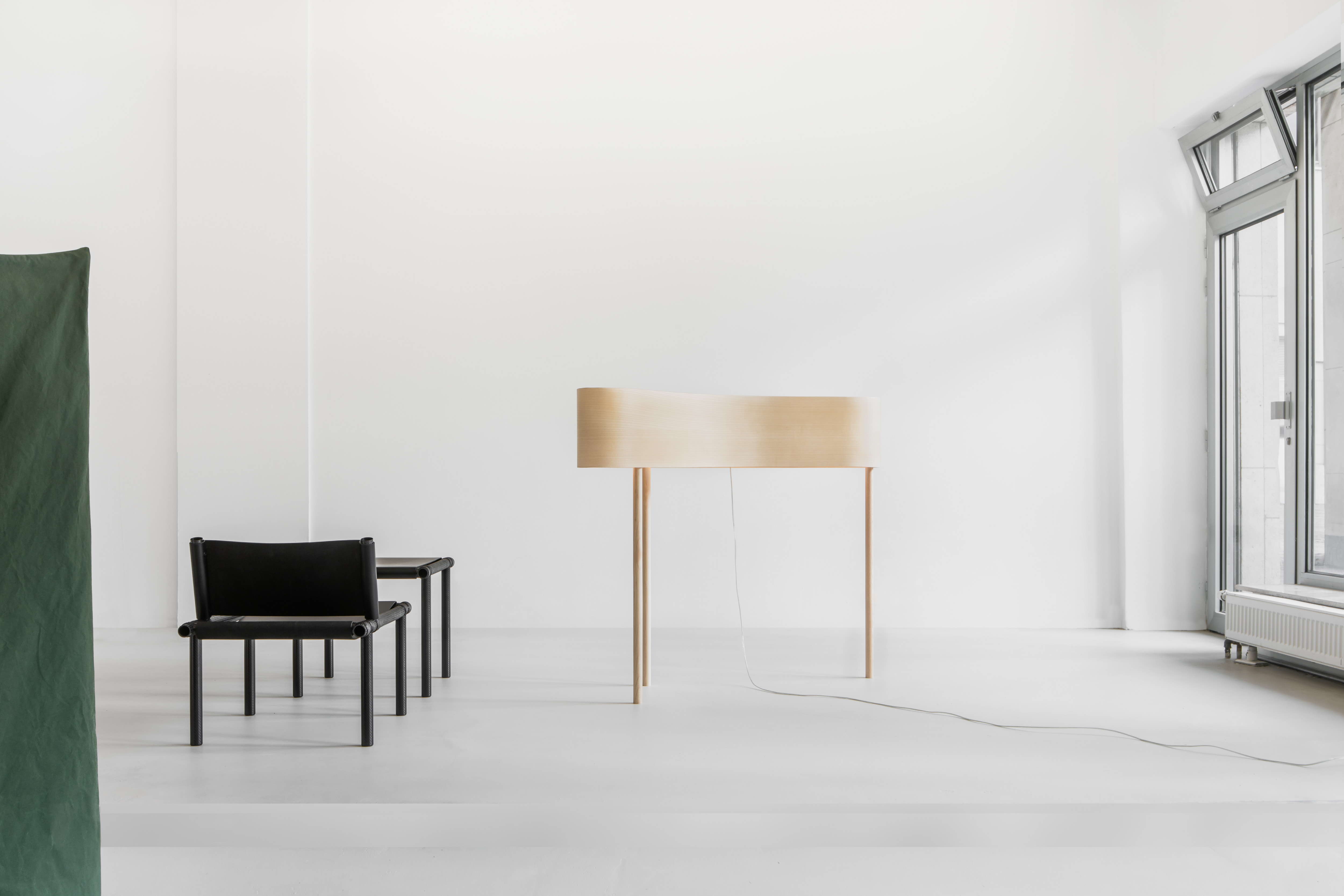 MANIERA presents an exhibition with the American designer Jonathan Muecke. Muecke has been self-producing a series of useful objects during the last decade, at times acting as the manufacturer himself, and at times working with technologically infused craft industries. The results are objects that go beyond the standard divisions between design, art and architecture.
Muecke has a particular interest in scale and typology, that translates into Open Objects. Their apparent simplicity conceals a complex theoretical and experimental process informed by architectural and artistic references. The exhibition at MANIERA presents 6 different pieces: 4 Open Objects (a floor lamp, a dining table, a bookshelf and a cloth cabinet) and 2 chairs that Muecke now releases under its own name.
Muecke operates a materially based practice, utilizing metals, wood, and composites, leaving these materials in their natural finish. When he uses paint—sometimes on metal—he uses mineral-based paints which have an authentic materiality of their own. The limited materials he uses lend a visual and tectonic consistency across the work he produces. And by working beside the traditional furniture industry, he has created a contained body of work that is consistent with itself.
The construction of Muecke's objects emphasize the whole rather than the parts. Each object is meticulously reduced to its most minimal appearance, leaving aside all unessential details in favour of lightness and continuous surfaces. 
Muecke's work in composites has pioneered open-moulding—where uncured loose composite tubes are passed through industrially made composite parts, before being cured into structural layups. This represents a technological breakthrough in furniture manufacturing, allowing faster and more economical production of composite objects.
The geometric shapes of Muecke's objects have a stabilizing effect on our perception of depth, perspective and space. His work, and the ideas therein, are carried across scales, from hand held objects to architectural objects.
Blurring the boundary between architecture, art and design, Muecke critically explores the very definitions of functional archetypes, like a chair, a table or a lamp. Some of Muecke's objects do not belong to known categories of furniture, such as shelf or cabinet, but rather carry principles such as containment or division, and these spatial inventions function as balancing counterparts to his other objects in a shared space.
MANIERA 07
​JONATHAN MUECKE
​6 SEPTEMBER - 23 NOVEMBER ​
​OPENING ON SEPTEMBER 5TH - 5 - 9 PM IN THE FRAME OF BRUSSELS GALLERY WEEKEND
---

​Jonathan Muecke
Jonathan Muecke's Design Office was established in 2010, after testing was completed at the Cranbrook Academy of Art, which was earlier preceded by an education in architecture and an architectural internship at the office Herzog & de Meuron in Basel, Switzerland.
In 2011, Muecke made his debut with a first solo exhibition at Chicago's Volume Gallery, a major launch pad for emerging American designers. Along with Atelier Sophie Krier and Bas Princen, Jonathan Muecke was awarded a grant from the Graham Foundation in 2012 for the collaborative publication Field Essays Issue One: Every Object contains an Image / Every Image contains an Object (Onomatopee, 2013). He further participated in exhibitions, a.o. Future Tropes again at Volume Gallery and Small Museum for an American Metaphor, curated by architect Kersten Geers, at Redcat in Los Angeles.
The work of Jonathan Muecke has been collected by the Museum of Arts and Design in New York, the Philadelphia Museum of Art, the Montreal Museum of Fine Arts, the CNAP (Centre National des Arts Plastiques) France and the Vitra Design Museum. In 2014, Muecke was commissioned by Design Miami/ to create the temporary pavilion for the tenth anniversary of the international design fair. In 2015, he was awarded a USA Knight Fellowship to fund his creative practice and development.