M HKA organises a major exhibition of Belgian artist Marcel Broodthaers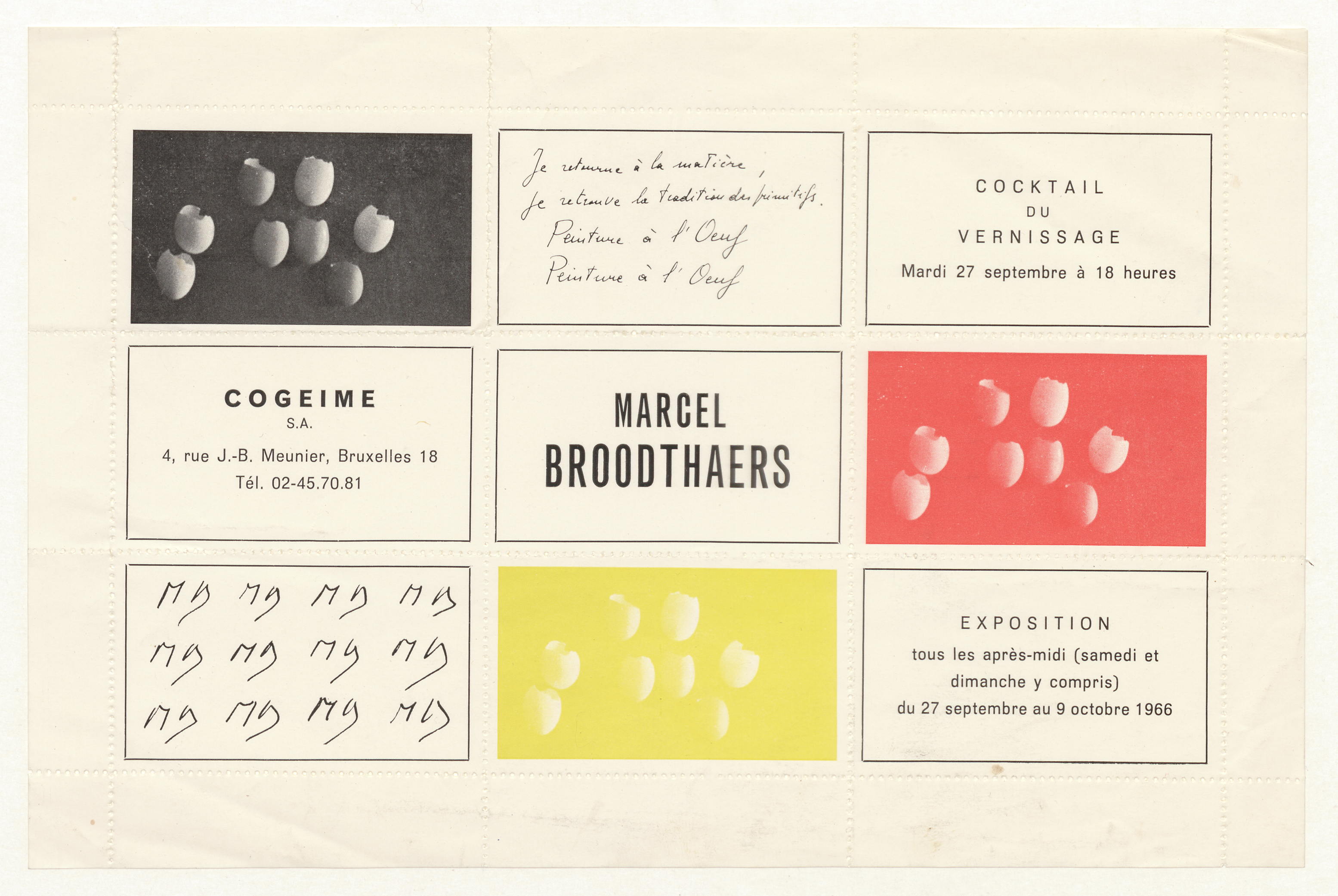 The exhibition Soleil Politique, organised by the M HKA, is the first retrospective of the Belgian key artist Marcel Broodthaers in his own country for a decade. In recent years, Broodthaers' work has been on display in top museums as part of a travelling exhibition, organised by the MoMA and the Museo Reina Sofía. The M HKA however, consciously chooses to present this body of work as a project in its own right, just as it did before with artists Joseph Beuys and James Lee Byars. Soleil Politique focusses on Broodthaers from an Antwerp perspective, in which the strongly anchored Wide White Space Gallery functions as a key element in Broodthaers' rapidly growing international success. The exhibition aims to provide a comprehensive overview of the breadth of themes, media and presentation strategies Broodthaers engaged with. It will present, for the first time ever in our country, his final and grandiose work Decor: A conquest by Marcel Broodthaers (1975), a more than generous loan from the V – A – C Foundation in Moscow. At the same time, the exhibition presents rarely exhibited works and materials that were discovered during the preliminary research. 
Soleil Politique approaches Broodthaers' oeuvre from the idea that art is always political, and that politics are tantamount to constant negotiation without ever reaching a final conclusion. This approach to complexity is initiated when, in around 1967, Broodthaers allows this concept to affect his visual work and presents words or text in different contexts. His first exhibition in which words, objects and various forms of printing are brought together in an ensemble was Le Corbeau et le Renard (The Fox and the Crow) (1968). It was presented at the Wide White Space Gallery, where he organised a number of important exhibitions from 1966 to 1974. The gallery also presented its artists at the Kunstmarkt in Cologne, so Marcel Broodthaers quickly gained renown in this region of Germany. In the Antwerp space A 37 90 89, Broodthaers installed the Section XVIIe Siècle of his Musée d'art Moderne, Département des Aigles (1969).
The exhibition is accompanied by an eponymous catalogue that, apart from highlighting the milestones in Broodthaers' oeuvre, also uncovers a number of lesser known sources that help contextualise his exhibitions in Antwerp. Five new texts are included: Anny De Decker on Marcel Broodthaers' exhibitions in the Wide White Space Gallery, Marie-Pascal Gildemyn on references in his work, Hannah Brückmuller on La Banque (The Bank) and Broodthaers' early performances, Lotte Beckwé on 'mon collectionneur' ('my collector') Isi Fiszman and finally ​ Joris D'hooghe on Musée d'art Moderne, Département des Aigles, introduced by Maria Gilissen-Broodthaers and Bart De Baere. 
Soleil Politique is part of a series of monographic exhibitions organised by the M HKA around key figures of the post-war avant-garde who were active in Antwerp. In 2017, Groeten van de Euraziaat (Greetings from the Eurasian) focussed on the activities of Joseph Beuys in Antwerp, and in 2018, The Perfect Kiss explored James Lee Byars' personal contacts with the Brussels/Antwerp art scene throughout his oeuvre.
MARCEL BROODTHAERS
​Soleil Politique
​04.10.2019–19.01.2020
​M HKA
Press conference: Thursday 3 October, 11am
​Please confirm your attendance via [email protected]
---

​Marcel Broodthaers, born in 1924 as the only son of a Flemish maître d'hôtel and a Walloon mother, is one of the giants in 20th century art history. Since his death in 1976, people have tried to understand the complex, erudite and humorous artist that Broodthaers was. This fascination has yielded a rich discourse, an international representation of his work in important public collections and many retrospective exhibitions. 
It is traditionally assumed that Marcel Broodthaers began his career as a visual artist at the end of 1963, when he put a stack of copies of his poetry collection Pense-Bête in plaster and made the following statement: "Moi aussi, je me suis demandé si je ne pouvais pas vendre quelque chose et réussir dans la vie…" (I too, have wondered whether I could not sell something and succeed in life...). In response to new trends in the visual arts, Broodthaers begins to exhibit objects; mussels, fries, eggs, bricks, coal and glass jars. He uses the Pop Art vernacular and introduces 'national' goods into the domain of the visual arts.
Broodthaers was previously active as a poet, journalist and photographer. He was fascinated with René Magritte and Marcel Lecomte, and like many personalities in – mainly literary – surrealist circles, he was a member of the Communist Party. As a young poet, he was confronted with a poetic and political avant-garde that tried to unite itself. 
---

​The M HKA wishes to thank all lenders, in particular Maria Gilissen-Broodthaers and Marie-Puck Broodthaers for their active involvement and numerous suggestions. We are grateful to all the enthusiastic witnesses for sharing their memories: Nicole Daled, Anny De Decker, Philippe De Gobert, Yves Gevaert, Benjamin Katz, Reiner Speck, Walter Swennen, Laurence Taca and Roland Vanden Berghe. 
---