Luca Monterastelli's first solo show at KETELEER GALLERY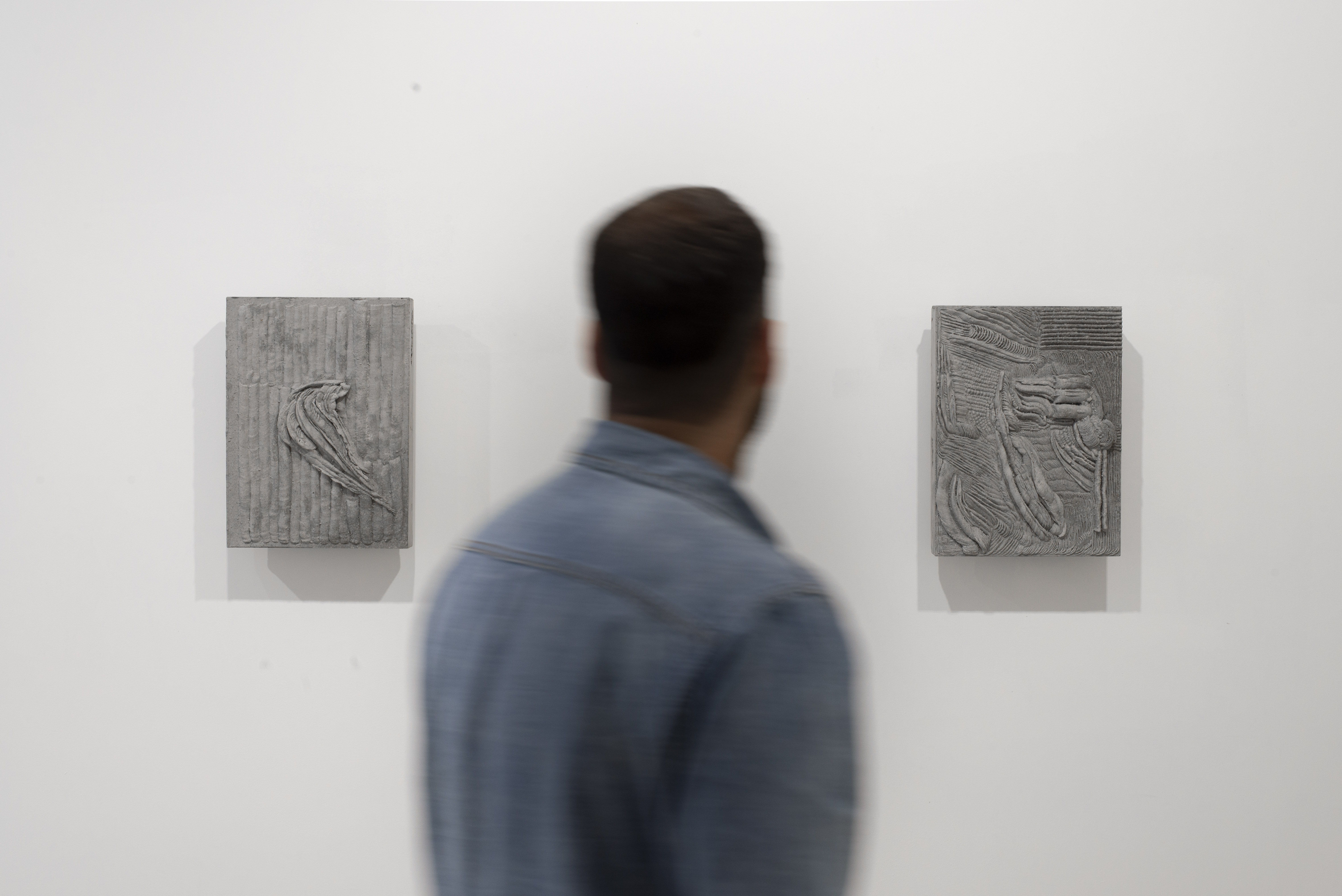 ​KETELEER GALLERY is presenting Old Masters, the first solo exhibition with the gallery by the Italian artist Luca Monterastelli.
Monterastelli was born in Forlimpopoli in 1983 and now lives and works in Milan. Over the course of the past 10 years, he has been developing an entirely individual, contemporary, sculptural vocabulary. In recent years his work has been shown at various prestigious exhibitions, such as the Venice Biennale in 2015. At the beginning of 2017, Alessandro Rabottini, artistic director of the miart fair, nominated Monterastelli as one of the five best Italian artists under the age of 40.
Monterastelli's sculptures are monumental and awe-inspiring. They form an accumulation of geometric entities that each contain multiple potential meanings. His sculptures often consist of vertical, vaguely anthropomorphic forms, which create formal paradoxes that encourage the viewer to explore the work from up close.
Despite the inevitable bodily allusions in the work of Monterastelli, the artist makes primarily abstract work. Aside from this playful formal language, his work is defined by his bold, robust choice of materials. Monterastelli clearly has a unique sense of materials and the mystery they evoke. As a spectator, one often does not know what material one is looking at. Cement elements intermittently assume the supple folds of carved marble, while plaster is made to crumple in on itself like ruffled linen emerging out of white stone. Is it cement or marble, limestone or linen?
The starting point for Monterastelli's first solo show at the KETELEER GALLERY is the idea of how easy it is to cross the line between use and abuse; how something vital, like art, can be used as a threat or a way for authority to impose itself. Monterastelli has always preferred sculpture, because it is the perfect language with which to betray this construct. It is one of the preferred mediums that authority likes to use to build its epic narrative, the narrative that radiates from the architecture and monuments that form the identity of a city and legitimate the nature of power. During one of his visits to Antwerp, Monterastelli noticed how most of the city's buildings are presented with a bird of prey clinging on to them, its prey between its claws.
There is an ancient beauty in this science of submission, in what mankind can exchange to cover his basic needs. So the title Old Masters refers to the tendency to corrupt the forces presented in the original idea, deforming it into something subjugating.
Luca Monterastelli
​Old Masters
​5 September 2020 — 18 October 2020 ​
​KETELEER GALLERY
​Pourbusstraat 3-5 - 2000 Antwerp
Click here for h-res images
---

​Luca Monterastelli was born in 1983 in Forlimpopoli, Italy. He lives and works in Milan, the city in which he was formerly a student at the Brera Academy of Fine Arts. 
Luca Monterastelli has already exhibited solo at various venues, including the Deweer Gallery in Otegem (2017), the Villa Mondolfo in Como, Italy (2017), the HIAP in Helsinki, Finland (2014), Viafarini DOCVA in Milan (2013), the Centre d'art Contemporain Parc Saint Léger in Pougues-les-Eaux, France (2012), Chez Néon Diffuseur d'Art Contemporain in Lyon, France (2012), and the MARS in Milan (2011). He has taken part in several group shows, including La Triennale in Milan (2015), and the 56th Venice Biennale (2015). His work has also been shown at the Casa Testori in Novate Milanese in Milan (2014), the Fondazione Bevilaqua la Masa in Venice (2014), the Museo Marino Marini in Florence (2013), and the Brown Project Space, also in Milan (2010). He is also represented by Lia Rumma in Milan.
---