Kunsthal Gent adds work by Thomas Renwart to the Endless Exhibition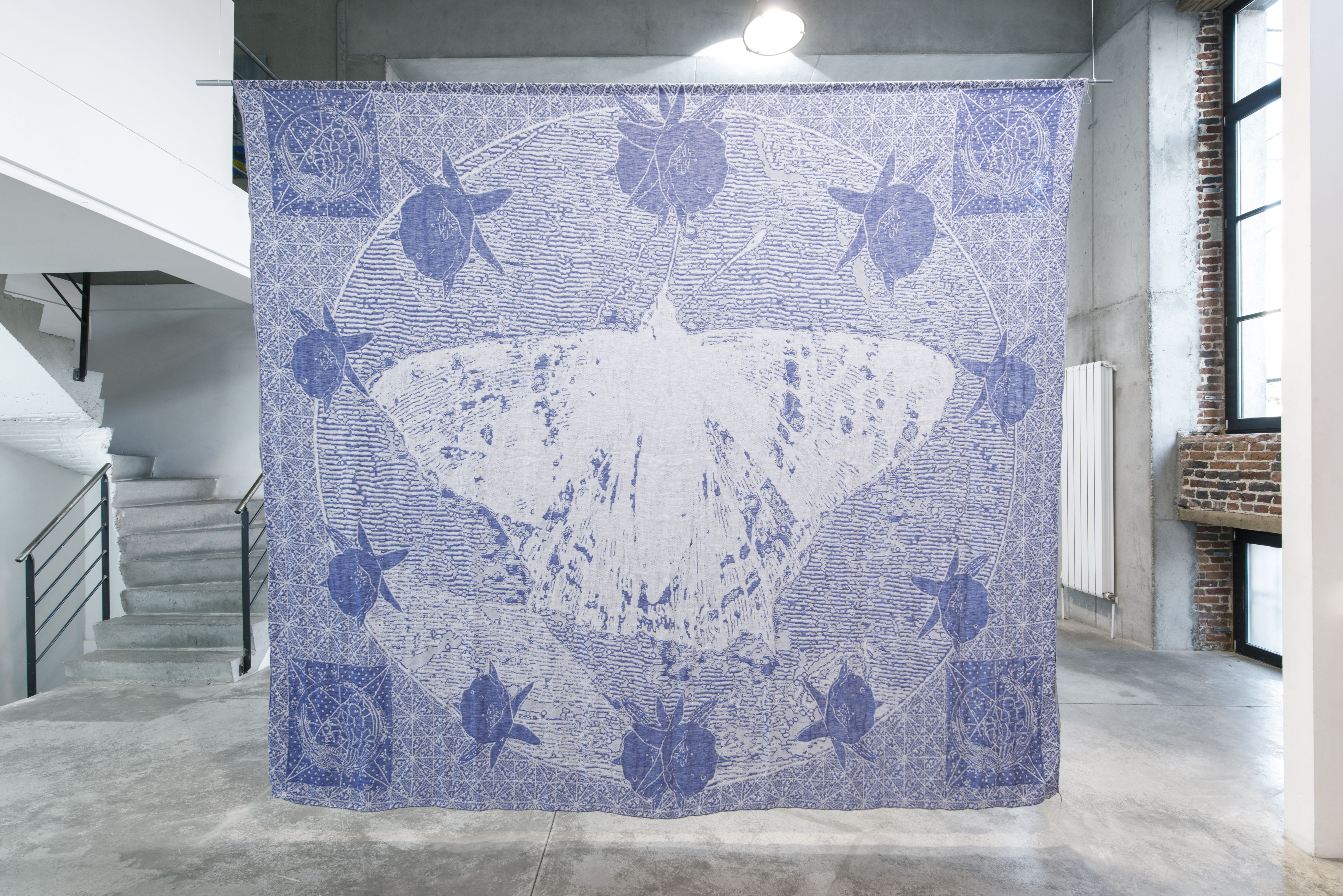 From September 24th, the Kunsthal Gent is adding new work by textile artist Thomas Renwart to its Endless Exhibition. The work, Sous les cieux et les nuages (Beneath the Skies and the Clouds) is the first that Renwart will be presenting using his birth name instead of his pseudonym of Les Monseigneurs.
It is in the guise of Les Monseigneurs that Renwart has gained national and international recognition in recent years with his textile works and tapestries depicting large flowers, insects, and fantasy figures. His work has been exhibited in New York and Berlin, at the Milan Triennial, at the Dutch Design Week in Eindhoven, and at Interieur Kortrijk.
Renwart was already a guest at Kunsthal Gent a year ago, with the temporary presentation of his installation Gilding The Lily at the Oud Huis (Old House), which is part of Kunsthal Gent. The work, which was produced for the Salone Del Mobile design fair in Milan, found a home there when the Italian fair was cancelled because of COVID-19, a switch that would become the prelude to an intensive period of collaboration.
The new installation at Kunsthal Gent can be seen as a spatial intervention, an ever-evolving work in an architectural construction. The viewer / visitor can visit, enter and experience this almost sculptural approach from different angles and viewpoints. Several times a year, new canvases will be placed on top of the work, allowing it to continue to grow and evolve.
The first series of images on the embroidered and digitally printed textiles emerged from an inexhaustible personal archive of butterfly stamps, which Renwart enlarged to surreal proportions. The images on the embroidered and digitally printed textiles started out from an inexhaustible archive of butterfly stamps, blown up to surreal proportions, and manipulated through collage and text. It is a reflection of our intimate collections, of what we keep as human beings, the kind of thing that stays somewhere in a little box or a drawer, almost forgotten. Yet the power and the poetic aspect of a stamp, of cards and letters sent, rely on conveying messages, good or bad. They always look like little paintings, carefully crafted somewhere, by someone. 
These textiles are intertwined with an impressive construction by architect and artist Olivier Goethals, made to measure for this spatial intervention. 
The distinctive element of the Endless Exhibition is that each exhibition becomes permanent. The aim is to address the overproduction, mass consumption and fleeting attention span of today's art world. Every new addition always puts pressure on the existing situation. The discussion about how the new relates to the existing work is therefore always a conversation with all of the artists involved. Renwart and Goethals reflected on the possibility of interaction within and through other elements that were already present in the Endless Exhibition. The bridge, now with covered space, becomes a true passage, and one which leads to the other side of Kunsthal. 
This approach raises topical questions about space, waste, labour and future histories. At the same time, it questions the autonomy of individual works of art.
Thomas Renwart (in collaboration with Olivier Goethals)
​Sous les cieux et les nuages
​24 September – ∞
​Kunsthal Gent
---
Thomas Renwart
Thomas Renwart (°1995) graduated in 2019 from the LUCA School of Arts, where he gained his masters in Textiles. From there, he developed a textile practice in which craftsmanship and poetic representations of a universe are constantly coming together. He has an artist's practice in which craftsmanship, technicality, locality, handicraft and a dose of poetic hooliganism all interfere with and challenge each other. From his collections of dried and pressed daffodils and other flowers, of butterflies and textiles, he creates hybrids of landscapes and still lifes.
Renwart develops his own fantasy world, which he carefully translates into tangible matter, using techniques such as jacquard weaving, embroidery, quilting, and digital printing. 
In addition to his textile work, Renwart also has a predilection for making artist's books. His first artist book Comme si de rien n'était was published in early 2021 by MER.B&L. For his artistic research, Renwart was awarded two Henry Van de Velde 2021 Awards. 
Thomas Renwart is represented by Bruthausgallery.
---
Endless Exhibition
Kunsthal Gent is experimenting with new ways of dealing with works of art and artists, and to this end it started up a conversation in 2018 with, among others, the American designer and curator Prem Krishnamurthy. His radical proposal to make all exhibitions permanent is to be tested for feasibility at Kunsthal Gent. 
ENDLESS EXHIBITION is a curatorial-manifesto-as-polymorphic-artwork that surveys the overproduction, mass consumption, and fleeting attention span of the contemporary art world. In the programme, curators and artists are invited to develop a contribution to an exhibition that has no end date. New additions always put pressure on the existing situation. The discussion about how the new work relates to the existing work is therefore always a conversation with all the artists involved. This performative proposal poses timely questions of space, waste, labor, and questions the autonomy and 'untouchability' of individual, finished artworks.
In Krishnamurthy's own words from a note written in 1999: "[Principle] 5: Return of the project – the project should never be finished – it should always invite additions, reconsiderations, re-contextualisation."
---