Klaas Rommelaere presents his larger-than-life embroidered puppets in Texture in Kortrijk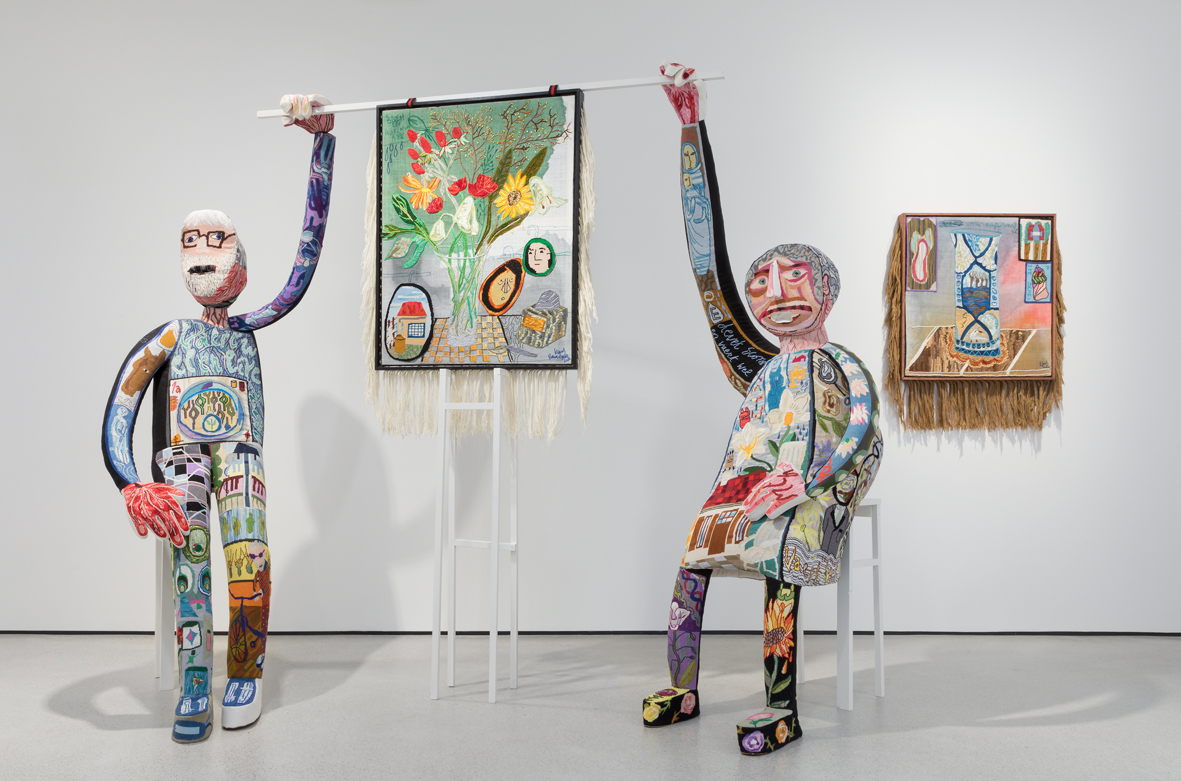 The Texture museum in Kortrijk is collaborating with Be-Part, Platform for contemporary art in organising a solo exhibition this autumn by the Belgian artist Klaas Rommelaere. The exhibition, entitled Dark Uncles, presents an impressive installation consisting of sixteen enormous embroidered puppets and two dogs that all move in a procession through an exhibition that also features an avenue with totem poles and a series of embroidered works and tapestries.
Rommelaere is a remarkable artist in many ways. Born in 1986 and now living and working in Antwerp, he uses traditional crafts that require time and skill and combines them with an open, innovative and creative outlook. In this respect, he fits in perfectly with a museum such as Texture, which presents itself as an open house at the intersection of heritage, craft and innovation. In combining both coincidental and documentary topics and thus preserving autobiographical experiences through his artistic work, Rommelaere builds a parallel existence in fragments of his own history. His imagery is firmly rooted in the everyday and the subculture of urban life in Antwerp, with quotes from movies or animes mixed with interpersonal observations, and larger-than-life figures and other sculptures entirely assembled from embroidery and crochet.
All the works in the exhibition are handmade. Since the beginning of his career, Rommelaere has worked with 15 older ladies (the so-called "madames") who help him with the handicrafts and meet every week in Antwerp, Roeselare and Ingelmunster. For this exhibition, Rommelaere expanded the group of "madames" with textile makers from all over Flanders. About 90 makers responded to the call from the artist and the museum for people to help with embroidery. Because of the corona crisis, this could not be done in a room together, so Rommelaere developed home kits, which could be filled in at home by the textile makers, using their own imagination and choices of colour. From the 1st of July, however, they will sit together every Wednesday afternoon – in small groups and with respect for safety regulations – to continue their work in Texture's studio. 
Dark Uncles
"A man with no history or a people that has forgotten its past will have no choice but to disappear..."
Klaas Rommelaere wrote this quotation from the award-winning Japanese anime director Hayao Miyazaki on the top of his newest project, "Dark Uncles". Made completely in elaborated handicraft with needle, thread, wool and yarn, the seven larger-than-life puppets, two dogs, and eighteen new wall pieces tell stories about the artist's own life. 
In order to counter disappearance and to trace his own past, Rommelaere is building large-than-life doubles – "Dark Uncles" – of his own history. Bizarre effigies of ten of his closest family members – parents, sister, partner, grandparents and the two family dogs – move procession-like through the exhibition space and recount the experiences and memories of the artist's life. The anatomical sketch of a cranium on his mother's chest is evidence of her profession as a speech therapist; musical instruments and cheering people point to the sister's job as a booker; and the fact that his father once had a trading company for camping supplies, and also worked in addition as a truck driver, can be read among the numerous details portrayed on his arms and torso. 
These personal stories of each single figure are complemented by testimonies such as pictures and memories from the family's history. Having welded sculptures from metal residues after his work at the melting furnace of a metal factory, his grandfather played a particularly important role in Rommelaere's artistic development, and a sculpture of his own, plus numerous references in several wall pieces also tell of this formative relationship. 
Tapestries
In addition to the puppets – the "Dark Uncles" of the title – there will also be embroideries and tapestries on view in Texture. At first glance, these wild collages and scenic patchwork images appear like embroidered and knotted notes in yarn and wool. However, nothing about it is coincidental. Rommelaere assembles these perfectly imperfect scenes like the complex storyboards of a two-dimensional movie. 
To mark the exhibition, a comprehensive catalogue will be published by Art Paper Editions in collaboration with Be-Part Kortrijk and Galerie Zink in Waldkirchen.
Klaas Rommelaere
Klaas Rommelaere originally graduated as a fashion student from the Royal Academy of Fine Art in Ghent. After internships with Henrik Vibskov and Raf Simons, however, he quickly realised that the fashion world was not where his ideas could come to life. Inspired by movies, comics, books and personal experience, Rommelaere thus began to translate his drawings with the language that was familiar to him – needle, thread, wool and yarn. 
In the beginning, he embroidered his stories onto the canvas completely by himself, which took days and weeks at a time. Eventually, he started to work together with a group of elderly ladies from his home town who have happily helped him ever since, allowing absurdly bizarre scenes of handcraft-pop to result from cross-stitch, crochet and knitwear. 
"The last year of my studies I decided to make everything by hand. Because I like to do that, but also because I want to go against the current pace. Everything goes so fast that the slowness of handwork is liberating. It brings peace of mind and that is addictive. Crafts and textiles require skill and time. [...] A work of mine takes months or even a year to finish. [...] I think that's a different kind of punk – a middle finger to some contemporary art that's easy and overhyped." ​ 
– Klaas Rommelaere in an interview with MoMU, 2018
Texture
Texture is a contemporary museum dedicated to the linen and flax industry. Flax is an intriguing plant with a remarkable past. But flax is also extremely topical. You use it every day, often without knowing it and in unexpected places. 
The museum reopened its doors at the end of 2014 and has since then been telling an international story with thinkers, daredevils and doers, deeply rooted in the region's DNA. Texture connects that rich flax past with today's industrial society. The result is an inspiring experience about entrepreneurship and (traditional) craftsmanship in the textile sector.
---
Praktische info 
Klaas Rommelaere
​Dark Uncles
​3 October 2020 - 31 January 2021
​Texture, museum over Leie en vlas
​www.texturekortrijk.be
​
​Noordstraat 28, ​
​8500 Kortrijk
​+32 (0)56 27 74 70 ​
​texture@kortrijk.be 
---