iMAL is presenting The Artwork as a Living System, a retrospective on the pioneering work of Christa Sommerer & Laurent Mignonneau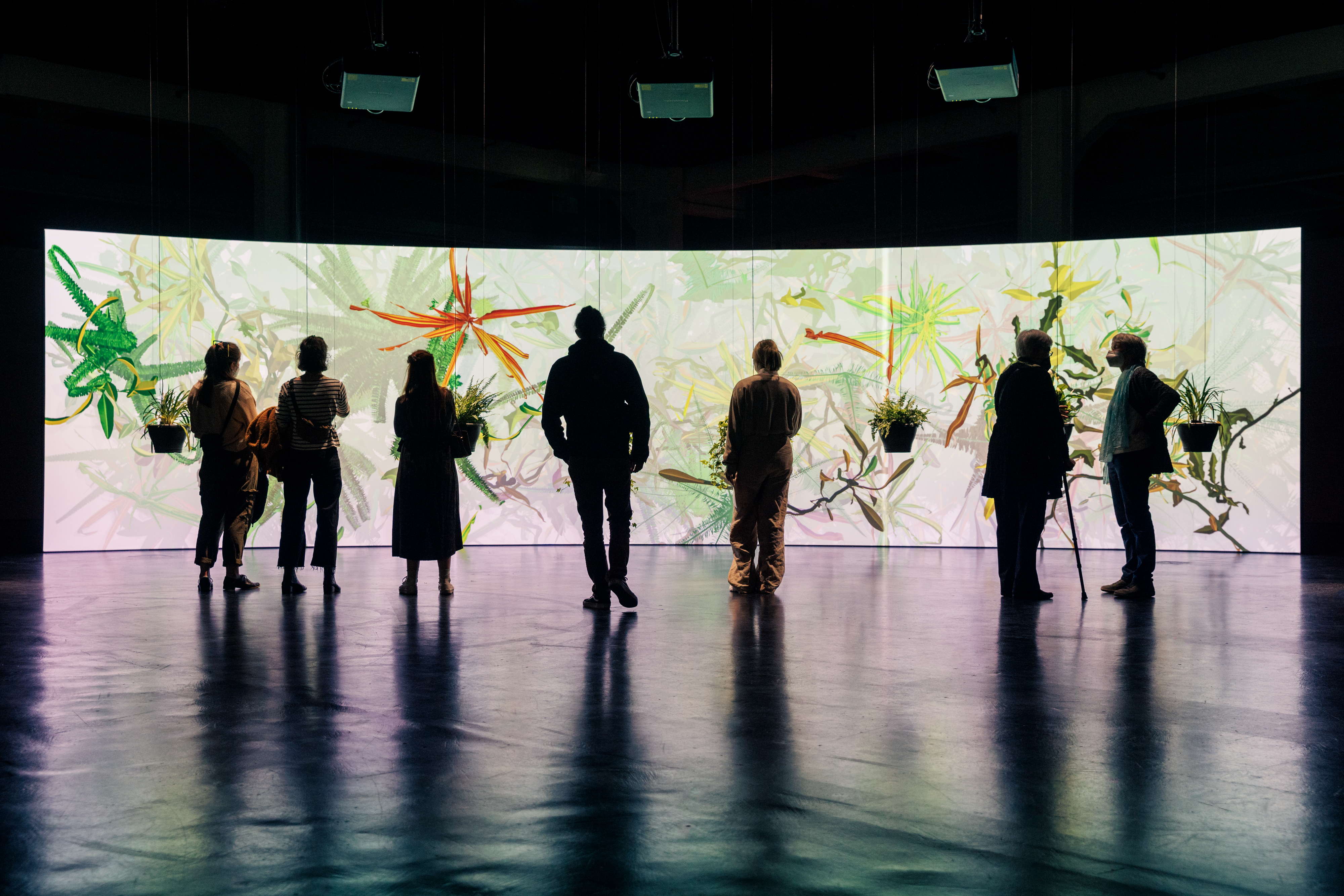 iMAL is presenting The Artwork as a Living System, a retrospective on the pioneering work of Christa Sommerer & Laurent Mignonneau since the early 1990s.
The exhibition, opening on 14 April, connects a traditional subject – art and nature – with the most innovative artistic techniques employed in virtual, sentient, interactive projects. 
The interactive installations in the exhibition tell the story of almost 30 years of artistic work by the Austrian-French artist duo whose works are technologically inventive, scientifically instructive, and artistically imaginative. Moving between the subject areas of natural science, technology and art, they pioneered the "Art of Interface," in which innovative technical interfaces enable physical interaction between simulative visual worlds and the world of natural sensory organs.
The display is made up of 14 interactive installations, the majority of which have won awards at the principal festivals of art, science and digital culture worldwide. The presented works offer an intimate and tangible approach to concepts such as quantum physics, the theory of complex systems, genetics, molecular nanoscience or artificial life.
Very early on, Sommerer & Mignonneau also used algorithms to represent not only forms of living but also their evolution and growth. In fourteen installations, which are created only through the actions of the audience, man-made artificial systems are shown that exhibit behavior like natural living organisms. Plants, water and lights become sensitive interfaces through which the public can create and connect with virtual environments. Technical devices originally designed by the artist couple produce virtual realities and immersive environments beyond the previous horizon of experience.
Their works, almost digital art classics now, open a new perspective in which artworks act as living systems. Few artists have shaped the transition from the moving image media phase to the living image media like Sommerer and Mignonneau.
---
Practical
The Artwork as a Living System
​Christa Sommerer & Laurent Mignonnea
​14.04 - 24.09.2023
iMAL
​30-34 Quai des Charbonnages / Koolmijnenkaai
​1080 Brussels, Belgium
​https://www.imal.org
Press opening: 14 April, 11 am
​Programme :
11:00 am Exhibition tour with the press, by Christa Sommerer and Laurent Mignonneau
13:30 pm Lunch at Nightshop Brussels
This exceptional retrospective is the result of a co-production between ZKM Center for Art and Media Karlsruhe (Germany), OÖ Landes-Kultur GmbH, Linz (Austria) and iMAL Brussels (Belgium).
The exhibition is accompanied by a publication in English edited by Karin Ohlenschläger, Peter Weibel and Alfred Weidinger in the Leonardo Book Series in collaboration with MIT Press, which is expected to be released by August, 2022.
---
Images
---
About the artists
Christa Sommerer and Laurent Mignonneau are both digital artists, researchers and pioneers in interactive art who have achieved worldwide recognition. After working, teaching and researching in the United States and Japan for ten years, they founded and currently co-direct the Interface Culture Department at the University of Art and Industrial Design in Linz, Austria.
Sommerer was also Obel visiting professor at the University of Aalborg, Denmark, as well as Visiting Professor at the CAFA Central Academy of Fine Arts Beijing and Laurent Mignonneau was the International Chair visiting professor at the Université Paris 8 in Paris, France.
Together they have created some 50 works of interactive art for which they have received numerous prizes: these include the Premio de ARCO BEEP in Madrid, Spain, in 2016; the Wu Guanzhong Prize for Innovation in Art and Science in 2012, awarded by the Ministry of Culture of the People's Republic of China; the Golden Nica Prix Ars Electronica in 1994; an Ovation Award at the Interactive Media Festival in Los Angeles in 1995; a Multi Media Award '95 from the Multimedia Association of Japan; the World Technology Award 2001 from the World Technology Network in London, United Kingdom and the uni:invent Prize, 2008, awarded by the Ministry of Science and Research in Austria.
Sommerer and Mignonneau have taken part in more than 300 international exhibitions and their works are to be found in museums and collections all over the world. Among the most prestigious are the Festival International d'art numérique, Montreal; ISEA Hong Kong; ARCO Madrid, Ars Electronica, Linz; Art and Artificial Life, VIDA, Madrid; the ZKM Media Museum, Karlsruhe; Arts Santa Monica, Barcelona; the MOT Museum of Contemporary Art Tokyo; the Seoul Metropolitan Museum of Art; and the Exploratorium, San Francisco.
---
About iMAL
iMAL is a space for artistic practices around the creative and critical use of new technologies. iMAL connects a community of artists, thinkers, makers and citizens from Belgium and abroad and offers a completely renewed infrastructure to support a program focussing on research, production and presentation.
By following artistic practice in all its phases and facets, iMAL is directly connected to the latest artistic practices, social trends and technological developments. As a workshop, laboratory and presentation platform at the intersection of art, technology, science and society, it occupies a unique position by connecting contemporary art production with other sectors - locally, nationally and internationally.
iMAL seeks to grow, strengthen and diversify this community. In the years to come, iMAL will broaden its operations and make them accessible to new audiences. In this program, the unique expertise of artists and their special view on society and technology is always at the center. iMAL wants to use this view to inform about (technical) developments, to inspire and encourage citizens to actively participate in the latest digital cultures, but also to empower them and teach them to be critical of the challenges associated with the digital revolution.
iMAL uses its unique position as a platform to connect other artists' initiatives, workshops and festivals with a focus on art, science and technology and sees it as its mission to translate these activities into a visible and audience-friendly way, building a bridge between the professional field and a broader public.