IBASHO presents Ronin de Goede's photographic diary of his time with a Japanese tattoo master
A unique look into the (under)world of traditional Japanese full-body tattoos and its links to the Japanese mafia.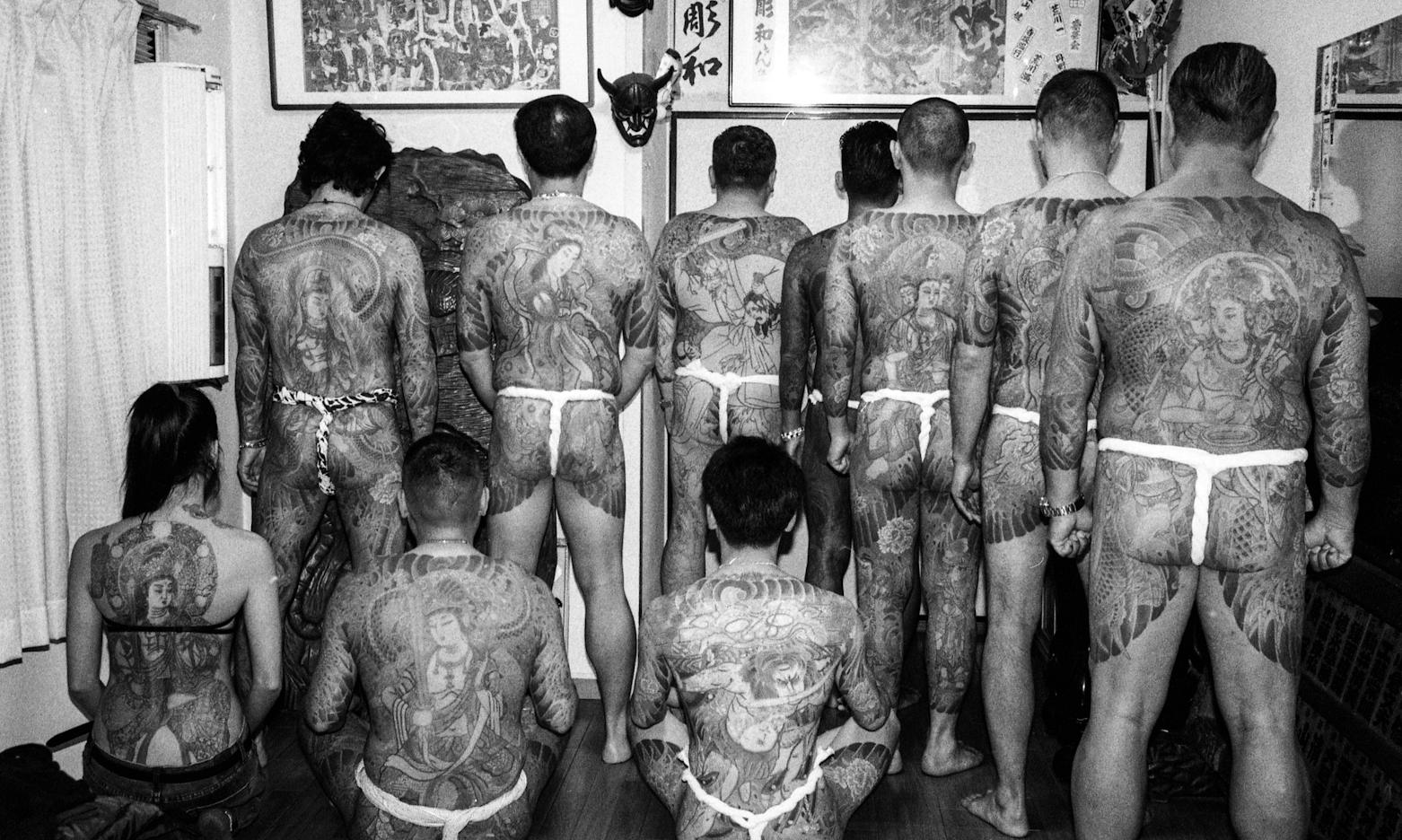 IBASHO presents the exhibition and book Asakusa by Dutch photographer Ronin de Goede. Asakusa is de Goede's visual diary of the time he spent between 2011 and 2020, following Horikazu, a traditional Japanese tattoo master in Tokyo's Asakusa district. As Japan has historically been and continues to be a country where tattoos remain closely associated with the criminal underworld, following Horikazu's work—his specialty being the full-body tattoo—slowly allowed de Goede to entry into the world of the Yakuza, the Japanese maffia...
Asakusa shows black and white imagery of Horikazu and his clients who hire him for his full-body tattoo specialties. The images are raw depictions of Yakuza gang members, ​ tattoo sessions, client portraits, reportages of the 'Sanja matsuri', and intimate shots of gang members enjoying life, also with their families. ​
De Goede's high-contrast black-and-white photographic style represent not only a new attitude towards the medium, but also towards reality itself. The viewer is invited to fill in the blanks, so to speak. Subjects not entirely in focus or even heavily blurred can be representative of anything or anyone: less factual information leaves more to the imagination. It's a style that invites reflection as opposed to today's culture of interchangeable and disposable content that can be understood at a glance.
More abstract photographs that make fleeting moments almost tangible while never truly revealing their subject serve as counterpoints to these articulate, narrative images of people going about their business, and pleasure.
---
Ronin de Goede: Asakusa ​
​Exhibition
​25 March - 2 May 2021 ​
​IBASHO
​Tolstraat 67, ​
​2000 Antwerp
​​
​Book
​Publisher: Zen Foto Gallery ​
​216 pages ​
​€ 80.19 ​
​More information here
---
Ronin de Goede (1978, The Netherlands) is inspired by both the everyday and the ephemeral. The ability to see in shades of grey allows him to focus on light and shadow, textures, shapes and expressions, bringing his studies in graphic design, fine art and painting at the Royal Academy of Fine Arts in The Hague into play.
His camera of choice is an analogue black Leica MP loaded with kodak 400 TRI-X, which he received in exchange for a collection of war memorabilia he and some friends had scavenged from the ruins of the Atlantic Wall, the coastal fortifications built by Germany between 1942 and 1944 along the coast of continental Europe and Scandinavia.
Eschewing digital photography and printing, he makes his own distinctive hand- made silver gelatine prints in a darkroom nestled in woodlands close to The Hague. Whether beneath this leafy shade or among the shadows crisscrossing the sun stroked streets of Asakusa, de Goede slips with ease from clogs to kimono, and can sometimes be spotted wearing both.
Two years ago, he became an official photographer for the largest yakuza group attending the Sanja matsuri, the 5th Takahashi-gumi (a subgroup of Sumiyoshi-kai, the second largest crime syndicate in Japan.
---