The Horst exhibition infuses the unique terrain of ASIAT with in-situ commissioned works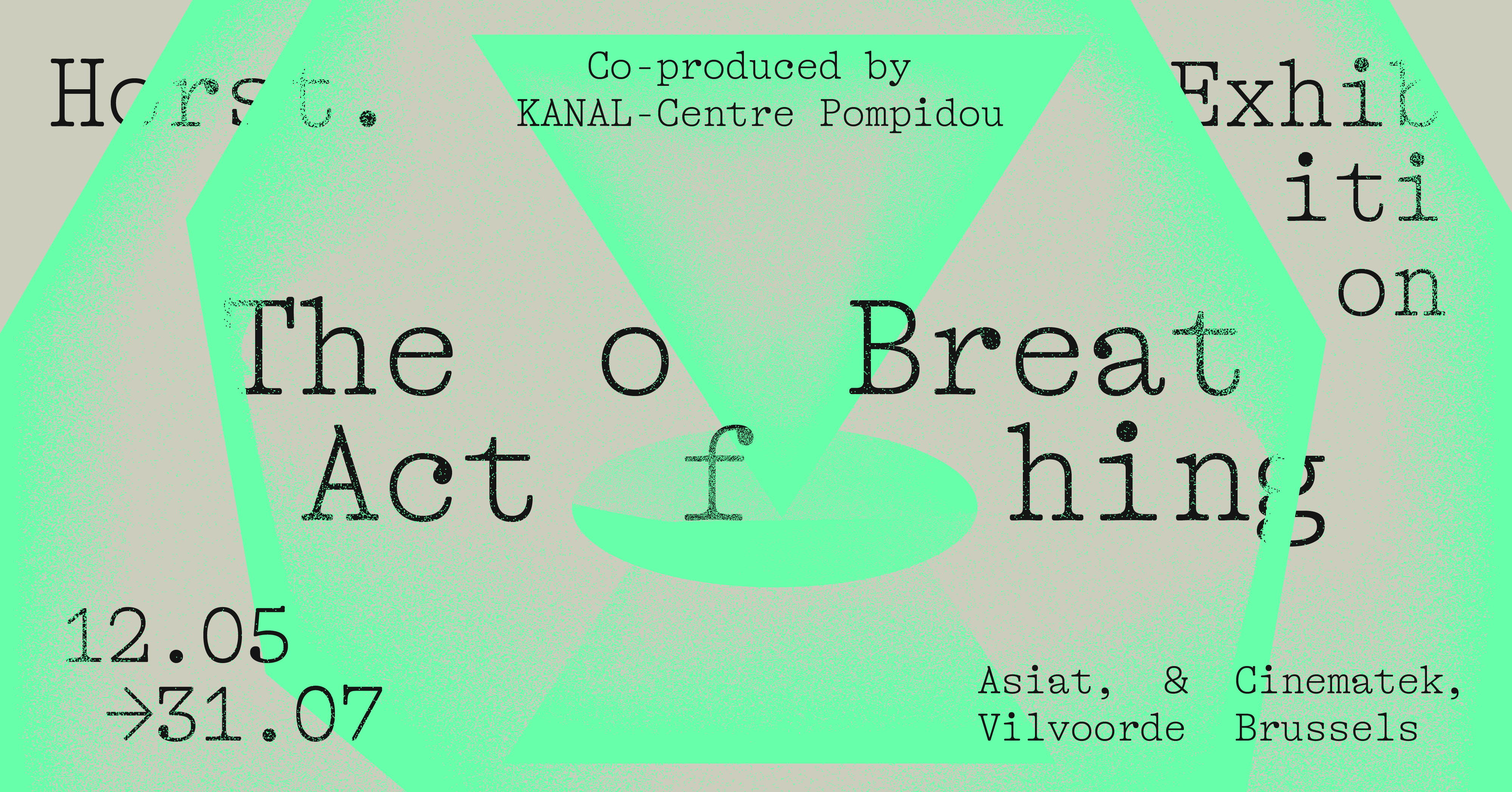 The 2022 Exhibition 'The Act of Breathing' will unravel at both Asiat, Vilvoorde as well as Cinematek, Brussels. Asiat will host 10 in-situ artworks engaging with the architectural and symbolic character of the former military base, while 3 other artists come together at Cinematek to be counterparted with a programme of films curated by Monique Mbeka Phoba.
'The Act of Breathing' will — after its glorious opening during the Festival — run from May 7 to July 31.
'The Act of Breathing' is co-produced by KANAL - Centre Pompidou in the framework of 'Living Traces', their year-long programme between Kinshasa and Brussels. 
Living Traces offers a two-sided view on the past and present of the Democratic Republic of Congo and its links with Belgium, more specifically on the remaining traces of the (de)colonization in both countries. In line with KANAL's mission to decentralize the audiences' perceptions, Living Traces proposes a diverse program of exhibitions and performances with Congolese, Belgian & Belgian-Congolese actors.
For the first time, the Exhibition's opening coincides with the three-day Festival. On this occasion, Laure Prouvost's commission transforms into one of the five dancefloors. Visual artists Pascale Marthine Tayou and Benjamin Orlow engage with the exterior surfaces of the buildings punctuating the Asiat site, while the universes of Michèle Magema and Kris Lemsalu (left image) will inhabit the derelict military barracks.
Soraya Lutangu Bonaventure and Ali-Eddine Abdelkhalek are showcasing a film installation presenting the processes of creating "Taking care of God", a hybrid performance piece that explores the intersections that exist between Church music and the Club scene.
'The Act of Breathing' explores the breath. A repetitive force. An instinctive necessity. A tool for political resistance, when voices are silenced. When earth is depleted. When collectivity is shattered. When music loses its soul.
It's in those moments that the continuous reclaiming of air becomes a space for battle, for gathering. for healing.
The Exhibition considers Congo, and the power it continues to exert, as a pathway that allows to envision where this struggle can lead to: the breath as an element which sculpts, through its repetition, the environment we're inhabiting - physical in its materiality, and symbolic in its political manifestation.
The participating artists therefore take over the Asiat-site with predominantly site-specific installations that connect to each like one long breath, transmitting energy and linking body to body to form a strong alliance.
---
HORST Exhibition
​The Act of Breathing
​29.04 - 01.05 & 12.05 -> 31.07
​Asiat, Vilvoorde ​
​Curated by Sorana Munsya & Evelyn Simons
​Open Thursdays - Sundays: 11h - 18h 
Extra muros works and film programme at Cinematek Brussels with the support of Bozar, Brussels
​Open daily: 17h30 - 22h30
Tickets via https://horstexhibition.tickoweb.be
​More info: www.horstartsandmusic.com
The curatorial research of Sorana Munsya and Evelyn Simons, and the subsequent co-production between Horst Arts & Music and KANAL-Centre Pompidou, takes place in the framework of Living Traces - ​ KANAL's yearlong programme between Kinshasa and Brussels. 
---
Exhibited artists
Asiat, Vilvoorde ​
​Maika Garnica, Kris Lemsalu, Soraya Lutangu Bonaventure & Ali-Eddine Abdelkhalek, Michèle Magema, mountaincutters, Anthony Ngoya, Benjamin Orlow, Leonard Pongo, Laure Prouvost, Pascale Marthine Tayou 
Cinematek, with the support of Bozar - Brussels ​
​Jean Kabuta, Mega Mingiedi, Agnès Lalau ​
​And a film programme curated by Monique Mbeka Phoba throughout the month of July
---
About the curators
​​
​Sorana Munsya is a curator living in Brussels. She has a master degree in Psychology and Political Sciences. In her curatorial practice and writings, she is concerned with the connections between art and individual as well as collective healing strategies or practices. Focused on contemporary visual art created by African artists, she was the assistant curator of the 5th Lubumbashi Biennale of Contemporary Art. In 2019, she was invited as a curator to the 3rd edition of the International Painting Meetings of Ouagadougou. She is part of the editorial team of the Belgian art magazine "HART" and writes for many art catalogues like the 12th Bamako Encounters catalogue, the last Belgian solo exhibition catalogue of Pascale Marthine Tayou ("Tornado", Museum of Modern and Contemporary Art, Ostend) , Photography Meeting Bamako (2019), "Congoville" (Middelheim Museum, Antwerp, 2021) exhibition catalogue etc. She recently curated the last solo exhibition of the Belgian-Congolese artist Lenoard Pongo at Bozar, Brussels and the last soloexhibition of congolese artist Michele Magema. Upcoming projects include a solo exhibition of Joud Toamah and Hilary Balu, and a group exhibition in the context of the Milano Triennale. She's also working on the development of a non-profit art project called Lobi. ​
​​
​Evelyn Simons is a curator and writer based in Brussels. Her activities centre around social practice and the mediation of contemporary art in public space. Since 2019, she curates the visual arts and performance programming at Horst Arts & Music. In addition, she is launching Ter Rijst, a new centre for contemporary art in the rural periphery of Brussels with Isabel Van Bos, and is affiliated with Fondation CAB Brussels/ Saint-Paul-de-Vence and with Ballon Rouge Collective. She was a laureate of Fondazione Prada's Curate Award, and is preparing exhibitions at Casino Luxemburg and Kunstverein Harburger Banhhof in Hamburg. She holds a Masters in Art History from Ghent University, and a Postgraduate in Curatorial Studies from KASK Ghent. 
---
About Horst
Horst is a movement dedicated to developing talent, cities, and spaces. Horst blends & celebrates the worlds of art, architecture and music. Horst creates Labs, Exhibitions, and Festivals as momentums of transformative energy. In the past 8 years, Horst has grown into an internationally renowned platform for showcasing cutting-edge electronic music, in-situ artworks, and inventive architecture. Horst aligns a three-day immersive music festival with longer-term trajectories in which architects are invited to create unique stages and dancefloors, and in which contemporary artists are commissioned to enter into dialogue with the specific context and surroundings through site-specific new productions.
---
Images