Group show with Rinus Van de Velde, Jonathan Meese and Adrian Ghenie inaugurates the new space of Tim Van Laere Gallery
On April 20th, Tim Van Laere Gallery will festively open the doors of its new gallery space, designed by architects OFFICE Kersten Geers David Van Severen. The opening exhibition, entitled KUNST KUNST KUNST (ART ART ART), presents new work by Adrian Ghenie, Jonathan Meese and Rinus Van de Velde. Van de Velde will reveal for the first time a new series of color drawings and new sculptures in ceramics.
The exhibition title immediately reveals the essence of the gallery. For Tim Van Laere Gallery, art and artists are the most important elements. The new building also makes this statement in its immediate surroundings, and will make art visible and accessible to everybody in the city. ​
But this new step also shows the ambition of the gallery. The building itself is impressive: it is 1000m2 in size (5 times the size of the previous gallery space) and has ceilings of 5 and 8 meters high. Brussels-based OFFICE KGDVS has established a global reputation as one of the most original and influential architectural practices of its generation. Completed projects include the Solo House in Matarraña, Spain and the Traditional Music Centre in Bahrain (both 2017) while construction is soon set to commence on the practice's design for the headquarters of the Swiss Radio and Television Company on the campus of the École Polytechnique Fédérale de Lausanne.
As a series of interconnected rooms, the building's structure and function will be visible from the outside, presenting a space for contemporary art in the centre of Nieuw Zuid. Storage facilities, offices, a white cube, a chapel and a patio will follow each other, offering a variety of exhibition spaces for art to be experienced.
KUNST KUNST KUNST
​ADRIAN GHENIE - JONATHAN MEESE - RINUS VAN DE VELDE
​20 April - 18 May 2019
​Tim Van Laere Gallery
​Jos Smolderenstraat 50,
​2000 Antwerpen
For h-res images and interview requests, please contact [email protected]
Opening: 20 April, 4pm - 10pm
​Concert by Admiral Freedbee at 6pm
​​
​www.timvanlaeregallery.com
Adrian Ghenie
​At first sight Adrian Ghenie's (°1977, Baia-Mare; lives and works in Cluj and Berlin) paintings deal with subjects that carry a historical set of references, but collective memory is constantly challenged by enigmatic prophetic actions, occulted and personal folds in the temporal linearity. Ghenie's works have become increasingly complex and multilayered, generating an open-ended set of internal and external meanings. Infused with ambiguity, the works operate in the areas between figuration and abstraction, history and imagination, past and present.
Jonathan Meese
Jonathan Meese (°1970, Tokyo; lives and works in Berlin and Hamburg) is renowned for his multi-faceted work, including wildly exuberant paintings and installations, ecstatic performances, and a powerful body of sculptures. All of Meese's work is driven and supported by a striving for a rule of art, the dictatorship of art. Apparently effortlessly, he has developed in all genres an independent and at the same time unique vocabulary that gives his work a variety, visual energy and quality which, according to Robert Fleck, has been unheard of since Picasso. Meese describes the new space of Tim Van Laere Gallery as the MOBY DICK BUNKER for ART. For KUNST KUNST KUNST, Meese presents a series of new works on the theme of Herman Melville's Moby Dick as well as some large bronze sculptures.
Rinus Van de Velde
Over the past few years, Rinus Van de Velde (°1983, Leuven, lives and works in Antwerp) has built a strikingly coherent oeuvre, mainly consisting of monumental, narrative charcoal drawings. Although these drawings still play a prominent role in his work, Van de Velde has evolved increasingly towards a 'total artist', creating a tension between fiction and reality by the use of different media such as drawings, sculptures, installations and film. With his large scale drawings Van de Velde invites the viewer to step into his carefully constructed universe. Casting himself as a succession of fictive characters and constantly reinventing himself as a different kind of artist, Van de Velde inhabits different personas, genres and art forms. For KUNST KUNST KUNST, Van de Velde presents a new series of drawings in color and new sculptures in ceramics.
About Tim Van Laere Gallery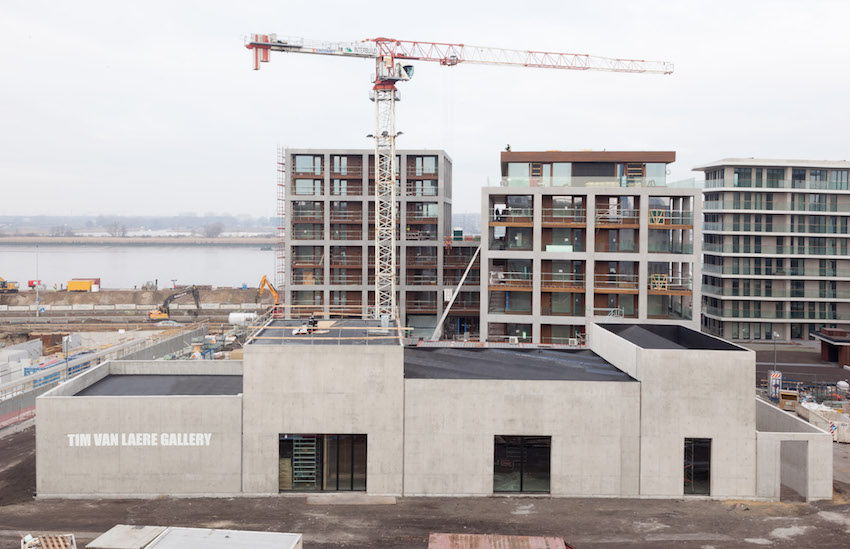 Tim Van Laere Gallery is a Belgian contemporary art gallery in Antwerp, founded in 1997 by Tim Van Laere. The gallery focuses on the work of young, up-and-coming artists as well as established international contemporary artists. Since its creation, the gallery has gained a solid reputation on the Belgian and international art scenes, with artists from different countries and a programme that represents all media (sculpture, painting, video, installation, photography). In recent years, important names such as Kati Heck, Jonathan Meese, Adrian Ghenie, Rinus Van de Velde, Franz West, Henk Visch, Friedrich Kunath and Ben Sledsens have exhibited at the gallery. The gallery displays six exhibitions a year and participates in a number of international art fairs.