Frederik Vercruysse presents Windows, a show with new and exclusive prints and objects editions at Spazio Nobile Gallery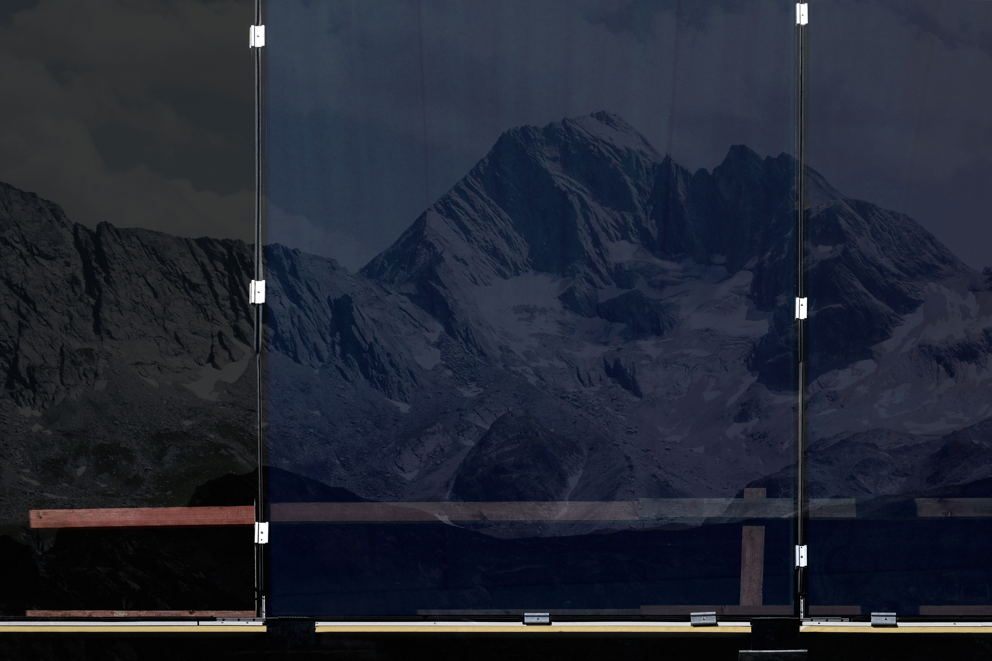 Opening during Brussels Gallery Weekend, Spazio Nobile in Brussels presents the first solo show of Belgian artist Frederik Vercruysse with the gallery.
In this exhibition, titled Windows, Vercruysse explores the image as a window that opens onto the real and the imaginary. The figurative space takes new shapes in the defined frame, sometimes blurred by frosted glass or a projected shadow. At different levels, the object appears in a humanised landscape, but without a human presence. It is transformed by daylight, at dawn or dusk, creating visual impressions that emerge from a facade, a landscape, a bouquet of flowers…
Frederik Vercruysse invites the visitor to confront the analogue image pushed to the limit, pixelated, becoming truer to itself the closer one gets. Purposefully blurred and distorted in a decomposition that is recreated by our eye that tries to capture its presence, the composition of the image becomes impressionistic and is reborn as the pointillist work of a painter with small brushstrokes.
Windows thus conveys, in Vercruysse's unique language, a body of poetic images that respond to one another between non-pictorial pictures (Window Stills), and composed objects reflecting the 'mirror of the soul' (the Light Boxes and the Mirror Glass Boxes).
​​
​The glass, the windows, the glass plates of the photographer of yesteryear become the common thread of this intense investigation. For years, Frederik Vercruysse has tried to combine an analytical, realistic, objective and documentary spirit in his photographic work. He uses the camera like a high-tech tool to produce images in which the frame is entirely staged. By distancing himself, he assembles fragments of the images that he produces over time, to compose lyrical, even hidden, narratives. He thus passes on the feeling of existence, presence and absence, light and its intense rays.
In the backlight or under the light of a Light Box, in the diffraction of an image escaping and vanishing from a Mirror Glass Box, Windows paints and depicts a new nature of image and photography. Through the production of glass objects in collaboration with Atelier Mestdagh, a stained window glass workshop located in Merelbeke in Belgium (listed on Homo Faber, for excellence in craftsmanship in Europe), Spazio Nobile has edited three new creations by Frederik Vercruysse, in limited edition, for their launch during the Brussels Gallery Weekend:
Windows Stills, photographs, 5 + 2AP
Windows Light Boxes, bright rooms, 3 + 2AP
Windows Mirror Glass Boxes, psyches, 3 + 2AP
The photographs were translated into three-dimensional objects whose strength lies in the transparency and subtlety of a living material. The glass has been hand-blown and laminated in the fire. It translates the space in a pictorial and reflective way with a visual scope linked to the space of the gallery. The nature of the image comes to life thanks to the luminous glass frame and shimmering sides cut in the stained-glass workshop. Interplaying with invisibility and with an addition of a new layer of handmade laminated glass or mirror glass, Vercruysse explores the tridimensional and visual effects of framing and unframing his photographs. The subtle play of colours in the photograph and the amplitude of the play of light and shadow allow the image to float in its own space-time. 
---
PRACTICAL INFORMATION
Frederik Vercruysse
​Windows
​9 September - 14 November 2021
​​
​Spazio Nobile Gallery
​rue Franz Merjay 142
​1050 Brussels
​spazionobile.com
Vernissage Spazio Nobile Gallery & Studiolo: 9 September 2021 – 6pm - 10pm
​Sunday Brunch 12 September 2021, 12pm - 4pm
​After Work Apero 21 October 2021, 7pm - 9pm
​Finissage 14 November 2021 - 12pm - 4pm
Open from Tuesday until Saturday, 11am - 6pm or by appointment
---
INVITATION PRESS LUNCH
Spazio Nobile cordially invites you to the press lunch on the occasion of the exhibitions Windows (Spazio Nobile Gallery) & Encres bleues (Spazio Nobile Studiolo) in the presence of the artists Frederik Vercruysse & Tomáš Libertíny, on Thursday 9 September between 12 and 3 pm at Spazio Nobile Gallery & Studiolo, rue Franz Merjay 142 & 169 - 1050 Brussels.
Please confirm your attendance via [email protected]
---
CATALOGUE
Catalogue Frederik Vercruysse Windows
PDF - 25 Mb
Download
---
IMAGES
---
FREDERIK VERCRUYSSE
Originally from West-Flanders, Antwerp-based Frederik Vercruysse has imposed his photographic eye for more than two decades, cultivating a taste for architecture. The very good quality of his documentary and artistic images led to international renown. His minimalist, ethereal style and the graphic dimension of his photographs have allowed him to build a successful career as a photographer, whether for the media or in the design, fashion and luxury sectors (Hermès, Delvaux, B&B Italia, Valentino, Zara Home, etc). His first monograph, Index 2006-2016, was out published by Luster, focusing on his work with architects, designers, fashion and lifestyle brands and on his artistic vision. He is currently represented by the agency Initials LA in Benelux, and by Quadriga worldwide. Frederik Vercruysse is represented by Spazio Nobile Gallery since 2017. Windows is his first solo show with the gallery. His art photographs Atlantic Series were exclusively created for Spazio Nobile and featured in the duo show, Season VI- Blauw, Ceci n'est pas une couleur, in close dialogue with porcelain artist Piet Stockmans, on Art Brussels, Collectible and have been permanently exhibited at Spazio Nobile Studiolo until now.
---
OTHER EXHIBITIONS - SAVE THE DATES
Across the street
Tomáš Libertíny, solo show, Encres bleues ​
​Spazio Nobile Studiolo, rue Franz Merjay 169, 1050 Bruxelles, Belgium ​
​9 September - 14 November 2021 ​
​Part of Brussels Gallery Weekend, Brussels Design September
The Bluescapes is an ongoing series of works on paper and wood anchored in the use of Bic ink medium and the power of its unique blue hue. Tomáš Libertíny is constantly inspired by nature and its intricate power to communicate with our senses. The artist revisits the concept of landscape paintings trying to extract the essence of the experience of being overwhelmed by space and nature's territory.
Invitation Tomas Libertiny Encres Bleues
PDF - 644 Kb
Download
---
Downtown
Spazio Nobile , Group Show, Le Sacre de la Matière, Chapter II ​
​L'Ancienne Nonciature, rue des Sablons, 7, 1000 Brussels, Belgium ​ ​
​09.09 - 03.10.2021 (vernissage: 08.09.2021, 18-21.00)
​With: Jörg Bräuer, Anne Derasse, Ernst Gamperl, Kaspar Hamacher, Amy Hilton, Silvano Magnone, Elise Peroi, Päivi Rintaniemi, Bela Silva, Fabian Von Spreckelsen Part of Brussels Gallery Weekend, Brussels Design September
Spazio Nobile Downtown & Bela Silva ​
​rue des Minimes, 61A, 1000 Brussels, Belgium ​
​Permanent Gallery Window Rome me manque… ​
​Atelier visits by appointment. ​
​Part of Brussels Gallery Weekend, Brussels Design September, parcours Arts & Crafts, Open Doors, 18-19.09.2021
FAIRS ​
​
​Art On Paper ​
​Another Way to Draw, Duo Show with Pao Hui Kao & Éva Le Roi ​
​Bozar, Brussels, Belgium 15-19.09.2021