Frank&Robbert Robbert&Frank at Be-Part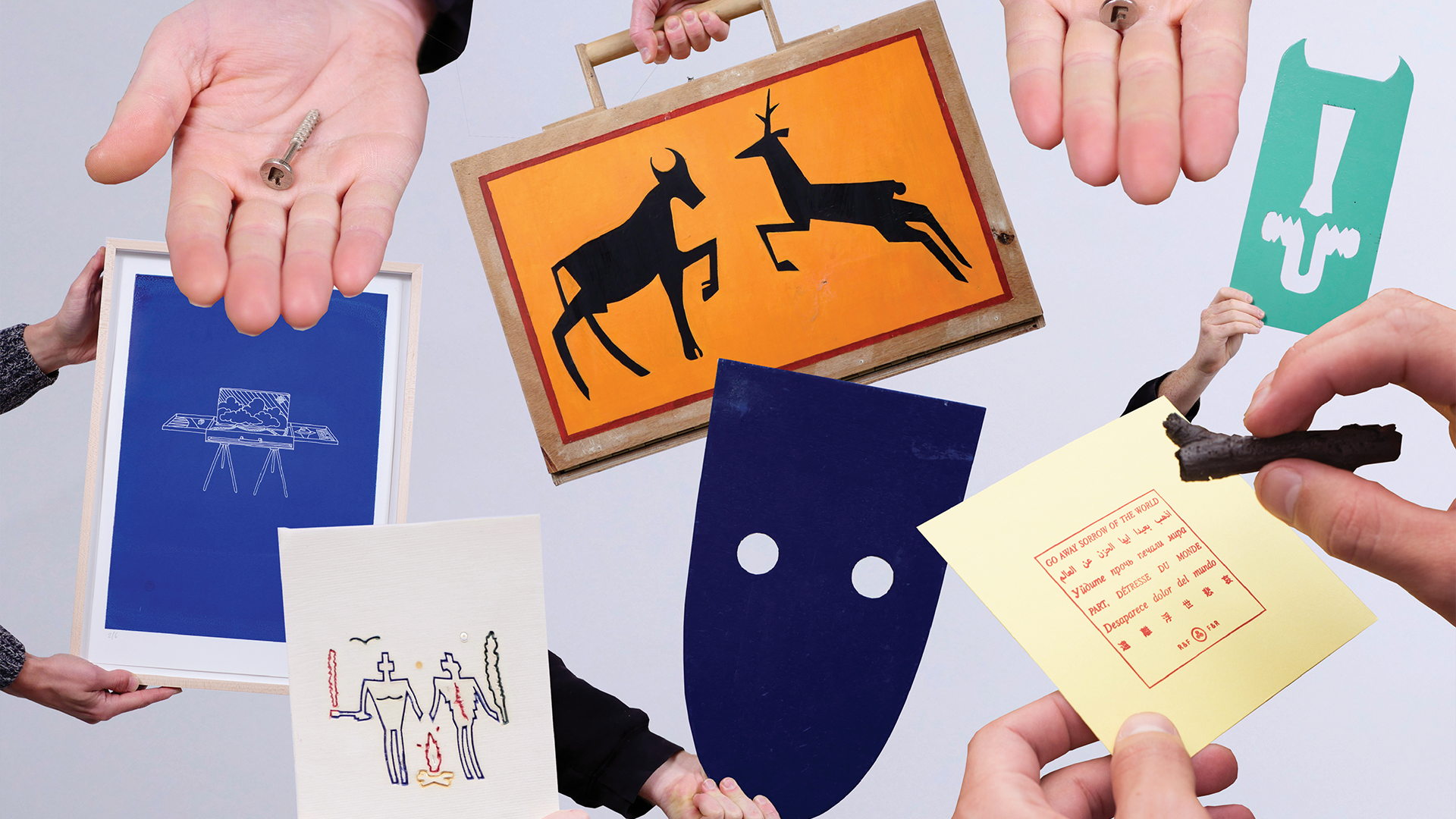 Be-Part Waregem organizes a solo exhibition of the artist duo Frank&Robbert Robbert&Frank.
​​
​In their upcoming solo exhibition at Be-part, Frank&Robbert Robbert&Frank present a retrospective of their past five years' work. Through theatrical dioramas, photo and video works, sculptures, blueprints, screen prints and clay tablets, the artists tell a story that links their everyday reality to philosophical and societal questions. A major focus in the exhibition is the role of the artist in the public space and the creation of a personal mythology. 
Their jumping-off point is a series of wooden suitcases that they developed some years back during their summer residency at ​ Be-Part. Like the duo's artistic practice, these constructions straddle the boundary of craftsmanship and performance, sculpture and prop, public and private space, gadget and artwork.
Through little performative acts that are repeated and documented over and over, the artists seek ways to transcend the physical artwork. By repeatedly exposing both themselves and their work to new contexts and environments, the artists attempt to share with spectators the poetic potential of their work. 
They will also be presenting a series of recent editions, in each of which a new medium is explored: 3D prints, ceramic tablets and silk-screen prints. In these works the matter of representation is of central importance. For the artists, this is linked to their search for their own ultimate and authentic personal symbology. ​ 
Frank&Robbert Robbert&Frank
​BREADCRUMS
​23.02 - 01.06
​Be-Part Waregem
​Westerlaan 17, 8790 Waregem
---

​Frank&Robbert Robbert&Frank
After Frank and Robbert graduated with a master's degree in visual arts from KASK (Ghent, 2012) they have chosen to go through life as the artist duo Frank&Robbert Robbert&Frank. This intense collaboration forms the basis for their artistic practice and symbolizes their vision on friendship, collectivity, interplay and knowledge sharing. Together, they realise a multidisciplinary body of works, containing objects, prints, installations, videos, actions in public places and cross-over performances on the border between arts and theatre. With their works, they actively relate to the global society and formulate questions and poetical alternatives.
Frank&Robbert Robbert&Frank are constantly developing new methods to create and show their work. The status of the art object and the artist is continuously subject to change and transformation. Besides their participation in official exhibitions and festivals, they show their works with self-initiated actions in public spaces, as well in Belgium as abroad. They see this as a strategy to reach more people, to continuously evaluate their experiments and to broaden their network.
The work of F&R R&F has previously been shown at KW Institute for Contemporary Art (Berlin), BOZAR (Brussels), BuBox Kortrijk, Baro Gallery (Sao Paulo), De Beursschouwburg (Brussels), Museum Angewandte Kunst (Frankfurt), De Brakke Grond (Amsterdam) and Dr. Guislain Museum (Ghent). In 2019 they received a scholarship from the Flemish Government and were artist-in-residence at Air Berlin Alexanderplatz (Berlin). 

​