Everyday Gallery presents a solo exhibition of Lionel Jadot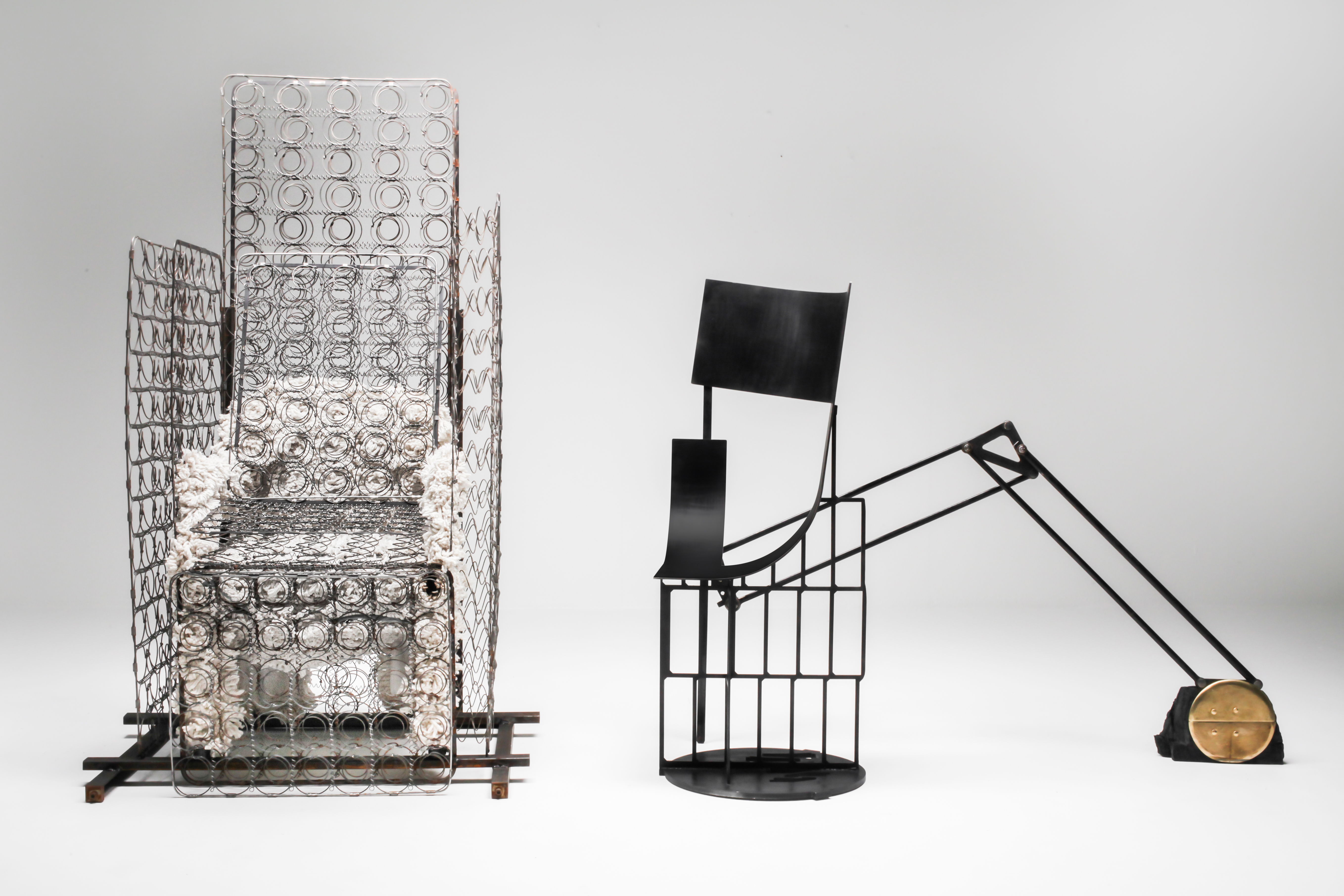 ​Everyday Gallery in Antwerp presents an exhibition of the Belgian creative centipede Lionel Jadot (°1969). 
Under the title Enthrone Dethrone, Jadot will present a series of unique sculptures: seating elements or 'thrones' made up of elements that Jadot collected over the years: readymades, found or recycled objects, elements with a story. For Jadot, working equals playing, recycling, assembling, with a wink towards other cultures, the local context, and the past. In doing so, he's breaking codes, mixing genres, combining materials and colours.
Omnivorous in approach, Jadot is interior architect, artist, designer, film-maker, adventurer. Craftsmanship is deeply rooted into his DNA. Being a descendant of a family of furniture makers and having a workshop as his playground, Lionel Jadot mastered the art of making furniture at a very young age.
While Jadot might be first and foremost known for his eclectic interior designs, it should come as no surprise that his first solo gallery exhibition is taking place at Everyday Gallery. His vibrant energy, open mind, free spirit and his anti-conformist, avant-garde approach are very much in line with the identity of the gallery. 
Based in Antwerp in the new architectural district of the south and founded in 2019, Everyday Gallery describes itself as a time capsule for future artistic references. With a mindset between the artist-run space and a commercial gallery, the gallery displays trans-disciplinary artists who dive deep into the radical world of fine and functional arts. With the world of art and design brutally colliding, the emphasis is put on the plasticity of the workflow. Shapes are shifting and lines entangled, giving a new territory for us to explore.
Everyday Gallery is always balancing on the boundaries of applied and visual art, of functionality and aesthetics. In addition to painting and sculpture, the gallery also exhibits the ambiguous works of Elissa Lacoste, touche-touche or Messgewand. All revolutionary in their approach and vision. Lionel Jadot fits perfectly into that list. "Call it found art or trash art, the creative centipede Lionel Jadot is the international avant-garde artist in this genre par excellence. We are therefore very proud to be able to present his first ever gallery exhibition in Belgium at the Everyday Gallery," says Devis.
But there's more: Jadot is inextricably linked to the start of the gallery.
"Just when I was overwhelmed by the new artistic approach of some Eindhoven master graduates, I heard about Lionel Jadot's project Zaventem Ateliers. He had bought a 16th century paper factory and was going to transform this amazing space into one big creative hub. I immediately wanted to be part of this project! I had the idea to accommodate all those extremely talented, multifunctional artists that I had got to know better in Jadot's building and to start an AIR (artist in residence) programme called alfa.brussels so I could invite creative people to create new work".
— Boris Devis
According to Devis, the output of the residency in Zaventem deserved a presentation space - a gallery -, and so Everyday Gallery was born. The gallery shows a mix between what the artists in residence at Zaventem create and other invited avant-garde artists. With Jadot's show in Antwerp, the circle is almost complete. "In Zaventem I got to know Lionel and his fantastic work a lot better. His maximalist and unique approach fits perfectly with what our gallery wants to show. We had no choice but to offer this warm man a solo show. Luckily he said yes," says Devis.
---
Lionel Jadot
​
​Enthrone Dethrone
​20 June - 16 August 2020
​
​Everyday Gallery
​Jos Smolderenstraat 18, 2000 Antwerp
s