Designer and artist Christoph Hefti exhibits new textile works at Dries Van Noten's first American home in LA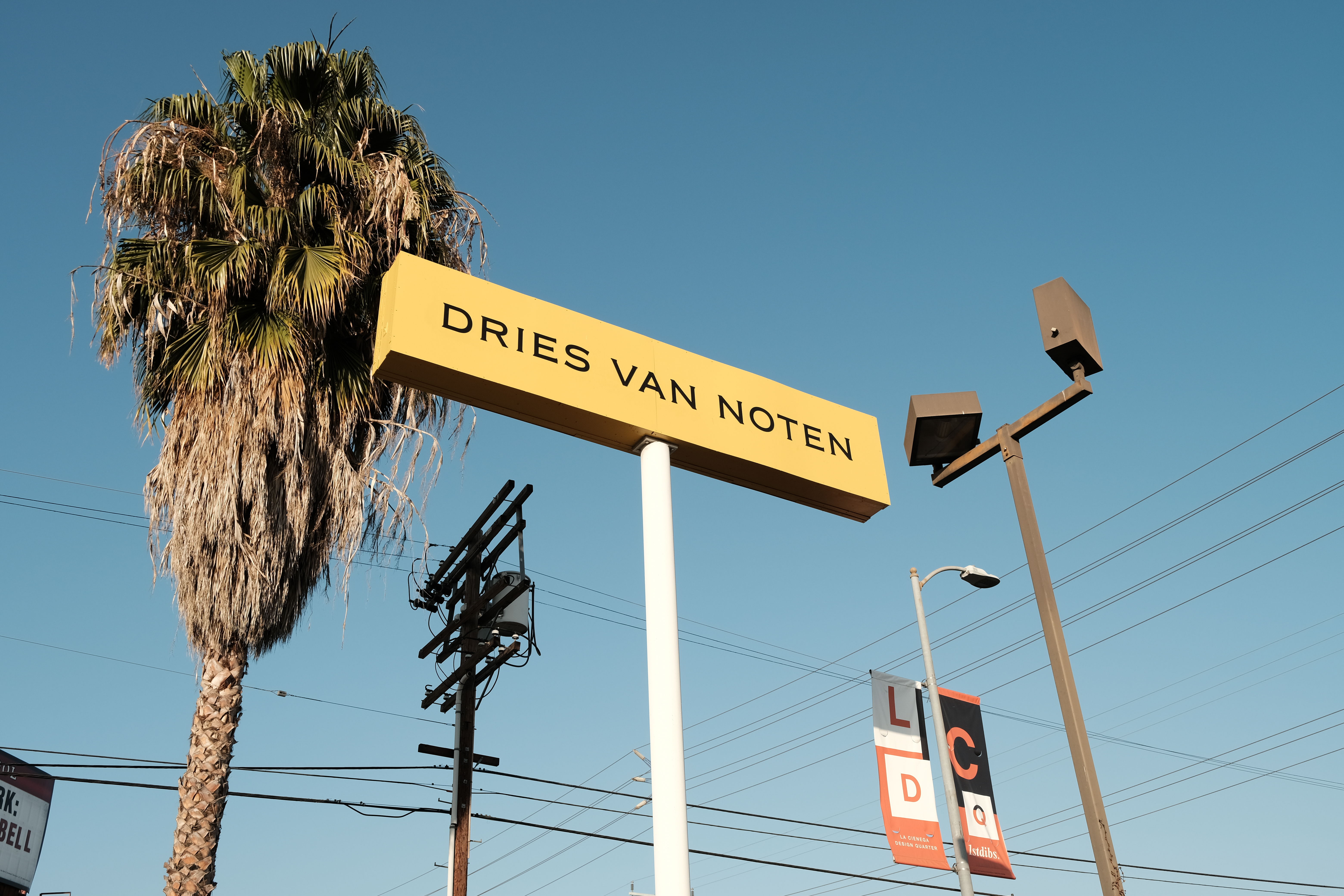 The designer, artist and former creative collaborator of Dries Van Noten, Christoph Hefti, is exhibiting new textile works at The Little House, an exhibition space at Dries Van Noten, LA, the designer's first American location.
Dries Van Noten celebrated the opening of its first American home on La Cienega Boulevard in Los Angeles on 9 October 2020. This flagship store is about so much more than the habitual retail experience. With an open layout of 8500 square feet, the shop in LA comprises two houses separated by a vast parking lot: The Big House and the Little House. The Big House presents Dries Van Noten's current collections and a curated selection of garments from his archives available for purchase. Each house will also exhibit works by artists, designers and craftspeople whose work has impressed Dries Van Noten.
Following the opening exhibition at The Little House, featuring ceramics by Ann Demeulemeester / Serax, the Swiss textile designer and artist Christoph Hefti (°1967, Zurich) will exhibit his work there from 27 November onwards. Hefti will present an installation featuring three of his hand-knotted relief carpets made of Nepalese wool and silk, as well as three new interior designs, in the form of a curtain and poufs in two different fabrics.
In recent years, Christoph Hefti has become an absolute specialist in printed fabrics and carpets. His work is always experimental, spontaneous and colorful, and independent of any context in terms of time and trends. Hefti is fascinated by cultures, folklore and mystical stories. His love for crafted textiles has taken him to Nepal, where he designs and develops his own series of hand-knotted rugs. During his visits to Nepal, Hefti rediscovered the direct interaction between the designer and the craftsman and became fascinated by the use of traditional crafts in a contemporary context. He approaches the mystical and even spiritual tradition of storytelling textiles through his very personal, yet worldly themes.
Following his study of textile design in Zurich, and fashion at Central Saint Martins in London, Hefti spent 13 years as a creative assistant to Dries Van Noten at his Antwerp atelier, where he was responsible for creating prints iconic to the designer. His role included research, design and development. After leaving Antwerp behind, Hefti started working on a freelance basis for various fashion houses, including Lanvin and Balenciaga in Paris, and Acne Studios in Stockholm. He currently designs fabrics for Mugler in Paris. 
Christoph Hefti is represented by the Brussels gallery MANIERA, which specializes in limited edition interior objects designed by artists and architects. His most recent projects include a tiled floor for the entrance of Ghent's Arts Centre Vooruit, a textile wallpaper for Maison Dandoy's flagship store in the Galeries de la Reine in Brussels, a set design including a printed curtain for a performance by artist Diederik Peeters, and printed fabrics for Swiss fashion designer Julian Zigerli.The work of Christoph Hefti is included in the collections of the Swiss National Museum and the Museum für Gestaltung Zürich. Furthermore, many of his carpets are acquired by private collectors in Belgium, Switzerland, Italy, France, the Netherlands, the US, and China. 
Christoph Hefti's carpets have this year been shown in group exhibitions at Mudac in Lausanne, at the Aargauer Kunsthaus, and the Museum für Gestaltung in Zürich. For the latter, he is co-curating the promising exhibition Wild Thing – Modeszene Schweiz, which will open its doors at the beginning of December. In Belgium we are looking forward to new work specially designed for the Horta Museum.
MANIERA's Christoph Hefti at The Little House
​Dries Van Noten LA
​27 November - 31 December 2020
​DRIES VAN NOTEN, LA CIENEGA BLVD
​451 N. La Cienega BLVD, Los Angeles CA 90048
​Mon to Fri 10am-6pm — Sat 11am-2pm
Installation views
Single works