Cranford Collection is back home after a two-year-renovation by architects Gabriel and David Chipperfield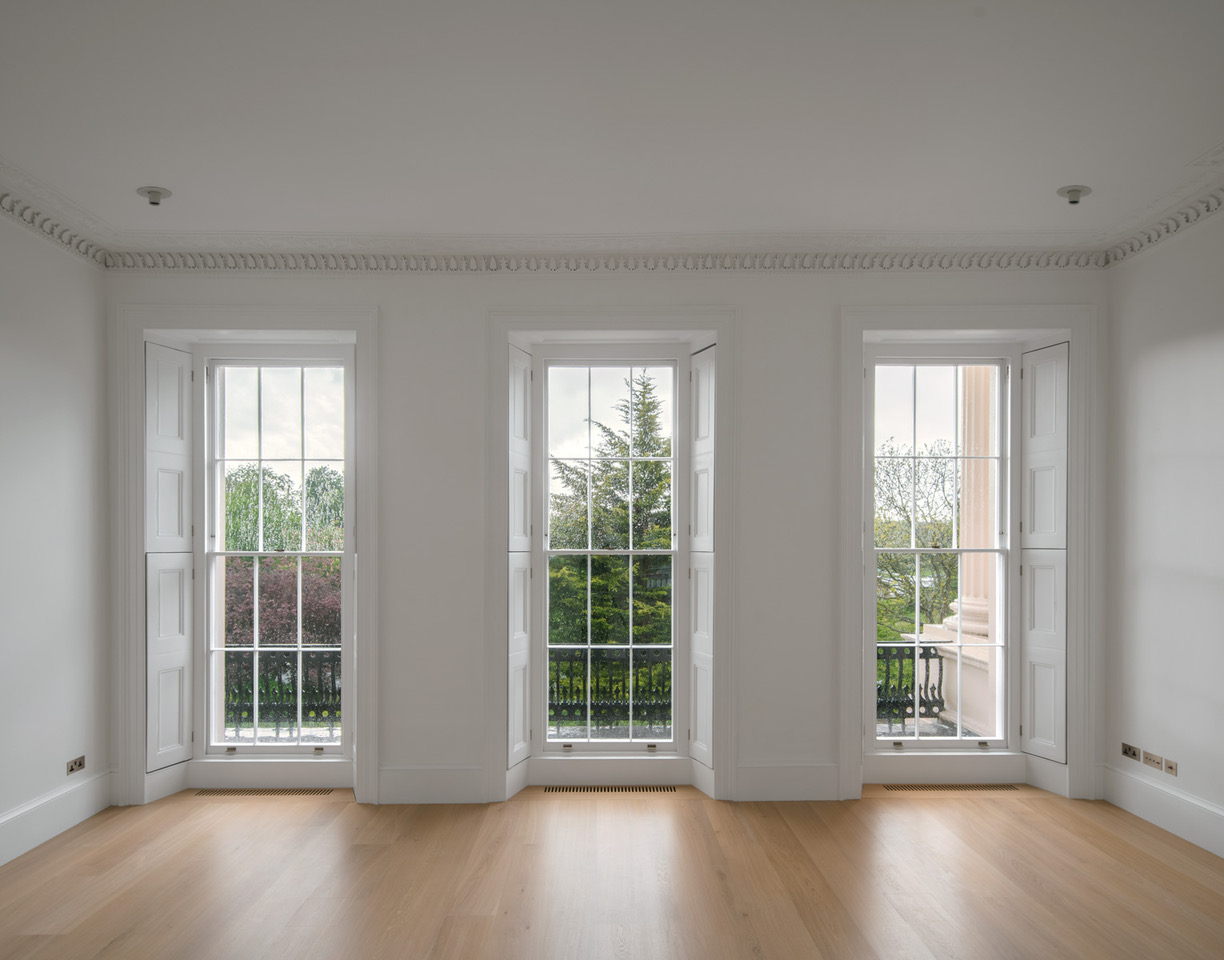 On October 3, on the occasion of Frieze London 2019, the Cranford Collection will return to the house located at Gloucester Gate in Regent's Park, entirely renovated by architects Gabriel and David Chipperfield. The Cranford Collection is one of Europe's most important contemporary art collections, including masterpieces by Christopher Wool, Sigmar Polke, Louise Bourgeois, Gerhard Richter, Franz West, Alice Neel, Ed Ruscha and Bruce Nauman. Since 2005, collectors couple Muriel and Freddy Salem have been accommodating their collection in an elegant home designed by architect John Nash in the early 19th century. ​
​​
​The collection is led by curator Anne Pontégnie since 2011. Anne Pontégnie has been operating at the highest level of the international art world for years. The Belgian curator and art critic is one of the founders of the Brussels contemporary art centre WIELS and was until recently co-director of Le Consortium in Dijon. Under her impulsion, the Collection has grown and attempted to draw connections between the works it includes in order to increase its coherence, and to be able to develop publicly minded activities. The collection is rotated approximately every eighteen months and today comprises nearly 700 works. As well as regular visits, Cranford Collection has developed under the curatorial directorship of Anne Pontégnie a number of other activities such as film screenings, artist residencies (in collaboration with Camden Arts Centre), artists books, support and dialogue with public art institutions, meetings and loans in order to keep the artworks alive for a broader audience.
​​
​The property is just a stone's throw from Frieze London, the annual contemporary art fair in Regent's Park. The aim of the renovation was to increase the capacity as exhibition space and public venue. The re-opening of the building in October 2019 will bring the collection back home.
The collection will be open to the public from November 4, on appointment only.
​For more information, please contact [email protected]
---

​About Anne Pontégnie
Anne Pontégnie is the founder of AP Office, an office dedicated to the consulting and production of contemporary art projects. Anne Pontégnie founded her office to better integrate her various activities as an art critic, curator and consultant. Apart from working for the Cranford Collection, AP Office provides strategic advice to gallery Xavier Hufkens, artist Yves Zurstrassen and architecture firm Noaa Architects. She is also part of the Academic and Scientific Advisory Committee of Kanal - Pompidou Museum. She has curated solo exhibitions with Christopher Wool, Mark Leckey, Kelley Walker, Josh Smith and Edith Dekyndt. She has done a retrospective of Mike Kelley: Educational Complex Onwards (WIELS, Brussels and Museion, Bolzano) and Daan Van Golden (Camden Arts Center, London and Mamco, Geneva). She also writes for magazines (Artforum, Frog), has published numerous catalogs (Hans Hartung, Christopher Wool, Kelley Walker, Daan Van Golden ...), and has led and created alternative production programs (New Patrons and Microproductions).
---

​About the Cranford Collection 
Cranford Collection is a London-based contemporary art collection founded with the collaboration of Muriel Salem and curator Andrew Renton in 1999, when the city's art scene was at its most vibrant. One of the Collection's initial aims was to reflect this dynamic scene in London as well as of the larger international context of contemporary art. Among the artists at the core of the collection are Rosemarie Trockel, Bridget Riley, Rebecca Warren, Rachel Harrison, Sarah Lucas, Lynda Benglis, Louise Bourgeois, Alice Neel, Albert Oehlen, Christopher Wool, Sigmar Polke, Martin Kippenberger, Gerhard Richter, Pierre Huyghe, Wade Guyton and Kelley Walker. 
Since 2005, the Collection has been presented in the form of temporary installations at a private house located at Gloucester Gate in Regent's Park. Their elegant home, designed by John Nash in Regency style, is only a stone's throw away from Frieze London, the annual contemporary art fair held in Regent's Park. This unusual setting has enabled the Collection to explore original associations between artworks. It also offers the unique challenge of how to successfully present contemporary artworks in a domestic environment, demonstrating that the experience of an artwork can be constantly renewed. Cranford Collection's installations are open to the public by appointment and are the setting of numerous visits by museum boards, curators, artists as well as educational programs.
In 2013, the ambitious exhibition Out of the House was presented at Sala de Arte, Fundacion Banco Santander in Madrid. It was the first exhibition of the collection outside the private context in which it's usually found. Since 2017, the house at Gloucester Gate is being entirely renovated by architect David Chipperfield in order to increase its capacity as exhibition space and public venue. It will reopen in 2019.
---