Cobra Studios launches its first furniture collection: playful and sculptural objects inspired by classical Roman architecture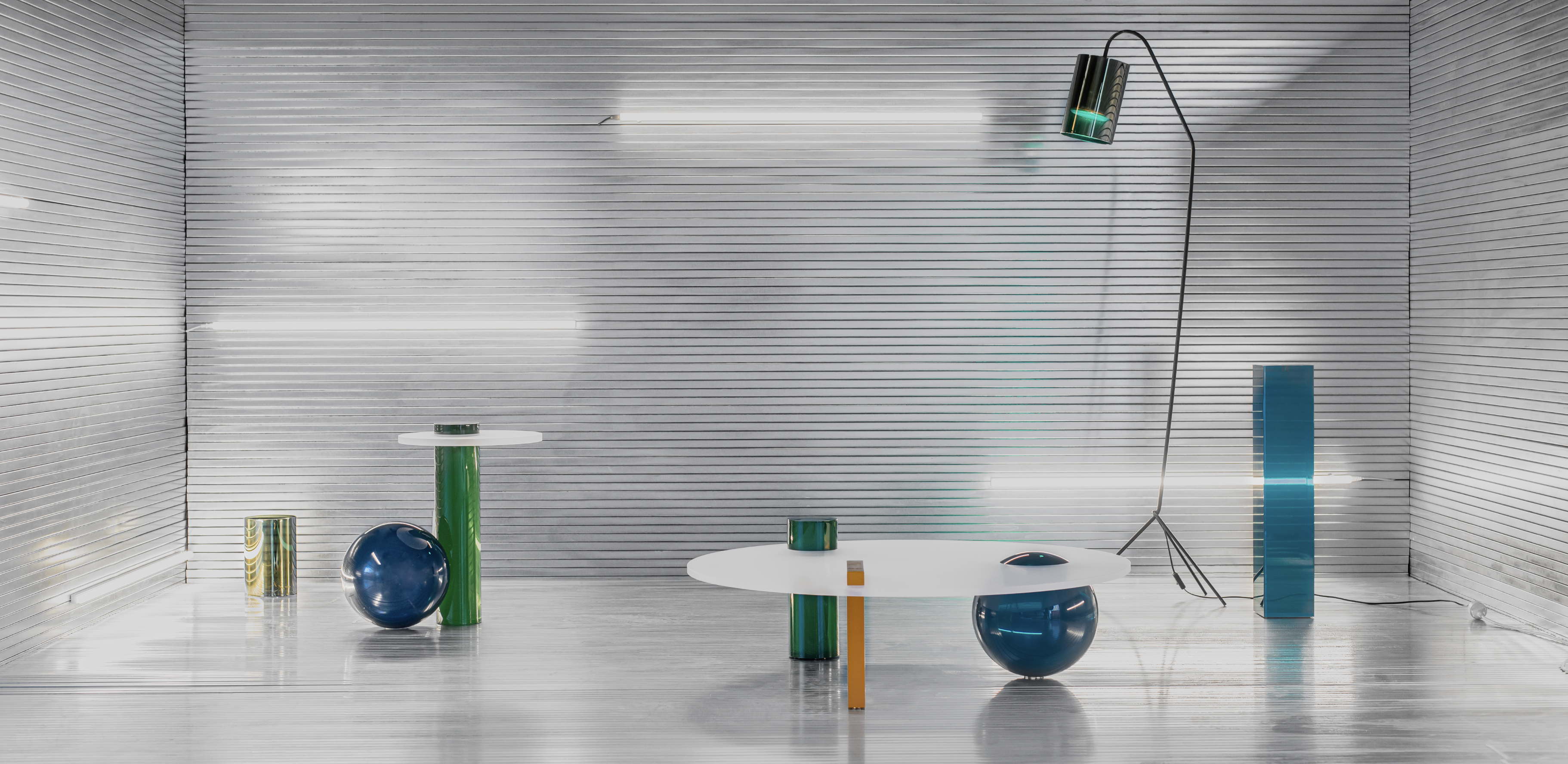 ​Cobra Studios is a new Brussels-based creative studio founded by architect Kenny Decommer and scenographic designer Hugues Delaunay. Together they create surprising and sculptural furniture pieces in which they play with colour and material, with form and volume.
For their first collection, Cobra Studios creates a collection of tables inspired by the classical order of Roman architecture. Titled Solids, the dinner tables, coffee tables and side tables are made up of geometric shapes that confront each other in order to create new volumes. 
The heavy legs of the tables are made of resin (epoxy) and act as shiny, solid columns supporting the thin, soft tabletops that evoke a sense of comfort and clemency. The radical columns, walls and shapes affirm the graphic design. Each piece is designed to be conceived as a sculptural entity within its environment. The supporting elements are so present, that they pierce through the table tops, marking the presence of what lays underneath. Their presence organises the tables. The top that used to be an element of priority, becomes merely a connecting piece. This ancillary function is emphasised by the matt, chalk finish.
In addition to the family tables, Cobra Studios is also launching a lamp inspired by post-modernistic forms. For the lamp, steel tubes are combined with a lamp shade in texturized glass. When the light is out, it reflects its surroundings. When the light goes on, the effect gives you an eighties feeling of glazing, with a modern touch.
Cobra Studios is always looking for contrasts, and their sculptural pieces are characterised by a daring combination of transparency, translucency and opacity. Contradiction is key: hard shapes need to collide with soft touches. The pieces are minimalistic yet decorative. Every piece needs to withstand time and art movements. Cobra Studios tends towards creating a world of its own, a certain form of light living, naïve but such fun. ​ 
---
COBRA STUDIOS 
Cobra Studios is a Brussels based creative studio founded by Kenny Decommer and Hugues Delaunay. Cobra Studios is created to counterbalance the current furniture and design scene. Based on a post-modernistic aesthetic, the goal is to collide geometrical shapes in order to create new usable volumetrics. 
Kenny Decommer studied architecture and engineering at the university of Ghent. After graduating, he moved to Paris where his interest in design and alternative furniture grew. After several years of working as an architect and redefining the furniture of the 'Bibliothèque Nationale', Decommer returned to Brussels with the ambition to create and design pieces.
Hugues Delaunay lives between Brussels and Paris, where he studied at the school of fine arts. Specialised in visual identity, visual merchandising and set design, he worked for several luxury fashion brands like Ralph Lauren, Paul Smith or Chloé.
---
More information here
---