Cobra Studios designs new premium meeting spaces in an Art Deco building in the heart of Brussels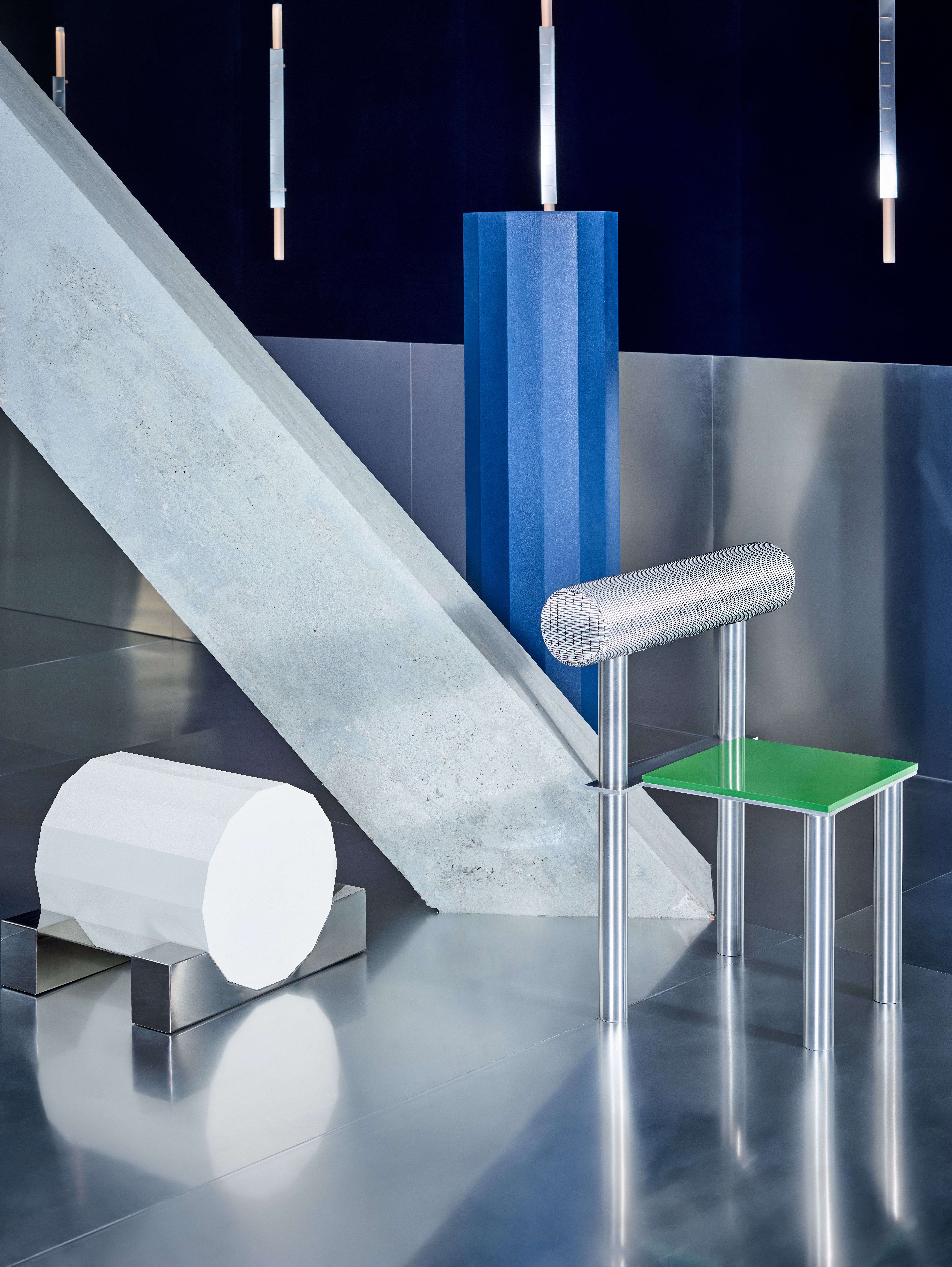 In the beautiful Art Deco SHELL building close to Brussels Central station, the creative studio Cobra Studios designed the interior design and the furniture pieces for the new meeting spaces of Sparks.
Sparks provides different meeting spaces for people and organizations. For their new location, a fine example of international Art Deco architecture, Cobra Studios was given carte blanche and a limited budget to design the 2.500 m2 space, including a dozen meeting rooms, an entrance hall, a bar/restaurant and several restrooms. The result is a surprising yet charismatic world full of contrast. Even if each room has its own identity, as a whole, one can experience a uniformity, a true Cobra Studios universe.
Brussels-based creative studio Cobra Studios was founded in 2020 by architect Kenny Decommer and scenographic designer Hugues Delaunay. Together they create surprising and sculptural furniture pieces and interiors in which they play with colour and material, with form and volume. Their work is fun but thoughtful, sculptural and decorative.
Built between 1932 and 1934, to the plans of architects Alexis Dumont and Marcel Van Goethem, the monumental Shell complex in the heart of Brussels forms the basis of the design concept. Cobra Studios chose to take the original elements of the building as the starting point, with the floor in the oval hall - a work by Olivier Strebelle including 3 colours of marble and insertions of ceramics - to define the colour pallet.
Original materials that are still present in the building (travertine, marble, concrete), were combined with new materials such as latex, clay, stainless steel, foam, resin, velvet and aluminium, to create a universe that is surprising and charismatic; stylish and chique whilst being fun and naïeve. Cobra Studios wasn't afraid of combining the more dated 80's vibe with a new found contrast. Metals go hand in hand with the travertine base, contrast shininess with softness, the rather theatrical and museum experience with a cosy and warm atmosphere.
The duo designed most of the furniture pieces themselves (see images below). The chairs, tables, lamps, sofa's, curtains were designed by Cobra Studios to fit the rooms, and are combined with existing pieces of their previous collection. The duo are also reusing and recycling materials and objects, including their left-over resin stock, to create new pieces. As the budget was limited they needed to be creative with (the use of) materials and the collaboration with artisans and local producers. The pots were made by "la bottega di giussepe indino" in Puglia, the collaborated with STRS for the desk, used steel arches by a ship builder, collaborated with Trone in Paris for the design of the restrooms...
---
"The project let us design new objects for the first time like sofa's, chairs,... and on a budget that we were not used to. Certainly a challenge. We had to be inventive with the materials and how to use them. We used wall cladding in covering for cars, tubes that come from brooms, signage that comes from tuning for cars, arches and handrails in soft polished acrylic… We wanted to create a futuristic approach to the decorative arts movement. Entering at Sparks means entering a new environment, a world of contrast and reflection, perfect for new tendency meetings."
​​
​— Kenny Decommer & Hugues Delaunay, Cobra Studios
---
Sparks, designed by Cobra Studios
​60 rue Ravenstein - 1000 Brussels
​https://sparks-meeting.eu
---
About Cobra Studios
Cobra studios is a Brussels based creative studio founded by Kenny Decommer and Hugues Delaunay. Cobra studios is created to counterbalance the current furniture and design scene. Based on a post-modernistic aesthetic, the goal is to collide geometrical shapes in order to create new usable volumetrics. Transparency, translucency and opacity are countered to create sculptural pieces. Contradiction is key, the world is boring, let's indulge the pieces with colour. Hard shapes need to collide with soft touches. The pieces need to be minimalistic yet very decorative. Every piece needs to withstand time and art movements. Cobra Studios tends towards creating a world of its own, a certain form of light living, naïve but such fun. ​ ​ ​ ​ ​ ​ ​
Kenny Decommer studied architecture and engineering at the university of Ghent. After graduating, he moved to Paris to get in touch with the creative scene. After several years of working as an architect, he returned to Brussels with the ambition to create and design pieces, no matter what they were. ​ ​ ​ ​ ​ ​ ​
Hugues Delaunay lives between Brussels and Paris, where he studied at the school of fine arts. Specialised in visual identity, visual merchandising and set design, he worked for several luxury fashion brands like Paul Smith, Chloé or Ralph Lauren. Together they created Cobra Studios. ​ ​ ​ ​ ​ ​ ​
More info www.cobra-studios.design
​Instagram
---
Images interior
---
Images objects