Christina Zimpel exhibits her parade of prancing women at Schönfeld Gallery in Brussels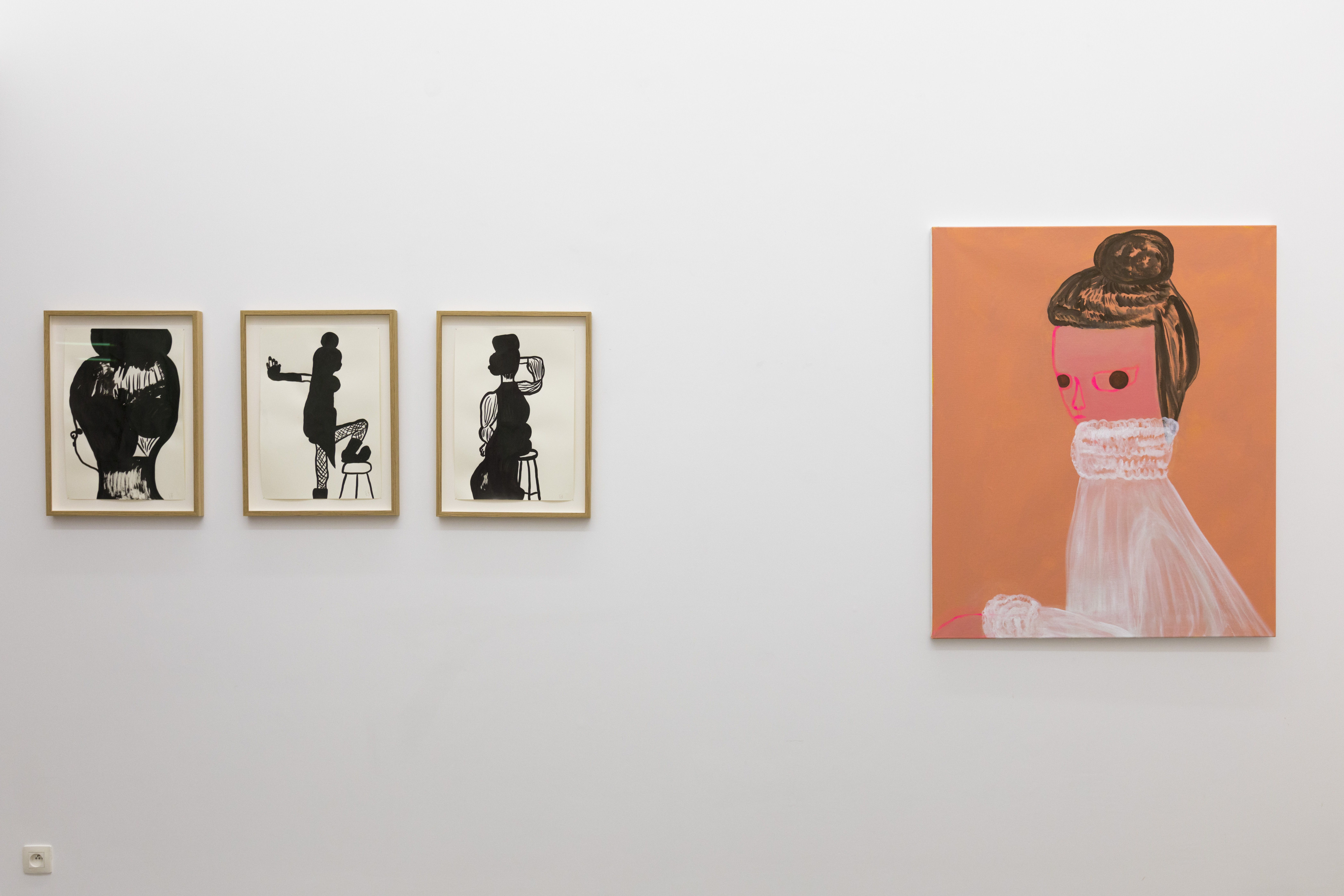 Schönfeld Gallery in Brussels is presenting the first solo exhibition at the gallery by the Australian artist Christina Zimpel (°1961, lives and works in New York).
For the past two months, Zimpel has exchanged her New York studio for the Schönfeld Gallery in Saint Gilles in order to prepare for her first solo exhibition in Brussels, which is due to open on 12 March. 
In The I's Inside, Christina Zimpel presents a series of enigmatic portraits of women. They suggest diverse interests and sources of inspiration. Zimpel's often intense, non-realistic use of colour and her flat, simplified shapes betray a fondness for the work of German Expressionists, and Fauvists like Henri Matisse. The frequently used pink colour is not soft and feminine, but rather subversive and fluorescent – as she knows it from the punk of her youth. In turn, the hairstyles with the hair twisted in a dot recall the seductive female figures of Henri de Toulouse-Lautrec, and the shadow silhouettes in black ink are reminiscent of the street photography of Vivian Maier, among others. 
Christina Zimpel previously worked as an Art Director for Australian and American Vogue, where she commissioned many artists and photographers. She also assisted her husband, photographer Patric Shaw. As editor of his photographs, she was mainly focused on details and so she soon learned that empty-headed portraits are rarely worth looking at. She eventually turned her skills to making her own work. Zimpel's strong background in fashion and design has informed her current practice with the use of strong colour and bold graphic compositions – working primarily in inks and oil, as well as digitally. In 2018, the Council of Fashion Designers of America Awards were celebrated at the Brooklyn Museum, and the event featured Zimpel's portraits of the 30 Nominees and Honourees. Christina has also collaborated with the designers Michael Kors, Maison Kitsune and Lee Mathews.
"I have a library of images in my head", Zimpel explains. "It's the thoughts inside that make the difference between a bad and good portrait." Zimpel's female figures, however, are neither real ladies nor stereotypes. They tend, instead, to have something cinematic about them, and, above all, sketch an atmosphere. "You can see they are thinking about something. But of what? Who are they really, these women, and what will they do when they get home later?" 
A parade of prancing women. Misfits and outsiders, as in the black-and-white portraits of American photographer Diane Arbus, highlighted without ridicule, or criticism, but on the contrary, out of admiration for these women. For they may not be the most attractive women, indeed they are far from perfect, "but they do their best", she says. They play their best assets, dressing up, carefully grooming their somewhat exuberant make-up and crowning themselves with extraordinary hairdos. Are they proud and confident, or are they putting on a façade to hide behind? Either way, they seek our attention. "How I would love to be more like them, a bit more extroverted", the artist reveals. In a way, then, they are alter-egos, a kind of (hoped-for) self-portrait. "The ladies have moods and thoughts that could also be mine", she says. Set in acrylic and gouache, Zimpel finishes the paintings with a layer of oil paint to give the women their deserved sheen. 
The portraits are no snapshots taken at an unguarded moment, as is usually the case with street photography. The self-conscious women are overtly posing. The flat background of the paintings suggests a canvas in a studio setting, the rare, sketchy props a theatre setting. The women are captured in paint at exactly that one moment – "le moment décisif" – as Henri Cartier-Bresson would have named it. "The one single moment when they briefly allow themselves to look inside their heads", says the artist. Somewhere beneath the thick layers of make-up and clothing is their real self. Because "the I's inside", as Christina Zimpel knows.
---
Christina Zimpel
​The I's Inside
​12 March - 29 April
​Schönfeld Gallery
​Rivoli Building, Chausseé de Waterloo 690, 1180 Brussels
---
Images