Belgian designer Maria Scarpulla launches a series of unique and handmade outdoor tables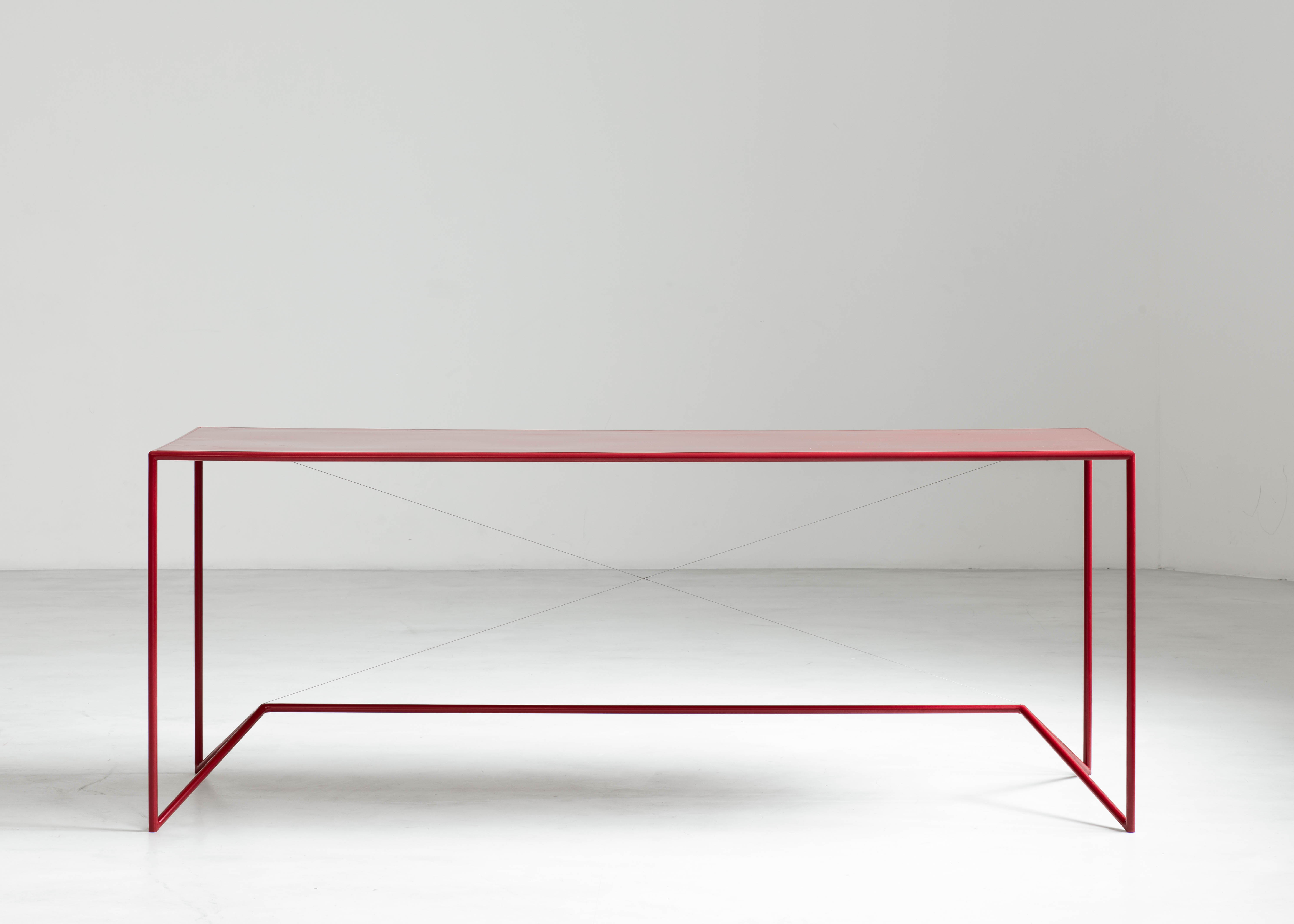 Belgian designer Maria Scarpulla launches a series of tables, which can be used both in- and outdoors, in primary colors. The lacquered steel tables in glossy red, yellow and blue are completely handmade in Belgium. Together with a new series of abstract paintings, Scarpulla presents the tables under the title Campi di Colore.
​​
​Scarpulla's quest for an essence in color and form leads her to seemingly simple designs that betray a love of timeless beauty. The long tables are sleek and minimal in shape, but also elegant and warm due to the use of color. In addition, the steel makes for a very robust, weather and wear-resistant object.
​​
​The title of the series - Campi di Colore, translated in English to Color Fields is a reference to color and landscapes, the two main sources of inspiration for Scarpulla, who spent much of her youth in the Italian landscapes of Umbria.
​​
​Scarpulla often thinks in colors, and as a designer she investigates how color carries an emotionally reinforcing element: how certain colors influence our mood, calm us or motivate and even stimulate us. These tables can therefore be seen as fields of color that influence the emotion of the user. Primary colors were deliberately chosen as the foundation to obtain a table that radiates strength, simplicity and serenity.
​​
​In dialogue with the tables, Maria Scarpulla launches a series of abstract paintings that have grown organically from color studies for the tables. Scarpulla previously released a limited series of 30 side tables incorporated with an abstract painting. 
The collection Campi di Colore can be viewed from Saturday the 6th of June in the Atelier Ecru gallery in Ghent. More information or an appointment here.
---
Maria Scarpulla
​Belgian-American Maria Scarpulla was born in Ghent in 1987, but spent much of her childhood in Umbria, Italy, until she returned to Belgium when she was 10. Scarpulla grew up in an artistic family (her father, Russell Scarpulla, is a painter) through which she was confronted with art, architecture, aesthetics and design at a very young age.
In 2011 Scarpulla graduated as an Interior Designer from the LUCA School of Arts in Ghent. Immediately after her studies she left for the US for a few months, a trip that gave her - especially in Texas - the inspiration and impulses to work on Piece, Earth on Sky: a slim, sleek table with a rotating tabletop with two different colors. After that another lamp and a stool followed. With these designs, Scarpulla was selected in the spring of 2013 for the Ventura Lambrate at the Salone del Mobile in Milan, where promising young designers show their work. By now several designs have followed.
In 2019 she launched a series of 30 limited tables, each incorporated with an abstract painting made by Maria herself.
​​
​Click here for the website