Belgian artists Tom Volkaert and Daan Gielis are taking over the Everyday Gallery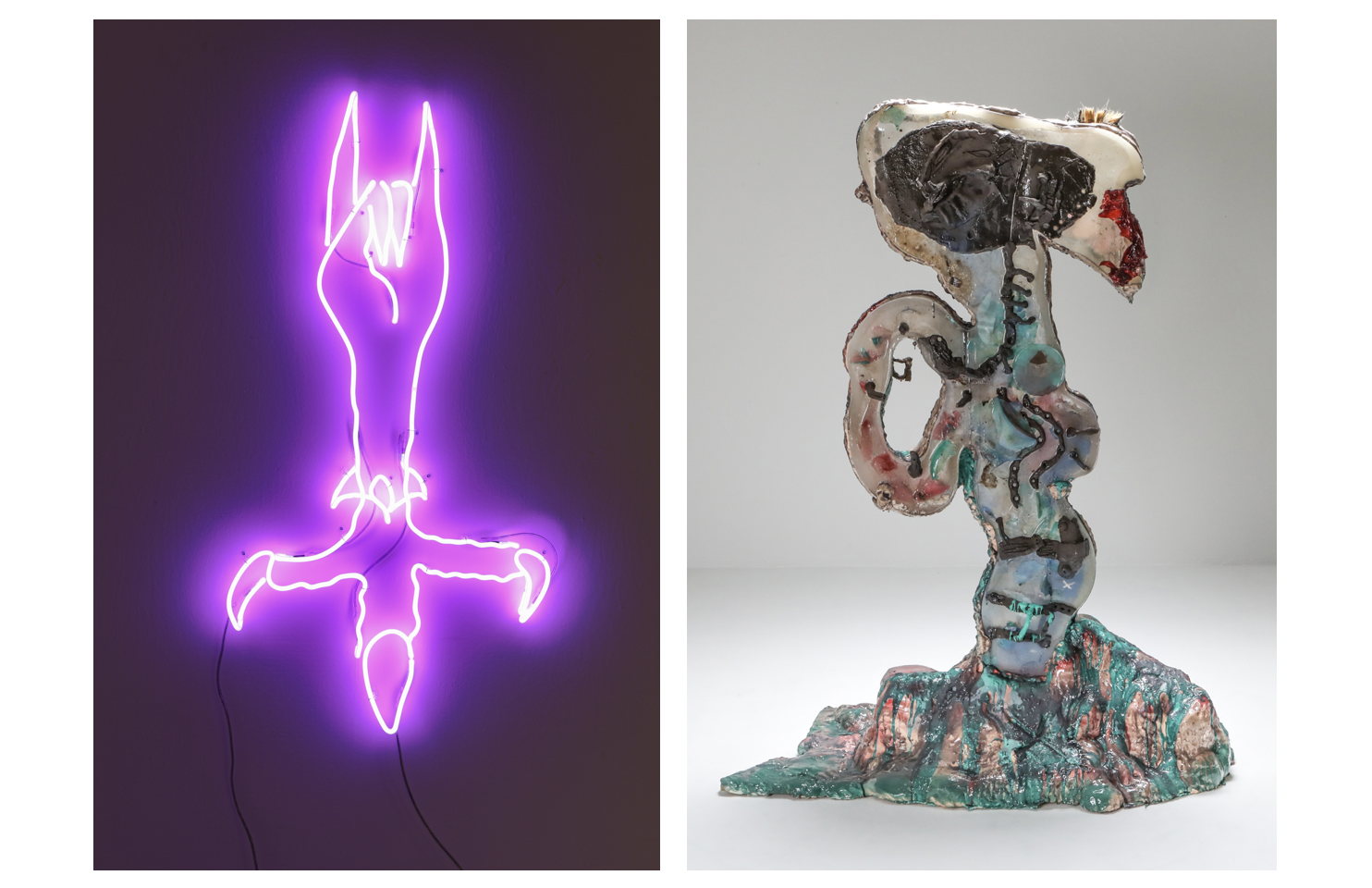 The artists and bosom buddies Daan Gielis and Tom Volkaert will be exhibiting together at the Everyday Gallery in Antwerp from 30 January to 13 March 2021. The two young Belgian artists will both get a separate space in the gallery situated in Antwerp's 'New South' development, where they will each be showing about ten new works in a variety of media. 
Gielis effortlessly places neon next to delicate bronze sculptures, ceramics, terracotta and textile, and puts Tintin in a puddle of his own tears. Volkaert presents brutal, seemingly unfinished sculptures made of metal, clay and resin.
Although they are contemporaries and the best of friends who share a lot in common in their passions and frustrations within the contemporary (art) world, there is a different basis to their work and their respective exhibitions.
The mourning for the world in Bruegel's The Misanthrope forms the anchor point in the exhibition of work by Daan Gielis (°1988). But does grief really provide a solution to our disappointment in the world? And does mourning allow us to escape from that world? In his solo exhibition at the Everyday Gallery, Because this World is So Untrue, Daan Gielis suggests that they do not. Those who withdraw from the world also rob themselves of the world and thereby the possibility of being included in a larger whole that can give meaning to who we are and what we do.
In the work of Tom Volkaert (°1989), the material and its processing are central. He likes to show how the work is made and chooses an intuitive way of creating, with the honesty of the material and the importance of chance both typical of his creative process. Volkaert's work therefore strikes a balance between beauty and horror, between perfect and defective. In As Slow as Possible, Volkaert uses transparent materials to give his spectator a first glimpse at the inside or the "viscera" of his sculptures. This time, nothing stands in the way of the viewer being able to "see" the work completely.
On the occasion of his solo exhibition at the Everyday Gallery, Volkaert is launching a first publication: a comprehensive 200-page overview of his oeuvre.

​Daan Gielis: Because this World is So Untrue
​Tom Volkaert: As Slow As Possible
​30 January - 13 March 2021
​Everyday Gallery
​Jos Smolderenstraat 18, 2000 Antwerp 
---

​DAAN GIELIS
​BECAUSE THE WORLD IS SO UNTRUE
"Because the world is so untrue / I am going into mourning." So goes the caption that accompanies The Misanthropist (1568) by Pieter Breugel the Elder.
We can lash out at the world and derail, or explode in anger and then implode. But does grief really provide a solution for our disappointment in the world? Does mourning allow us to escape from that world? No, Daan Gielis suggests in his latest solo exhibition at Everyday Gallery, Because this World is So Untrue. Whomever withdraws from the world also robs herself of the world and thereby the possibility of being included in a larger whole that can give meaning to who we are and what we do.
In Because this World is So Untrue, Gielis plays a subtle political-aesthetic game that makes the visitor think about what it means to change the world without falling into the extremes of utopian or melancholic thought. But Gielis is not looking for a middle ground. On the contrary. He openly plays with contradiction and makes the ashes of total disappointment happily collide with the neon of whipped-up exaltation. The act of moruning that Breugel's The Misanthropist exerts forms the anchor point in Gielis's exhibition, but is besieged on all sides by the energetic counterculture of hardcore. For Gielis, this hardcore culture is certainly not an unambiguous answer to injustice, but it does offer a view of other ways of living together - a trompe-l'oeil of social justice that itself turns out to be full of contradictions.
Daan Gielis' (°1988) work explores the conflicts and contradictions in the emotional, communicative and social systems that together make up the world as we know it: happiness and sadness coinciding, a frustration of desire that only triggers new desire, an underground culture that stays authentic while selling out… Each of these systems is riddled by contradiction. And yet, precisely because of those internal contradictions these systems thrive, contrasting feelings feed off of each other, setting in motion a never-ending cyclical process from which no escape seems possible. No wonder then that so many of us are emotionally conflicted about present reality, struggling to find consistency.
---

​TOM VOLKAERT
​AS SLOW AS POSSIBLE
Tom Volkaert (°1989) assigns an important role to coincidence. While there exist detailed recipes for glazing ceramics in the oven, he refuses to use them and allows a metaphorical invisible warm hand to continue moulding his sculptures inside the oven. Whatever goes 'wrong', whatever crack or hole might appear, he considers an added value. On top of that, he often incorporates ready-mades or found objects into his sculptures, as a way of staying connected to his local surroundings. He often reuses broken parts of previous works, as a way to reconnect to his own art, and of representing himself as an artist. In a way, all his works are distorted self-portraits. 
For Volkaert, there is no distinction between his art and his life. The ready-made parts of his works are always local. The speed with which he chooses to assemble and glaze his ceramics, is a symbol of his artistic practice, but also of his generation. This speed, and the seemingly careless production of his works, is typical of a society in which the abundant availability of consumer objects is directly proportional to their short lifespan.
For his exhibition at Everyday Gallery, entitled As slow as possible, Volkaert also looks at the inside of his work. Fascinated by the hollow spaces in his ceramic works, Volkaert recently started working with transparent materials. With transparent epoxy he tries to see what is going on inside and wants to make the suggestion of a hollow space. For Volkaert, immersion in the work is "almost as if you're stuck in a block of clay".