MANIERA transforms its gallery space into a bar with furniture and objects by Belgian artist Koenraad Dedobbeleer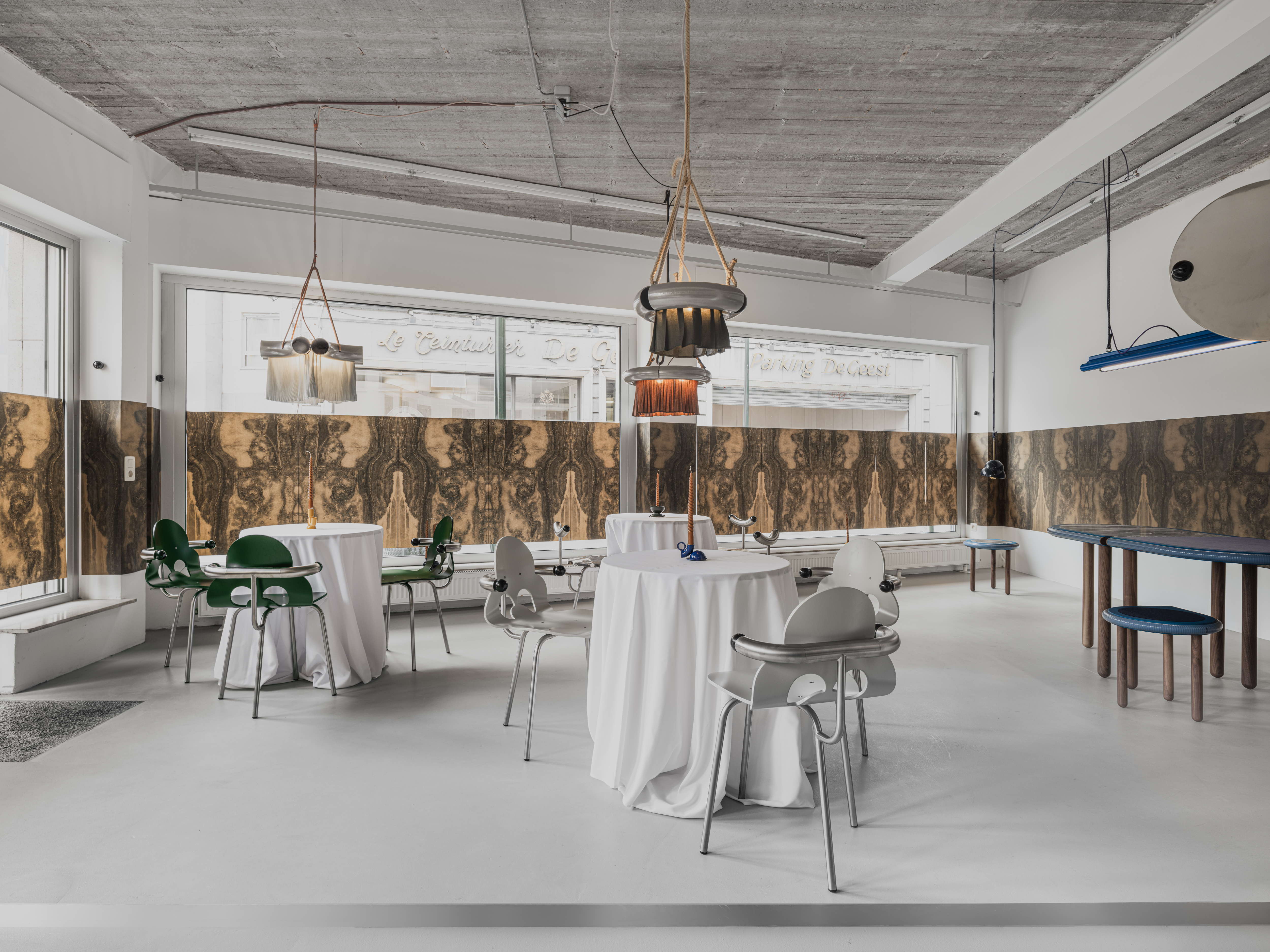 MANIERA Gallery in Brussels presents a solo show by Belgian artist Koenraad Dedobbeleer (°1975, lives and works in Brussels), transforming the gallery space into a bar.
Following a period of limited (or no) social gatherings in 2020-2021, MANIERA aims at bringing people together, thus enabling them to enjoy each other's company. The exhibition by the Belgian artist Koenraad Dedobbeleer is entitled 1b, i.e., the abbreviation of the pressure measurement unit, which reads "one bar" when read out loud. 
One bar, a bar is "displaced" and created in the setting of the furniture gallery. Dedobbeleer designed a composition with fourteen objects of various scales, transforming the gallery space into a bar that will be used as such once a week (every Friday night) throughout the three months of the exhibition.
For this show, Dedobbeleer was inspired by the modernism of the Austrian architect and designer Joseph Hoffman and by the legendary Cabaret Fledermaus bar he designed for the Wiener Werkstätte, a cooperative artistic workshop. The Cabaret Fledermaus, with its Gesamtkunstwerk (total work of art) design, opened in 1907 but it endlessly struggled to make money and was forced to close in 1913.
With Dedobbeleer's furniture and objects, MANIERA 25 introduces a set of pieces referring to a non-domestic interior in its entirety. Every piece contributes to the creation of this interior. But each in its own right can be selected to respectively enter and carry the imbedded joy and functionality of its presence into a domestic interior.
---
THE PIECES
In the pieces created for MANIERA 25, Dedobbeleer's joy of design and use is incredibly palpable. The lamp at the counter and the standing light fixture whose lampshades are made of ordinary skirts utilised to fashion skirts soften the light source and give a friendly nod to Hermann Czech's Palais Schwarzenberg interior refurbishment; a legendary project by the Austrian architect and realised during 1980s in the centre of Vienna. ​
​​
​Dedobbeleer's counter is a compact piece made of green concrete plywood plates with purple edges, which conveys a marble finish to the horizontal surface. The compactness of the furniture enables us to see it standing up straight as though it were a bar in an exuberant 1970s living room. Drawing its origins from the building trade, the curved frame provides the essential twist to the furniture. And while the marble is reminiscent of Adolf Loos' small tables in Vienna's Kärtner Bar (again), Dedobbeleer's design escapes mimicry by giving the 1b table a complexity through the addition of standard, practical building material.
The same applies to the shell chairs made using an industrial process whereby a plywood plate is bent to create a comfortable shape. Two symmetrical large perforations radiate the charming presence of an illustrated ghost-like figure. The other chair stems from a process of deconstruction and is akin to an ordinary school chair. Its legs are taken apart and put together afresh, while a flat spiral made with black cord functions as a new, round seat. The chair's back and legs are completed with small black balls, bringing the Fledermaus chair designed by Josef Hoffmann in 1907 for the eponymous bar into mind. The blue MDF stool boasts a drop-shaped seat finished in marble and felt is here again framed by PVC tube, offering MANIERA 25 yet another exciting new piece. ​
​​
​A wall lamp made out of soldered bends is playfully reminiscent of a clown's dubious face with its red light bulb fixed on a welded bend tube underneath. Another small, round table lamp is made up of three layers of fused bends of decreasing diameters on top of each other. But this time, the industrial element is covered with a thin felt offering an agreeable sensation to the touch. Numerous candle holders positioned on tables and welded by Dedobbeleer himself illuminate the bar with a softer light. Finally, the walls of the gallery are clad with a tall plinth made out of mirrored photographs depicting the pattern of a plate of marble. The images are printed as recto-verso posters measuring 70x90cm and are used to wainscot the interior visually. Once again, this is a humorous nod to the bar designed for the Schwarzenberg Palais.
---
A BAR BY KOENRAAD DEDOBBELEER
​MANIERA 25
​20 October 2021 – 15 January 2022
EVENTS Every Friday:
29.10, 10 pm: Bar hosted by Sophie Whettnall + Michel Van Dyck
05.11, 5 pm: Bar hosted by Spazio Cura (Estefanía Álvarez Ramírez, Karolina Janulevičiūtė, Lucia Nijdam)
12.11, 10 pm: Bar hosted by Kersten Geers + Lodovico Corsini
19.11, 10 pm: Bar hosted by Sophie Keij + Roman Hiele
26.11, 10 pm: Bar hosted by Marta Armengol + Dries Otten
03.12, 10 pm: Bar hosted by Ekaterina Kaplunova + Caroline Dumalin + Diana Campbell
10.12, 10 pm: Bar hosted by Rita Mc Bride
17.12, 10 pm: Bar hosted by Pierre Leguillon
---
KOENRAAD DEDOBBELEER
Koenraad Dedobbeleer is born in 1975, Halle and lives and works in Brussels.
Dedobbeleer works with sculptures, objects, images, and drawings as much as he works with history, language, reflection, and humour. He always looks around, observing and recording, both in the coincidence of everyday life or still in the constructions of – chiefly but not solely – the history of art and architecture. As an artist, he places the focus firmly on everyday objects, which he modifies and recontextualises. 
Koenraad Deddobbeleer's work has been widely exhibited in Europe at venues such as: Extra City Kunsthal, Antwerp, Belgium (2014); Gesellschaft Aktueller Kunst, Bremen, Germany (2014); De Vleeshal, Middelburg, The Netherlands (2013); Le Crédac: Centre d'art contemporain d'Ivry, Ivry-sur-Seine, France (2013); Castillio / Coralles, Paris, France (2012); Lok/Kunstmuseum, St. Gallen, Switzerland (2012); Georg Kargl Fine Arts (2010); Reception, Berlin, Germany (2012; 2010); Culturgest, Lisbon, Portugal (2010); Museum Haus Esters, Krefeld, Germany (2009); Museum Abteiberg, Mönchengladbach, Germany (2007). His work has also been shown in numerous group exhibitions. Dedobbeleer lives and works in Brussels, Belgium
---
MANIERA
MANIERA gallery commissions architects and artists to develop furniture and objects for use, offering them the opportunity to take an excursion beyond their usual practice. Architects often have a close relationship with the visual arts and artists are often inspired by the spatial environment. MANIERA crystallises these affinities into new design proposals. More than just furniture, the objects produced by MANIERA are a deliberate search for confrontations between the realms of architecture, design and art. 
MANIERA brings both up-and-coming and well-established figures to the fore. What they all have in common is a personal language and hand, a conceptual mode of thought, and an authentic and idiosyncratic 'maniera' or working method.
MANIERA was founded by Kwinten Lavigne and Amaryllis Jacobs in 2014.
---
IMAGES
​​
​Download all images here (photography by Jeroen Verrecht)