Ballon Rouge Collective presents Bad Time, a solo exhibition by Samuel Jablon
15 April - 6 June, Brussels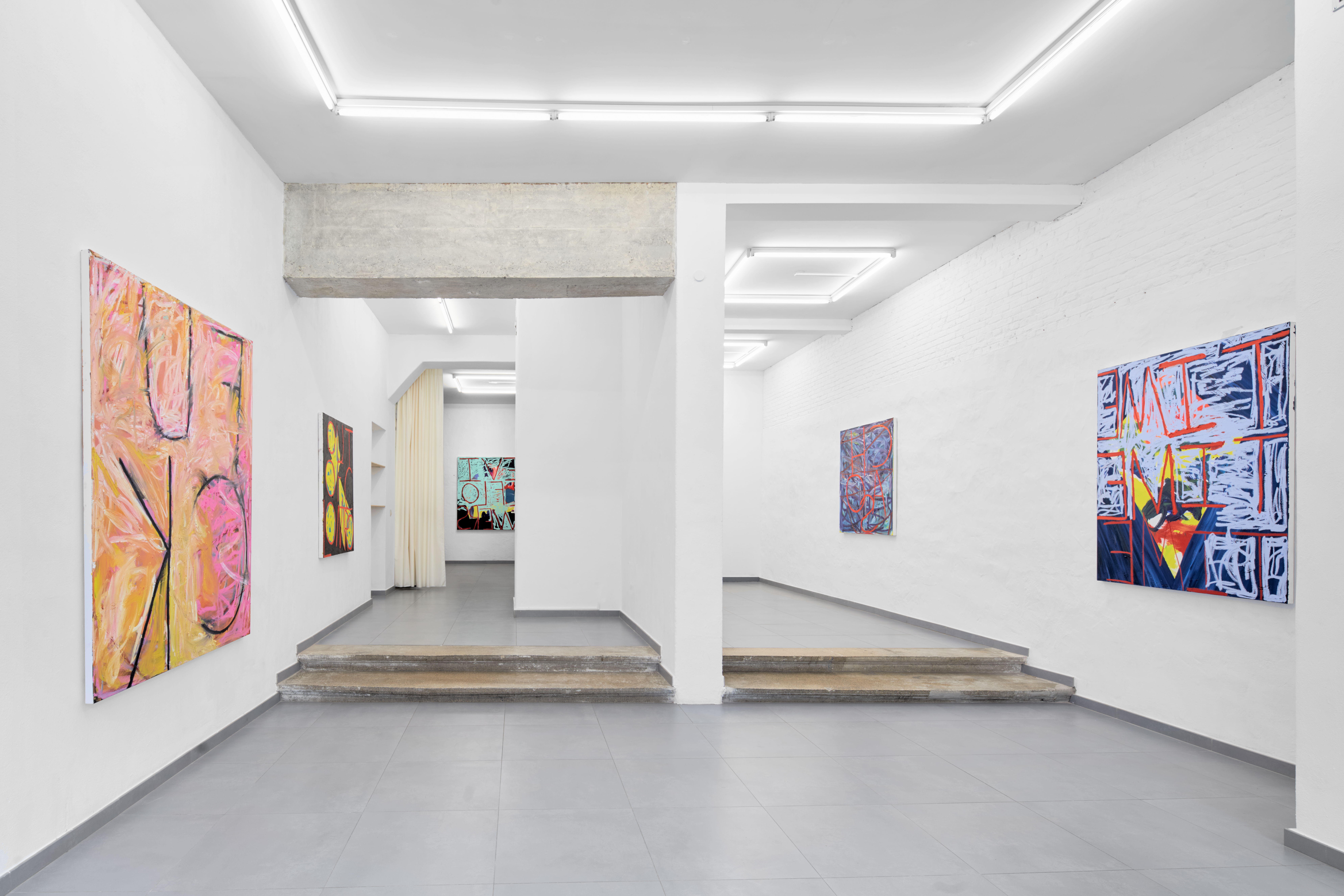 Starting April 15th, Ballon Rouge Collective presents a solo exhibition of the young American artist and poet Samuel Jablon (°1986, lives and works in New York) in the permanent space of the Brussels gallery. The exhibition Bad Time includes a series of very recent paintings, which Jablon created since the start of 2021.
Bad Time is Samuel Jablon's third exhibition at the gallery (Doomed, LA, in 2018 & Don't Panic, London, in 2019), but his first in Brussels. The inspiration for this exhibition emerged in early March 2020, when Jablon found himself at an exhibition opening in New York. There were a lot of chats about the unknown virus, and it lingered in people's minds—but the hesitation about it only showed itself in the shy replacement of cheek kisses with elbow bumps. It was a night in which people still were talking quite close, maskless, in a crowded bar. How could they have known how truly surreal and bad it would become? 
"It's true that it's been a Bad Time lately. We're writing this at the tail end of February 2021—a little over a year since the start of worldwide lockdowns, terrible losses, sickness, fear. Besides this, there have been protests all over the globe for equality and human rights, climate crises. And still we are all collectively fighting against the proverbial big bad wolf. It begs the question: When has it ever been a Good Time?"
​​
​We were in New York at the beginning of March in 2020 for an exhibition. Together with Sam we had a night out at some NADA party, at which a lot of the chats were about this unknown virus. At the art fairs, the virus lingered in people's minds — but the hesitation about it only showed itself in the shy replacement of cheek kisses with elbow bumps. Still, that night we shared a joint with people; still, we were talking quite close — maskless — inside and outside of a relatively small and crowded bar downtown. There was some urgency to the situation — but how could we have known how truly surreal and bad it would become? Sam gave us his puy red jacket outside to keep warm while smoking cigarettes; sharing is a gesture that feels unbelievable now. That night he stayed out much later than us. The next morning, he sent us a photo of a painting he had made during the early hours, maybe without any sleep. It read: "innocent culprit."
​​
​— epilogue from the book 'Bad Time', published by Ballon Rouge Collective & Pony Press
Looking back at that specific moment in time, Jablon's work seems perfectly timed and almost prophetic, and contains a pointed form of power. We were and are all innocent culprits. Like every exhibition by Jablon, Bad Time is like a timeless time capsule. His work demonstrates an unpretentious intellect and the ability to reflect the moment. When you read the titles of his shows, it is as if they have only gained in meaning with time. This shows Jablons unique ability to be both in the moment and outside of it.
On the occasion of this exhibition, the book Bad Time, with works and poems by Jablon, will also be launched.
---
Bad Time
​Ballon Rouge Collective
​15 April – 16 June 2021
​Place du Jardin aux Fleurs, 2
​Brussels 1000, Belgium
---
Samuel Jablon (b. 1986, Binghamton, NY) is an artist and poet based in New York City. Jablon received his MFA from Brooklyn College/CUNY (2013) and his BA from Naropa University, Boulder, Colorado (2009). He has performed and exhibited at the Museum of Modern Art, The Queens Museum, Hauser & Wirth, Storefront for Art and Architecture, The Kitchen, Artists Space, Blum & Poe, the Landing, and Ballon Rouge Collective.
---