Atelier Ecru Gallery is presenting a duo exhibition with designers Sizar Alexis and Nathalie Van der Massen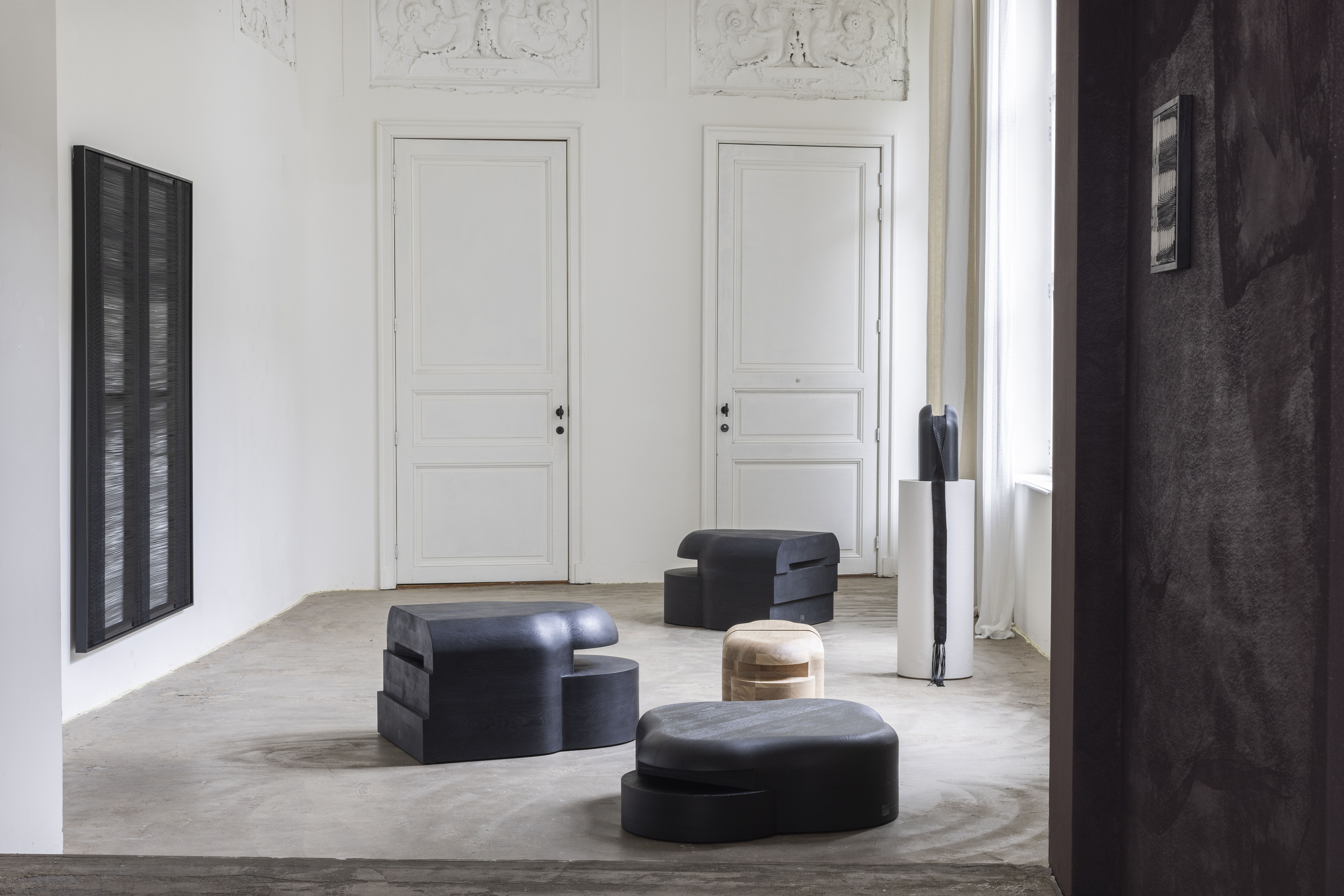 ---
"commonIunIcommon" ​
​A duo show by Nathalie Van der Massen & Sizar Alexis
​Exhibition: 05.11.2022 tem 08.01.2023 ​
​at Atelier Ecru Gallery 
---
Atelier Ecru Gallery is presenting a duo show with the Swedish-Iraqi designer Sizar Alexis and the Belgian textile designer Nathalie Van der Massen.
Both designers will show new work created especially for this exhibition, complemented by some older works. In addition, they have also created a unique new work together, based on several conversations and in-depth material research.
Van der Massen and Alexis' works share a serenity, tactility and geometry. Although they work with completely different materials - Van der Massen uses textiles, Alexis wood - they find each other in a shared love and respect for heritage and craftsmanship.
From this perspective, the new work they created together can be seen as a contemporary interpretation of a traditional utensil: the thrones of ancient Mesopotamia. In Mesopotamia's civilisation, the throne or kursi symbolised the divine or its representative - such as a king - which meant that only people in authority were entitled to it. 
The design is based on the Ousia collection by Sizar Alexis and his sister, consisting of a chair and a stool inspired by the furniture of the Mesopotamia civilization. The chair is covered with a unique textile work by Van der Massen, overlaying on the chair and giving it almost an extra skin or armour. The result is a piece full of contradictions: black and white; sculptural yet fragile. With this collaboration, both designers are taking a step back to the essence of their practices: matter - common and uncommon - formed the connection and inspiration for the collaboration. 
Images here (photocredit: Tijs Vervecken).
---
Nathalie Van der Massen
Van der Massen's oeuvre - consisting mainly of textile works - is characterised by a sensitivity for (natural) materials, surface and technicality and her interest in intangible elements like light, time and sound. For this exhibition, she created new works in which the designer's hand is even more visible. It results in experimental and poetic designs that are somewhere between a work of art, a sculpture and a crafted textile work. Her work cannot be immediately captured or grasped. It is ephemeral, ungraspable. While she plays with colours (hard and soft) and textures (matt and glossy), the tactility of the work remains central.
A long artistic investigation - she refers to this period as a 'textile retreat' - led to the use of new materials such as technical textiles, recycled cord, cotton, rope and polyester fibres. These coarser materials allowed for more manipulation and experimentation. Van der Massen stepped out of her comfort zone and explores the boundaries of textiles and sculpture. The works are so bulged and fragile that they almost fall apart. The function of the textile disappears completely.
Her work can also be seen as an ode to the Belgian/European heritage of textile craft. Away from the fleetingness of our times, she reaffirms the value of an age-old, time- and labour-intensive craft. 
---
Sizar Alexis
Sizar Alexis is also strongly influenced by heritage and craftsmanship. In his brutalist-inspired furniture pieces, he unites cultural influences from ancient Mesopotamia with the materiality and design principles of simplicity and functionality found in Scandinavian design. His pieces double as sculptural works of art. He combines a strong material-driven approach and a sense of stillness and serenity through geometrical shapes with a personal and cultural narrative.
Next to the Ousia collection, consisting of limited editions of a chair and a stool in burned and stained pine and in natural pine, Alexis is also showing his Lahmu collection of bunker-inspired pieces that reflect on last year's isolation and childhood war memories.
The Lahmu collection was part of the Discovered exhibition in London in 2021, asking designers to make an object totally in wood and inspired by the experience of living and working in isolation, with core values being touch, reflection, and strength. His contribution to the project was two sculptural furniture pieces that work either as seating pieces or relief table pieces, referring to a bunker as a place for protection. His inspiration for this collection came two years ago, in 2020, when he and his wife came home from the maternity ward with their newborn son. They secluded themselves to protect him from possible infection with the virus, and their flat functioned like a bunker. It reminded Alexis of the war in Iraq when he was younger and had to hide with his family in a room that functioned like a bunker. For this exhibition, he expanded the collection to include a coffee table and a vase.
Installation views here.
---
Works by Sizar Alexis & Nathalie Van der Massen
---
Works by Nathalie Van der Massen
Nathalie Van der Massen is a designer working in the field of textile design, art and (interior) architecture. While finishing her Master (degree) in graphic design, Nathalie Van der Massen is given the opportunity to work at the renowned Textile Museum in Tilburg, where she develops a fascination for textiles. This newfound passion leads her to pursue an extra Master in Textile Design. After graduating, she is invited by The Flanders Architecture Institute to start a research project and create an exhibition inspired by their archive. This experience opens up a new way for her to approach textile design from the context of architecture and interior. In 2018, Van der Massen launches her own independent design studio, exhibited her work at Atelier Ecru Gallery (BE), The Loft (NL), Garde (US) and showcased at fairs like Collectible (BE), Stockholm design fair (SE) and works with architects, designers and private clients worldwide. 
---
Works by Sizar Alexis
Sizar Alexis was born in Ankawa, just outside the city of Erbil in northern Iraq. His Chaldean roots puts his lineage in a straight line back to 5000 BC in ancient Mesopotamia. In 1997, he moved to Sweden with his family and settled in Eskilstuna. During his studies at Beckmans College of Design, he started to explore his interest in designing objects and furniture for the home. He holds bachelor's degrees in Engineering (2009) and Fine Arts (2019)
---