Indian architectural practice Studio Mumbai presents a new furniture series at Brussels design gallery MANIERA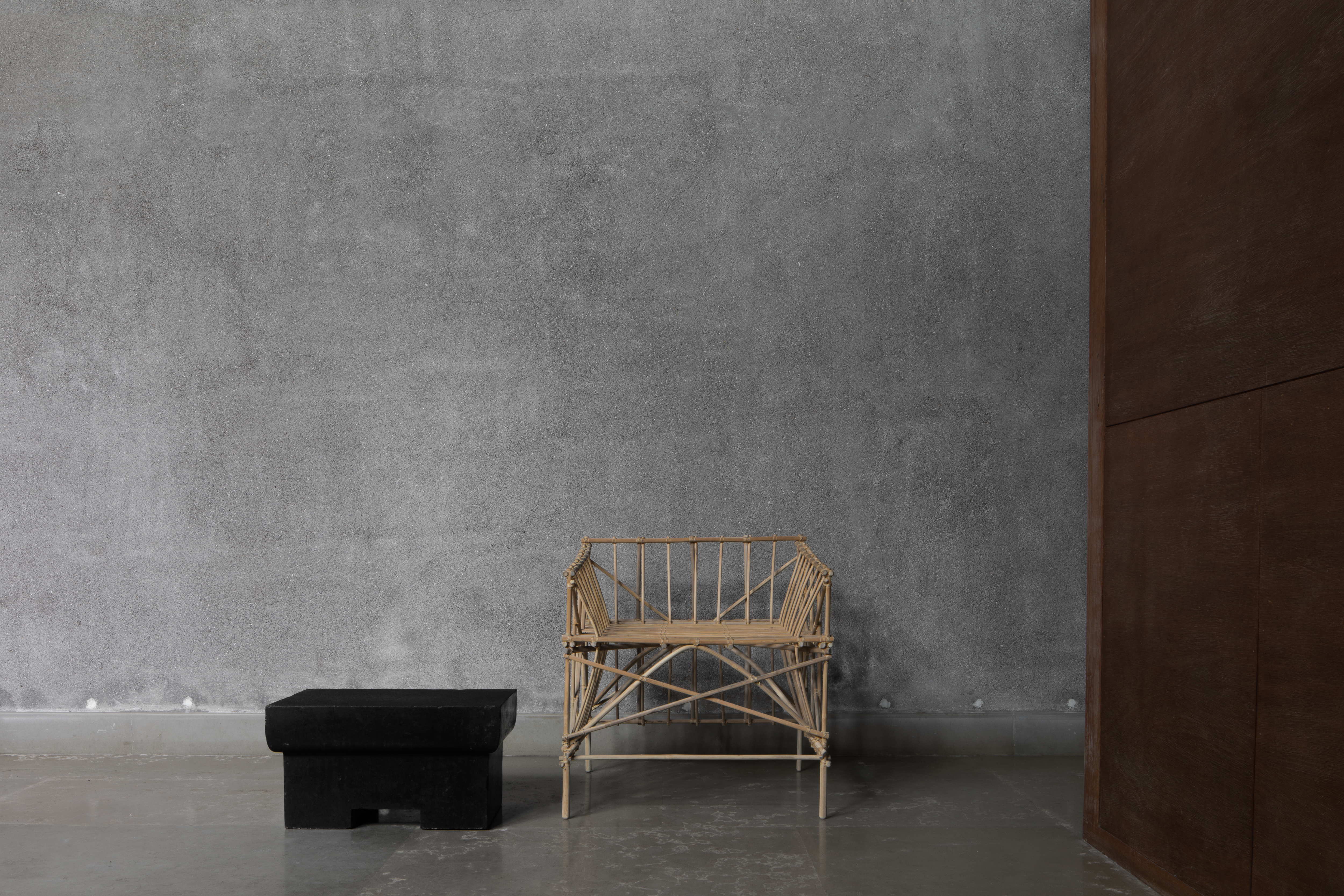 MANIERA gallery presents the second exhibition of Indian architectural practice Studio Mumbai with the gallery. Three years after the first show - with acquisitions by SFMOMA in San Francisco, LACMA in Los Angeles and Centre Pompidou in Paris - Studio Mumbai launches a new furniture series as the result of an ongoing process of refinement and study in material, form and function.
Studio Mumbai and its founder Bijoy Jain have developed a body of work that references aspects of both Indian and Western cultures. What sets the studio apart is a unique combination of tradition and modernity. The studio works collaboratively with local artisans, craftspeople and draftsmen to design and build projects through an explorative creative process. This includes large scale mock-ups, models big–and–small, material studies, sketches and drawings.
This process of seeing, thinking and making is also inherent in the production process of the furniture. The act of making is embodied, both viscerally and physically, in the works. The studio can move fast and can progress an idea from paper to prototype. This often results in a spontaneous, multi-layered process with no linear structure. Material, form and function operate as non-hierarchical elements next to each other.
The furniture and objects for MANIERA - a daybed, a console, a lamp, a bench, a folding screen and a series of chairs - are inspired by local resources and traditional Indian crafts as much as they refer to ancient Egypt artefacts. Yet, all of these designs are highly contemporary. The references to the historical artefacts are motivated by the fascination for the level of sophistication and refinement they contain.
The exhibition at MANIERA could also be seen as the result of an intense and profound material research. Celebrated for his ability to work with humble materials, Jain has used a similar approach to create a range of hand-made furniture objects for MANIERA. The materials are quite universal - and can be found in India as well as Europe - but some of them are quite uncommon for furniture: rudimentary materials like stone, brick and cowding or subtle materials like textile, glass and Japanese washi paper. New in this show is the use of natural pigments and lime to make fresco's.
​
Studio Mumbai
​18 May - 24 August 2019
​MANIERA
​27 – 28, Place de la Justice
​1000 Brussels
​
About MANIERA
MANIERA gallery commissions architects and artists to develop furniture and objects for use, offering them an excursion beyond their usual practice. As architects often have a close relationship with the visual arts and artists are often inspired by the spatial environment, MANIERA intends to crystalise these proximities into new design proposals. More than just furniture, the objects issued by MANIERA are a deliberate search for collisions between the realms of architecture, design and art. Although only founded in 2014, MANIERA gallery already has a strong presence on the global design market, quietly and successfully changing prevailing notions of furniture design and production.

​About Studio Mumbai
The Indian architectural practice Studio Mumbai, founded by Bijoy Jain in 2005, is a studio consisting of architects, engineers, carpenters and masons who have all been trained in traditional techniques. In a metropolis like Mumbai, Jain has developed an atypical attitude to the project: his work is slow, inclusive and pays enormous attention to detail, using scale models rather than plans, within a firm or on site, in a collective rather than as a project manager. Thoughtful and uncompromising to the last detail, the architecture of Studio Mumbai shows a deep concern for the relationship between man and nature and insists on the importance of the genius loci. Studio Mumbai operates on the belief that the hand and the mind are of equal importance. Jain prefers to describe it as a 'human infrastructure', referring to the masons, carpenters, engineers, colourists, technicians and, of course, architects who all play a part in the creative process.